More and more companies looking for a competitive advantage are recognizing that healthy employees and a healthy company is a successful company.
Not only do health issues cost U.S. businesses $576 billion annually, including sick days and workers' compensation, but also top talent may be seeking out companies that value employee health.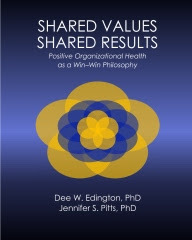 Companies are recognizing that corporate culture is a major factor in the success of the organization. A recent report from Deloitte, based on surveys and interviews with more than 3,300 business and human-resources leaders from 106 countries, stated that culture and engagement was a top concern cited. Wellness may be one of the key factors, as employees may suffer or even leave their workplace because of wellness factors, such as emotional exhaustion.
Progress has already been made in workplace wellness. One meta-analytic review of 17 studies found that participation in an organizational wellness program was associated with decreased absenteeism and increased job satisfaction. Further, it appears that workplace wellness programs can help companies in terms of reduced absenteeism and increased health and productivity and increased overall company performance.
Edington described how these programs can be effective in actual business settings. "Most front-line wellness program staffs are well-trained in conducting the typical wellness programs, such as physical activity, weight management and some in biometric screening. Coaching or advising is another typical strength of existing workplace wellness staffs," he said.
But Edington cautions that there are weaknesses in implementing these programs in real-world business situations. "This is an unregulated field and, as you can imagine, there are way too many shortcuts taken as a way to get to positive outcomes or even negative outcomes," he said. "Wellness programs are often implemented as tactical efforts rather than as part of broader strategic approaches to support employee health and well-being. Plus, there is often misunderstanding and misalignment within the organization about the values and expectations of the organization and the employees."
In order to address these shortcomings, the authors describe how every aspect of an organization must be organized around a culture of health and wellness. Edington explained, "Everything that happens in the organization affects the health and wellness of everyone in the organization, and vice versa: environment, culture, climate, policies, procedures, supervisors, co-workers, trust, respect, meaningful work, work style, et al. Much of what would be regarded as a healthy or unhealthy organization starts at the top, and this is reflected at every level of the organization, including vice presidents, directors, managers, supervisors and work-team leaders. This requires a seamless top to bottom engagement in the initiative."
This point is well-taken. Decades of research have established evidence for the influence of a range of psychosocial factors that can affect individual health such as stress, social support, healthy eating and optimism. Accordingly, there are many organizational factors such as job control, workplace safety, work-life integration and peer interactions that may influence employee and organizational health.
But from Edington and Pitts' perspective, one of the key issues to organizational wellness is "buy-in" from management. Zero Trends was published as a disruptive innovation for the role of health in the workplace. "It clarified the contribution of individual health and wellness at the workplace by describing three major game-changing themes," Edington said. "The first theme was to describe the mission of health as related to a serious economic strategy. The second theme presented the financial business case for organizations supporting individual risk reduction and behavior change. The third game-changing theme was designed to impact the culture through the presentation of the five-pillar integrated framework: senior leadership, operations leadership, self-leadership, recognition and quality assurance."
Moreover, rather than simply viewing health as the absence of disease, the goal of organizations needs to focus on positive health. Positive psychologists are recognizing that happiness is not simply the absence of depression, but rather a state of being that can be nurtured and learned like a life-skill. Similarly, positive health is more than the absence of disease, but rather an opportunity for growth in multiple domains of functioning.
Pitts told me, "In addition to physical health, our concept of 'positive individual health' includes mental, emotional and spiritual health, social and environmental health and intellectual, occupational and financial health. It includes viewing health as more than the absence of disease -- understanding that health includes flourishing in many or all of these domains."
A Shared Values-Shared results approach is designed to facilitate positive health. "Shared Values-Shared Results is written as a disruptive innovation in the context of 2016 for taking health to a higher level in organizations," Edington described. "This includes redefining health at a higher level as positive individual and organizational health. And, ultimately, creating an integrated strategy designed to impact positive individual health and positive organizational health."
This task is by no means easy, but the authors offer some suggestions. Pitts said, "The implication of recognizing this type of broader health is that organizations can do much more to help employees flourish. Aligning the workplace environment, policies, practices and maybe most importantly, fostering more supportive relationships to best serve the health and well-being of employees; practices like these will ultimately result in what we call "positive organizational health."
There is a particular need for buy-in from leadership. "We build a shared vision based upon the 'Shared Values-Shared Results' concept. The first step is to ensure we have the leadership's commitment to the process. The senior leaders, in concert with leaders within the employee populations, could construct the shared vision," said Edington.
The authors present suggestions for what employees and organizations can do, and how to measure and communicate what matters to employers and employees. "Our preferred process is to ask the employees and leaders to each make an initial draft of their existing values and desired results or, preferably, engage a diverse and representative group of employees to construct the lists," Edington described. "After the individual lists of shared values and results are vetted throughout the respective management and employee groups, the leaders would then propose shared values and shared results. These can form the basis for a shared vision, and a win-win philosophy."
Ultimately, the authors are optimistic that organizations will embrace the Shared-Values-Shared Results approach. Pitts explained, "Shared values and shared results are the hallmarks of a win-win organization. There is a shared understanding by all employees, from the CEO to the shop floor, that everyone is an important part of the company. Everyone throughout the organization has an opportunity to be part of co-creating the vision and values for the company. Everyone understands that what is good for the organization is good for the employees, and what is good for the employees is good for the organization. The employees and the organization are in service of each other and in service of the larger purpose the organization was founded to accomplish."
As evidence mounts that improving employee and organizational health can move companies to an even more competitive level, the question soon may become: Can companies afford not to focus on positive organizational health?
Michael A. Friedman, Ph.D., is a clinical psychologist in Manhattan and a member of EHE International's Medical Advisory Board. Follow Dr. Friedman onTwitter @DrMikeFriedman and EHE @EHEintl.
Calling all HuffPost superfans!
Sign up for membership to become a founding member and help shape HuffPost's next chapter