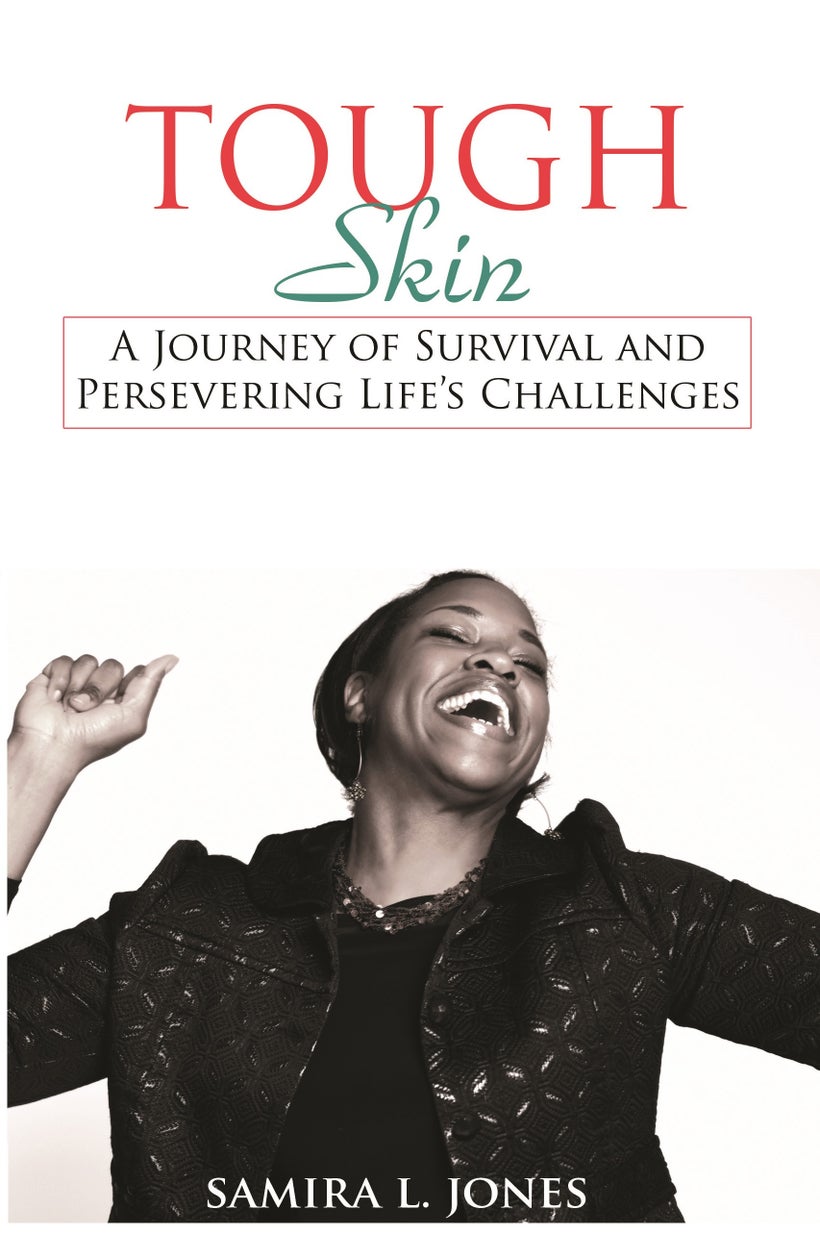 "The greatest trouble with most of us is that our demands upon ourselves are so feeble, the call upon the great within us so weak and intermittent, that it makes no impression upon the creative energies; it lacks the force that transmutes desires into realities." ~ Orison Swett Marden
I believe that women have an unlimited flow of power within us that we rarely ever tap into unless there is a crisis. Not just physical power, but the power of tenacity and determination.
With this power, some call it magic, we are able to do amazing things in our lives. We achieve amazing goals and we turn setbacks into comebacks.
I had the pleasure of interviewing best selling author Samira Jones on her drive and passion to push forward against the odds.
Who is Samira Jones, and what imprint do you desire to leave on the world?
A: Samira Jones is a POWERHOUSE that has been knocked down, taking one hit after the next, being used, abused, abandoned, and betrayed. Yet still she rises no matter what, not living in her today, yet living in her tomorrow, living in her GREATER that is on the horizon.
The imprint that she desires to leave on this world is that you do not have the opportunity to give up! You cannot afford to give up! You have spouses, your children, and most importantly YOURSELF! You must be everything to yourself and show up even when you do not feel like it.
Only the strong survive this!
Stay strong for the fight! Be Bold. Be Courageous. Have Faith. Be Inspired!
Q: Talk about one of the pivotal moments in your life that gave you strength and tell us how did you find that strength?
A: I speak about my life's pivotal moment in my book, "Tough Skin" A Journey of Survival and Persevering Life's Challenges on page 232, "The Pivotal Moment". In this chapter I discussed how the disruption in my marriage turned the tables upside down for me. To others, my former husband and I of 10 years lived the American Dream, lived the life of the Obamas, just a White House on a much smaller scale. We exuded a loving relationship as spouses, with our children, had great careers, and the entire 9 yards. Then in July of 2014, came the earthquake when I was told, with tears in his eyes, that he loved me, I'm a great Mom, Wife, beautiful, etc....BUT he does not love me the same and had to go. Yeah...just imagine all of this happening unexpectedly and during the same week that your husband Baptizes you, and just one week to the day of your next wedding anniversary. DEVASTATION!
I was down for about two weeks before I had a resurrection like Jesus and rose from the dead! I bounced back, becoming determined once again that I was maybe knocked down, but NOT out for the fight! I started to become still and listen to God as He directed the path of my next moves. I stayed in prayer not only myself and the children, but the husband who had abandoned us and followed his infidelities. I became a forgiver, a Mom, a Wife, who viewed this as an opportunity to learn, grow, and teach other women how to do the same. This is where the book came from, as well as my mentoring and speaking.
My motto is: Oftentimes the storm is required in order to receive the blessing. ~Samira Jones
Q: Tell us about your book?
A: "Tough Skin" A Journey of Survival and Persevering Life's Challenges is about my journey as a young child who was being sexually, physically, and emotionally abused. By age 12 my mother decided to give me away while staying married to her husband who was the sexual abuser. Growing up I lived with several different family members, including experiencing being in a group home. I went to several schools (11 transfers to be exact), yet I stayed strong for the fight. I believe that we have all of the power to make a DECISION. My decision is that I refused to fail, and I had a point to make to those who failed me. I went to college, obtained a Bachelors in Criminal Justice, and later 2 Masters Degrees in Business Administration and IT Security, Information Assurance.
During my mid 20's I felt my fairytale life had arrived. I got married in 2006, built a beautiful home on a golf course, and raised our blended family. Life was great, until 2014 when it all fell apart, so I thought. Looking back today I realize that God has already mapped out the blueprint. That blueprint was just a season in my life. It's okay for that season to be complete. Everyone is not meant to go with you where God is taking you. They are being removed from your old season to make room for your new season. We cannot fight the process!
Q: What inspired you to write the book and share your story?
A: What inspired me to write my book and share my story is that there are many women suffering in silence because they do not know how to recover. There are women suffering in silence because they do not know how to forgive. There are women suffering because they do not know where to being to live their best lives! I've conquered and I feel it is my obligation to reach a hand out and share the "How" I did it part. Many people show you the glory, but not the whole story. I am proud of my continuous perseverance and know that is has and will continue to inspire others to keep praying, keep pressing, keep pushing, and keep faithing!
Q: What is the message we can hear you shouting from the mountaintop to those on the climb?
A: Let's GO! Let's MOVE! VICTORY is awaiting US! Come on!!! You GOT THIS! You GOT THIS! YOU GOT THIS!!!! Come on LET'S GO! We are built for IT ALL! ALL of it! Let's GO!
Q: What is your favorite quote and why?
A: My favorite quote is one of my own, "Often times the storm is required in order to receive the blessing."
This is one of my favorites because it is personal to me. It came about one morning as I was brushing my teeth. Those very words came into my thoughts, and I immediately shared them on social media. It was then in a moment of gratitude that I was thinking of how blessed the children and I were even in the midst of the storm. It was in that moment that I realized that everything doesn't happen to us, yet it could be happening for us, and often we have to pass the test to recite the testimony!
Q: How did you embrace your uniqueness?
A: I embraced my uniqueness by becoming CLEAR as to who I am and understanding that what others think is NONE of my business! I am comfortable in my own skin. I am comfortable with my story. This is being my true authentic self. When you become THAT clear, you create your own lane and there is NO competition!
Q: What does Activate mean to you?
A: To me Activate means to TURN UP! It means to get intentional, create an action plan, set up some measurable goals and outcomes, to not just talk about it, but to BE about it! Activate to me means being NON-NEGOTIABLE about my vision and mission. Activate to me means, LET'S GO! Let's collaborate, let's grow and go on this journey TOGETHER!
Q: Who would you like to sit down and have lunch with (dead or alive and why?)
A: I would absolutely love to sit with Oprah on Super Soul Sunday. It is something about her presence, her message, and my story that all interconnect. I know this will one day be my reality. We must have similar upbringings and both have stayed strong for the fight. I admire her tenacity, grace, and philanthropic spirit. Oprah is the perfect role model for me, and my mission to serve women all around the world.
Q: What's next for you and your brand?​
A: What's next for me and my brand is to expand our reach with global empowerment initiatives. These initiatives are surrounded around both personal and professional development. This year I am hosting my very first retreat, "Girlfriends Discovering Our Strength", which focuses on working on our personal health, healing, and lifestyle. Next year in 2017 we will add to our brand, the "Girlfriends Business and Leadership Symposium", which will elevate women to their next level in business and promote entrepreneurship for women.
Q: Leave us with one last piece of advice.
A: My one last piece of advice is that our destiny is already seeded. All we have to do is Show UP as our best self and put in the work. We have to understand that distractions and detours are a part of the process. Don't let any of them knock you so off course that you lose sight of the winning goal line. You are almost there, keep pressing! Push through the storms! They are REQUIRED! TRUST the process! You'll never understand how great you are if you've never endured anything that exposed your greatness!
Connect with this powerhouse and grab your copy of her book Tough Skin.
Calling all HuffPost superfans!
Sign up for membership to become a founding member and help shape HuffPost's next chapter
This post was published on the now-closed HuffPost Contributor platform. Contributors control their own work and posted freely to our site. If you need to flag this entry as abusive,
send us an email
.