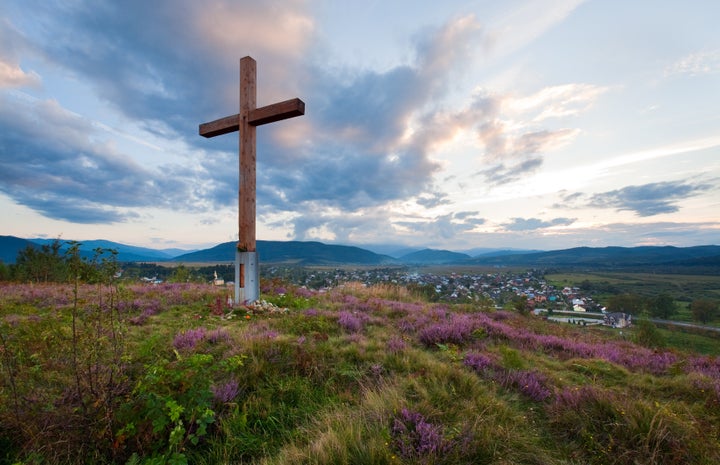 What happened to our Christian imagination?
This Sunday Christians are celebrating Easter, the day that Jesus rose from the dead. One thing that stands out to me in the biblical story surrounding Easter is the lack of imagination shown by Jesus' disciples. They didn't expect Jesus to be alive. They didn't understand the bigger work that God was doing. They were limited by their world views, their history, their culture, their politics, and their narrow vision.
Are we like the disciples, leaning on our own expectations of God's deliverance? Unable to imagine that God is up to so much more?
When I wonder who, in the biblical narrative, might have been able to dream bigger about Jesus, the one person who comes to mind is his mother. Mary had experiences with Jesus that no one else on earth had. She became pregnant after a visit from an angel. She gave birth and was visited by rulers from far-away lands, and shepherds, claiming to have been sent by a heavenly choir of angels. "Mary committed these things to memory and considered them carefully." (Luke 2:19 CEB)
When Mary took her baby to the temple as the law directed, Simeon prophesied that her baby was God's salvation, a light to the Gentiles and a glory to Israel. The prophet Anna spoke about Jesus to everyone waiting for God's redemption. Mary and Joseph were amazed by these things.
We can only imagine what a childhood with Jesus may have been like, but Mary was there for it. She watched his ministry begin. She watched him preach to massive crowds, heal the sick, interpret scripture, and gather followers as well as enemies. Mary also watched as her baby, now a man, was betrayed and turned over to authorities for a sham trial, which she knew would lead to his execution. Mary was there as the government tortured and killed her son. I wonder what Mary was thinking? What were her thoughts at the foot of the cross? What did she cling to as they laid her beloved child in a tomb? Did she recall the stories of the shepherds? Did she cling to the words of Simeon and Anna? Did she remember the moments of his childhood that amazed her? Did she think of the boy who could turn creation on its head by changing water into wine? When the world mourned, did Mary give up hope? Did she think salvation was lost?
I wonder what Mary imagined.
I think she must have imagined more. She must have trusted that the story was not over. She knew too much, she had experienced too much. Did she dare to dream of Easter?
There are certainly days when the world seems dark. As we move into Easter weekend, we must first go through the despair of Good Friday, and the darkness of the tomb. But even in those times of despair, let us not lose our Christian imagination. Let us not forget that the ending is unexpected.
Let us cling to our Christian imaginations.
What does that mean for us today?
I believe strongly that there continues to be a need for various forms of political activism. I believe strongly that we need to do better by our sisters and brothers in the church, and around the world. I believe in justice. I believe in working through systems when necessary. But I serve a God who is bigger than systems, who rules a kingdom greater than this world, and who is capable of more than we can ask or imagine. I serve a God who turns creation on its head, and writes unexpected endings.
Shouldn't we try to imagine? Shouldn't we strive for something greater than the paths in front of us? Shouldn't we consider that our salvation doesn't come through political leaders or parties?
As Christians, we must look beyond politics. We must remember the truths we knew from the beginning, and the stories we have committed to memory and considered carefully.
We can't depend on political candidates, not even the political candidate who most closely reflects our version of biblical values. We can't claim to find saviors in candidates who seem to say things that Jesus might say, or who promise us more freedom as Christians, or who reflect the cultural ideals that makes us most comfortable. We can't depend on the female candidate, or the male candidate, or even the Christian candidate. Because at the end of the day, none of these people is Jesus. And Jesus is where our ONLY hope lies.
I believe that American Christianity has lost its imagination. I believe we've lost our ability to dream, to live in freedom, to think about the possibilities beyond what the world presents us. We are citizens of a different Kingdom, one with a King like no other, a King who is beyond the world's definitions, systems, leaders, and processes – a King who set the world in place, and who writes the laws of physics. We serve a King we can trust, and a King who is working to undo all that is wrong.
So, as we look at the world today, and as we prepare our hearts for Easter, I think of Mary, so intimately acquainted with Jesus, and so full of stories and experiences, with memories stored up like treasures. I want to be like Mary. I want to have memories and experiences with Jesus stored up in my heart. And I want that to fuel my hope and my imagination. There must be more than Good Friday. There must be more than the tomb. There must be Easter coming.
Let our Christian imaginations lead us beyond what the world might hope for, and into the greatest things of the Kingdom.
Calling all HuffPost superfans!
Sign up for membership to become a founding member and help shape HuffPost's next chapter