"So I was looking through Snapchat and Instagram, you know what they say right? Just because I'm married doesn't mean I can't look at the menu!" says Robert, whose name has been changed to protect his identity, with a smile. This is Robert, a 55 year old man who has indulged, with his wife's blessing, in every curvy whim with stilettos for the past 25 years of his marriage. Yes, his wife knew he was not a "one woman man", but it was the lesser of two evils to allow Robert to stray, so long as he came home at the end of the day. Like the feline you let out at night knowing it'll be back when it's done gallivanting through the neighborhood in search of feral cats. And so long as this feline was providing a luxurious lifestyle, its pedagogue looked the other way.
Infidelity affects one third of marriages, with 70 % looking for the excitement a forbiddance will bring. The remaining percentage of commitments seem to be consenting adults in an open marriage. Which is what Robert and Camille had, an open marriage.
"It was easy knowing who he was having an affair with 10-15 years ago. I always knew, at the neighborhood BBQ or pool party, at a school function for our kid's, even at Church, I always knew who he would be cheating with next" says Camille, Roberts wife whose name has also been changed to protect her identity. She goes on to describe how simple things were while he had his affairs, there wasn't much more to it than having sex with women that looked like her and WERE like her. Lonely Mom's needing one thing, attention and excitement. Whether they spent an hour or 2 on the tennis court or were planning fundraising events at their children's elementary or middle school, Robert always seemed to think that what they all needed was him. Just sex with him one time and "on their knees they would wait for me until our next rendezvous" Robert laughs. Not at the same time of course. Although Robert say's that he doesn't think he would have enjoyed an orgy with women of "that age" as his experience with "2 twenty year olds at the same time is much better than one 40 year old" he smiles and winks. With one form or another of Social Media being the way to communicate now and the affairs no longer being with women that were "like her" and more "like the age of their college age kids friend's", Camille says it became too much for her to handle.
"I can't compete with an 18 year old who wants airfare to Coachella and a stay in an onsite deluxe RV so she can rest comfortably in ac in between seeing bands perform in exchange for oral sex with my husband or the 24 year old that wants a $25k Chanel bag in trade for sex" says Camille. And that's exactly how Robert got snagged on a barb wire fence like a coyote stealing a chicken from its hen house, metaphorically speaking of course. An expensive bag in trade for sex.
Social Media is huge in Robert's industry as an Oil and Gas Broker as most day's he never leaves his desk while watching the market online, giving him plenty of time on his phone to peruse Snapchat and Instagram to select his new conquest. "It seriously was like looking through a menu! GOD, girls didn't look like that back in the day!" exclaims Robert as he scrolled through his phone. After creating an account, Robert started messaging girls on Instagram, they would then direct message him and send him their Snapchat user name privately connecting to schedule hookups. Because Snapchat deletes after a few seconds, there was no trail. And even IF there had been a trail, Robert wouldn't have cared as Camille had looked the other way throughout his career of infidelities. Roberts Instagram was very colorful, showing him on his yacht, work trips in Europe, up close pictures of his Rolex and Cartier time pieces while driving his Bentley or Porsche, his trap was set. Everything needed to lure in a fresh catch of girls who would be impressed with who he was to have affairs with.
Now back to the bag and how it almost got Robert killed. Kasey, whose name has been changed to protect her identity, was the 8th girlfriend Robert had under 25 years old in a year. Robert saw Kasey as an investment, not a girlfriend. A Book Value Investment, worth more because the more value he placed on Kasey, the more he owned her as an asset. Whereas his wife Camille was a Market Value Investment, he could get rid of her at a current price, much like a stock priced to sell, at a much lower price than that of a Book Value Investment, not worth as much in a divorce Robert thought.
Robert had done with Kasey everything he had done with all the other affairs and still, he couldn't get Kasey into bed, until she mentioned how much she wanted Fendi's $38k Selleria Bag. Kasey had been on several dates with Robert. Dinner dates, lunch dates, shopping excursions but had never "hooked up" with Robert. That was going to cost him more than the $1800 Louie Vuitton monogramed Keepall he had purchased to match the $1500 Speedy 40 he had gifted her 3 months ago. "I literally use the Keepall as a mobile laundry basket since we travel so much and the little one is my makeup bag "says Kasey with a shrug.
The line was drawn in the sand when Robert accidently left his email open and Camille saw how much he had withdrawn from one of their accounts, enough for 2 semesters at Baylor college where their son is attending as a Junior. And below that, an email from a Plastic Surgeon letting Robert know that he and Kasey could now access their visit through the Dr.'s online portal. Further investigation detailed the 10k breast implants Kasey had also been gifted with along with $2k in Botox and $2500 in fillers, one month into their relationship, so an expensive handbag wasn't too farfetched as Robert could afford this. Or was it?
Extra marital affairs can cost $500 monthly for as long as one is having their rendezvous, unless the affair is with Kasey. "No one gets this without a little work!" she says with a flick of her wrist and right index finger.
Camille stayed up nights thinking of ways to get rid of Robert, she had allowed him every indulgence and he was going to leave her anyway? And for a younger woman who had not put up with his infidelities and was going to benefit from all her hard work as a stay at home supportive wife and Mother? And not to mention, for the past year he had easily plowed through $300k in real estate "investments" for his young girlfriend to live in. "Not today and not tomorrow" says Camille as she had never worried about Robert spending their money on his conquests as it had always just been about sex, until now. Now it was about splurging on gifts to keep his young girlfriend interested.
Robert came to realize that Camille was not going to walk away as easy as she had allowed him to walk all over her. The history on her laptop detailed his demise. "This was all her fault" said Robert in the mediation with their Divorce Attorney's about Camille. "If she had never allowed me to look at another woman, I wouldn't have married her. I know who I am and so does she. Not to mention Camille has let herself go." Robert says that Camille cannot decide now to control what he does, "Maybe I should have taken her to get some things tightened, she just doesn't keep herself up the way Kasey does, really there is no competition! We're talking about a Bentley and a Corolla" says Robert.
Camille decided that going to jail for something horrible happening to Robert was not worth it, but what was worth it was to take him for everything she could get in a divorce without a pre-nup, a marriage worth $30 million, split right down the middle. Kasey says that it doesn't matter how much money Robert "gives" Camille, "Robert and I are still going to be very rich" says Kasey with a wink.
Sitting in the front row of the courtroom in the first day of divorce proceedings is Kasey, sitting on her lap is Fendi's Selleria bag worth $38k. I wonder if Robert has "hooked up" with his investment yet and if this investment will one day be sold at Market Value like he thought Camille would be. Somehow, I think this feral cat knows how to play the Stock Market and playing with other people's money is her forte.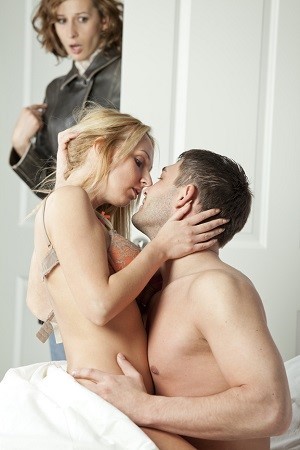 REAL LIFE. REAL NEWS. REAL VOICES.
Help us tell more of the stories that matter from voices that too often remain unheard.