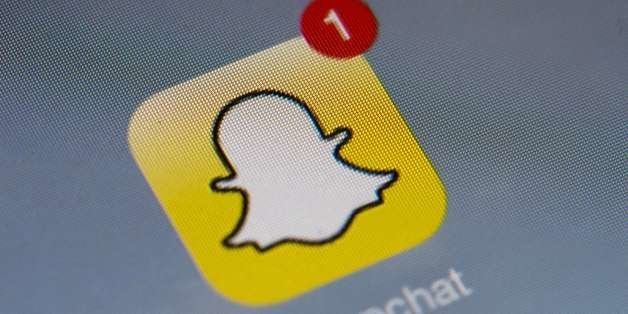 It's 2013 and Lorde's "Royals" is playing on your radio, the season finale of Breaking Bad has just blown your mind and you've probably by now heard of a new app called Snapchat. The photo-sharing app built by two Stanford fraternity brothers became widely popular among teens shortly after its release in 2011. But just as quickly, major media outlets branded it as a "sexting" app.
From the start CEO Evan Spiegel was clear about the purpose of Snapchat. In the company's first blog post Spiegel states, "We're building a photo app that doesn't conform to unrealistic notions of beauty or perfection but rather creates a space to be funny, honest or whatever else you might feel like at the moment you take and share a Snap."
The app came about during a time where unflattering and potentially career ending tagged photos lingered for unknown amounts of time on social media sites, like Facebook. And the numerical race for friends was not only exhausting but also unnatural.
Snapchat's founders aimed to change that. In a 2013 interview with the Associated Press, Spiegel narrowed down the purpose of the app to one main point, "It's fun. Period. And that's the most important part," said Spiegel.
However, the headlines remained and Snapchat continued to be synonymous with sexting, particularly, teens sexting. Spiegel didn't deny it. In the same interview with the AP, he recalled the early days of Snapchat where he would approach people about this new app that allowed users to send photos that would disappear. Spiegel said their first thought was often "Oh, for sexting."
"More Than Disappearing Nudes"
Today, Snapchat is a multi-billion dollar company with over 100 million active users. It is the third most popular social media platform for teens, right under Facebook and Instagram. And according to Photoworld, every second 8,796 photos are shared on the app.
The app has evolved over the last four years adding on "live stories" that show user submitted photos and videos from cities and events across the world. It also created a discover tab, partnering with some of the same media companies that questioned the apps motives from the start.
But how did the founders overcome Snapchat's unfavorable media perceptions? Simple, they stuck to their message. In their blog posts, video, and print interviews the founders always referenced how their app allows users to share spontaneous moments, communicate with friends and overall have light-hearted fun. In fact, the word "fun" comes up in nearly every single blog post on the app's Tumblr page. And with each new feature introduced, the founders only further supported their desire to create a "fun" app.
Yet the real turning point came when Spiegel turned down Facebook's Mark Zuckerburg's $3 billion offer to acquire Snapchat. Shortly before then, Facebook had reported for the first time that the company saw a decrease in the number of daily users, specifically in young teens. Spiegel got widespread media attention for his bold move and caught the attention of those that previously disregarding Snapchat as an app to send nudes. After all, why would Zuckerburg value a sexting app at $3 billion? And for some odd reason if he did, wouldn't the founders have jumped at the chance to sell their company?
Once word spread of Spiegel billion dollar rejection, it was obvious that reducing Snapchat to a teen sexting app was over simplifying this multipurpose platform. When asked why he turned down the lucrative offer, Spiegel told Forbes "There are very few people in the world who get to build a business like this," then he went on to say "trading that for short-term gain isn't very interesting."
Snapchat's founders were confident, going into it, about the potential of their app. They saw a need for an ephemeral messaging platform that put the spontaneity back into the way we communicate on social media. As a result, it resonated well with an audience tired of constantly editing their privacy settings and concerned about the wrong photo circulating the Internet.
The company is a prime example of how important it is for a company to clearly identify its message and then stay consistent. From the start, the founders positioned Snapchat as the antithesis of popular social media sites where users can leave behind a potentially haunting digital footprint. Sure an app where pictures disappear can be useful to those that are looking to fearlessly send racy pictures. But that wasn't their target audience. Instead they were going after the millions of people who would rather scribble a funny text on their own selfies. The "sexting" connotation did put a dark cloud over the company. However, by consistently stating that their intentions for the app were simply centered on users having harmless fun, they were able to finally get through to their target audience and clear up the misconceptions.
Related
Popular in the Community