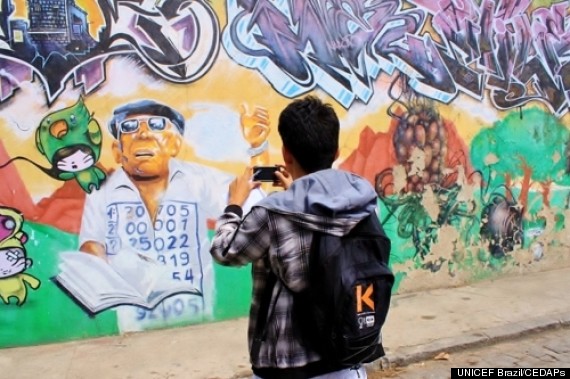 A youth in Rio de Janeiro, Brazil testing a prototype vulnerability mapping smartphone application.
In 2010 Rio de Janeiro, Brazil experienced widespread flooding which lead to serious property damage and loss of life. The damage was particularly severe among the poorer communities of the city known as favelas. The municipal government recognized the need to increase resilience in these cities, and asked UNICEF Brazil if they would implement a youth led community mapping project to pinpoint locations within the favela communities where action needed to be taken. The team tasked with designing the project knew that a smartphone app in the hands of trained youth mappers would be a promising solution. However, there was no budget or team to build the app.
Instead of abandoning the idea or delaying the project with fundraising, the team reached out to the MIT Mobile Experience Lab which had developed an app that did location reporting, but was being used to report tourism locations in Italy. In a short time with no financial investment, the tourism app was used to create UNICEF-GIS a basic version of the solution needed for the Rio mapping program. In early 2011 the app was tested with the youth mappers in Rio. It had numerous technical problems and almost totally broke down. However, the young people understood the purpose of the app, found ways around the technical problems, and were able to create digital maps with the technology pinpointing the vulnerable locations inside their favelas, which the government received and used to take action.
The positive results lead to investments into the app that solved technical issues, additional funding also went into the larger program. Since the initial use of the app in 2011, the mapping program lead by CEDAPS with support from InSTEDD and Public Lab, has engaged hundreds of young people numerous cities and over thirty communities across Brazil, creating positive change and receiving coverage on the BBC and numerous other international and local media outlets. The app has subsequently been used in Haiti, Argentina, Cameroon and Kosovo for additional social impact.
When working to achieve social impact, you need to know how to innovate on a dime. Funding is often extremely limited, and waiting on fundraising to propel a promising idea can mean never getting started. Convincing institutions and donors to invest in a novel or creative idea requires a leap of faith, and even when innovation gets the priority, the initiative gets extra scrutiny. Along its development, the evaluation from colleagues who may be tied to the status quo will be intense and at times combative. Only with the promise and evidence of scale and sustainability, can the social innovator get the support needed to succeed and realize full impact potential. Under this challenging context, social innovators like those in Brazil which created the youth mapping app, are turning to a methodology which first came to prominence in the manufacturing and software development space in the 1980s -- rapid prototyping.
What is rapid prototyping? It is a process in which an not-yet-final version of a solution, platform or program is created and tested quickly with the intended users. The inputs from the testing are quickly integrated to improve the design, and the process repeats until the prototype is ready for full deployment. While prototypes can be associated with nearly completed versions of a product, recent use in the social sector is demonstrating how prototypes, and the prototyping process, is valuable even at the earliest phases of development. "The feedback you get when you put something tangible in a person's hands is really powerful and it opens up a whole new way of learning from the people you're looking to serve," describes Stacy Barnes, communication design lead at IDEO.org, the nonprofit arm of the Silicon Valley based design firm. "The prototype doesn't have to be perfect, just enough to convey the idea that you want to test". By getting feedback before you fully build out the new idea, corrections can be made before exhausting too much resources, time and effort.
The Rockefeller Foundation has launched a multi-phase international prototyping initiative, made up of several organizations acting as a single cohort, to rapidly uncover new interventions that improve the health of informal workers around the globe. This networked prototyping approach allows organizations across locations and expertises to quickly co-design and test early stage innovations that could scale and impact hundreds of thousands of lives in a time and cost effective manner. "Unlike more traditional approaches, the prototyping based approach allows us to test our assumptions and experiment with potential solutions much faster" explains Amira Bliss, Senior Program Associate at Rockefeller. "We're seeing testing happen in as little as two months with prototyping, as opposed to waiting up to one year to pilot in the field."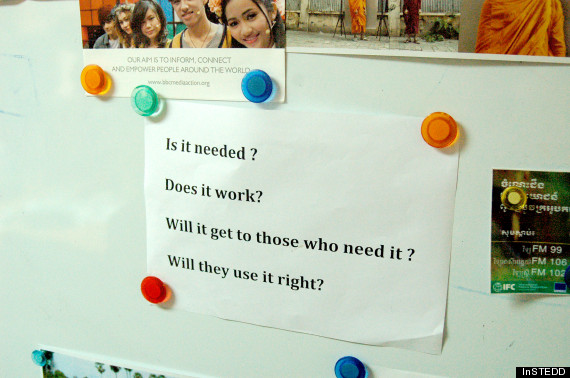 Key questions to ask when testing a social impact prototype.
Other social impact organizations have similarly used prototyping as an economic way for enhancing early stage solution design. The Skoll Global Threats Fund team has invested in a series of "EpiHacks," multi-day events which bring health stakeholders, from across a region, together to share their most pressing challenges and try to prototype potential solutions. Out of the EpiHack prototyping (the latest of which runs Dec. 12th - 16th near Arusha, Tanzania, the first in Africa) comes not just innovative ideas, but critical connections between diverse stakeholders needed to advance ideas to piloting and implementation. To design a next generation strategy for deploying emerging technologies, such as drones and 3D printing, in humanitarian response, the American Red Cross organized a series of international convenings and rapid prototyping events with implementers, academics, and experts. In this case, prototyping was less about a new product and more about a discovery process to uncover potentials and pitfalls for a future organizational strategy.
At InSTEDD, we've created prototypes with non-profit and multilateral organizations across the social impact space, in many different locales and sectors. To ensure that the prototyping is maximizing the initial innovation budgets, here are some of the most important considerations:
Before prototyping,

validate what problem exists and come to understand it intimately

. Be diligent in requirements gathering and engage key stakeholders who deal with the problem on a daily basis before you begin. If you prototype without this foundation, it is like shooting at a target in the dark.
Depending on the the stage of an innovation and the objectives for prototyping,

different types of prototypes and levels of complexity are required

. At the brainstorming stage prototypes can be simple sketches or power-point mock-ups. When testing in the field or presenting to potential investors, more definition may be required.
Prototyping requires a culture of

doing and learning

, open innovation and a willingness to fail and bounce back. Institutions new to innovation may not have the stamina required to push through the tough stages of prototype development or be able to successfully engage target users and beneficiaries in the process.
Based on the feedback gained from prototypes, your team must be

ready to pivot, or change directions

, potentially in a drastic manner. Prepare contracts with prototyping partners and set organizational expectations accordingly.
Related