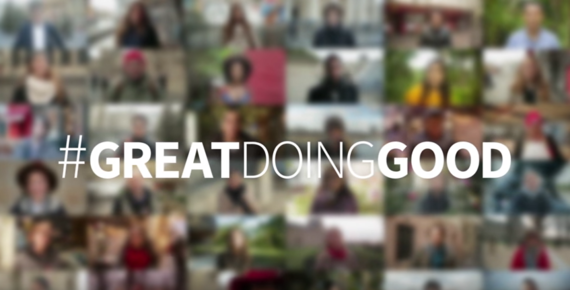 Last fall, social innovation went to Geneva to attend the global prom. That's how I looked at The Social Innovation and Global Ethics Forum (SIGEF), an international event organized by Horyou that brought together nonprofits, renowned speakers, social entrepreneurs and the general public for three days of dialogue around pressing issues, such as social empowerment and equal access to water.
To build on the momentum of the SIGEF Event, Horyou.com -- the social network for social good -- has launched #GreatDoingGood, a website and campaign to support the social good promoted by the Horyou platform. The campaign has gathered dozens of testimonials from people across the world about why it's great to do good, in an effort to inspire people across the world to engage in positive actions.
#GreatDoingGood ups the ante by making a game around the various videos and offering the winner a $1500 prize, with an additional $1,500 going to the NGO of the winner's choice. Horyou is also organizing a social media challenge in support of the #GreatDoingGood campaign by inviting people to share a good action on social media and challenge their friends to do the same, creating a virtuous cycle of positive actions.
How do social media opportunities like #GreatDoingGood foster concrete action with philanthropy? I think these opportunities create an ideal onramp for people to be more engaged with social issues and solutions, and empowered to make a difference. Campaigns that involve ordinary people inspiring others through word of mouth have the potential to make philanthropy more relatable and accessible, demonstrating that small actions can generate big, positive results.
It's not just individuals that benefit from campaigns like #GreatDoingGood; companies also reap rewards. In fact, I'd argue that companies should leverage campaigns like #GreatDoingGood to increase employee interest in volunteering and giving and demonstrate how they're becoming greater in the act of doing good. Social media is an important -- and often overlooked -- way for companies to communicate this message with employees, and #GreatDoingGreat is tailor made for just that.
A report by LinkedIn and Altimeter Group found that 54 percent of engaged employees read content by their company through social media. The study, which focused on the behaviors of companies that were found to the the best at engaging their employees, concluded that these top performing companies built relationships with their employees through social media and by leveraging their core values to empower their employees to be brand ambassadors. "It all begins with authentic, meaningful engagement and content," the report noted.
Other highlights of the report reveal:
Employees maintain a more optimistic outlook at top socially engaged companies relative to other companies: 52 percent versus 41 percent.
40 percent of engaged employees cite their company's social media communication as the source for keeping informed on important news.
38 percent of engaged employees are more likely to share relevant company content with coworkers and customers when the company shared content in social media.
20 percent of employees are more likely to feel inspired based on how companies use social media to engage with them.
Socially engaged employees are more likely to feel proud about their companies' leadership than employees that are not socially engaged.
Socially engaged employees are not just connected to those in their own department, they also expand their networks to include other employees, customers, and prospects.
A full 59 percent of engaged employees use social media to build relationships within the company.
Social media undoubtedly plays an important part in involving individuals and employees in social engagement. #GreatDoingGood by Horyou.com is a gift that invites people and companies to start a conversation and then translate it into action.
Calling all HuffPost superfans!
Sign up for membership to become a founding member and help shape HuffPost's next chapter