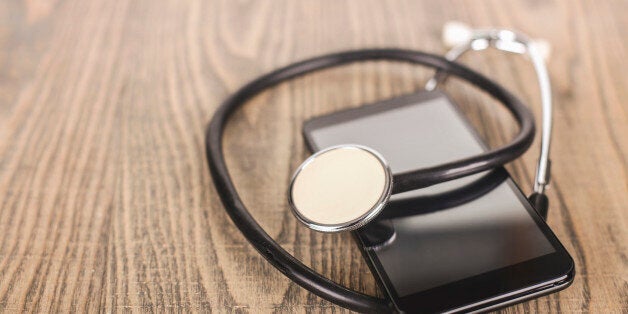 From clinical healthcare to public health campaigns, the health industry is increasingly turning to social media to support, promote and increase the spread of information and data in order to improve both personal and community health practices. Social media has provided a space to share preventative information and enabled the creation of support structures to track personal health and build patient-to-patient support networks post-diagnosis. It is both responding to the needs of the health industry and creating numerous challenges that health professionals are required to keep up with -- ranging from privacy issues related to social media sharing practices, to the potential for misinformation related to public health spreading quickly if health agencies aren't ready to dispel rumours.
The concept of "health" refers to personal and communal well-being, both physically and mentally, but it also encompasses industries and professions that address health -- from caring for the elderly to controlling messages during an infectious disease outbreak. Here we discuss the current trends, benefits and complications of using social media in clinical and public health settings.
Across the health spectrum, the way that many now communicate more rapidly, access supplemental research data, and arm themselves with pertinent health information needed to manage their own health and those of others has been propelled by access to information via social media, coupled with the ubiquity of cellular devices.
Social media has been responsible for relevant changes in both personal and community health, especially by making it easier for large numbers of people to rapidly share information. This has brought with it both strengths, such as the ability to have preventative and diagnostic/reactive information widely available, and challenges, such as the potential for misinformation to rapidly circulate without the involvement of health practitioners, institutions and organizations.
Key Effects of Social Media
It is important to note that some of the original changes to digital use in the public health field happened because of the rapid integration of SMS-enabled cellular devices -- it is estimated there are approximately 3.6 billion people (of our roughly seven billion population globally) who have some unique access to a mobile device. However, only around 40 percent of that 3.6 billion have ever had access to the internet (via any device). Thus it is important to note that SMS, especially in developing nations, is still the primary means of communicating between cellular devices. Public health campaigns have successfully integrated texting as part of their approach to communication, health education and response. Examples of these include Crisis Text Line, designed to support people in crisis; cellular service Orange's partnership with the Cameroon Ministry of Health to launch a preventive health texting system called My Healthline; and the integration of SMS reporting capabilities into crowdsourced platforms (like Ushahidi/CrowdMap) that lets users report how pollution affects their environment and health conditions like the iWitness Pollution Map.
Social media has influenced public and personal health spaces recently in two particular ways:
Social media can both help facilitate information sharing and be problematic in spreading rumours during normal (or seasonally expected) health events and health crises. Public health agencies and other organizations can use social media to disseminate time-sensitive health information, promote information sharing to encourage behavioural changes (including corrective changes during potential health crises), be a platform for conversation between agencies and constituents (rather than just as an information provider) and allow the public to provide useful information and feedback.
However, social media is a two-way street, and allows non-experts to share information just as rapidly as health agencies, if not more so. Managing misinformation during health crises is an important role that health agencies and other organizations have been forced to take on during events such as the 2014 Ebola crisis. Thus it is crucial that public health agencies and organizations are equipped before a crisis with strategies, educational material, messages and an appropriate staff or volunteer social media management plan to counter misinformation.
Another consideration is the acceleration of available "mobile health (mHealth)" devices such as wearables, apps and social media platforms for tracking both personal health and allowing healthcare practitioners to track patients remotely. This ability to track personal health, check in remotely with your physician, and partake in competitive fitness and health regimes could lead to a re-imagination of how we experience our personal health daily ("have to get those 10,000 steps in!"), also creating predictive and preventative monitoring programs for outpatient care. In contrast, the open sharing of health data has prompted industry-wide questions about privacy, and begs for a deeper consideration of how both sensitive personal health information and patient information can be protected if a platform is hacked or a wearable device is lost.
While social media has manifold applications in public health, it has also been used by physicians and other health professionals to achieve important objectives in clinical practice, education and research. Examples of beneficial applications include:
● Improving practice efficiency by providing educational videos on general topics such as vaccine safety in advance of scheduled appointments, enabling deeper and more meaningful face-to-face discussions to address particular patient questions.
● Making subspecialty expertise on rare diseases and conditions available broadly via video, giving patients new access to information while also favourably positioning the expert.
● Facilitating patient-to-patient support groups that would be impractical without social networking platforms that overcome barriers of time and space.
● Engaging medical professionals in online discussions, providing evidence-based perspectives on current public health challenges.
● Recruiting subjects for clinical trials and improving the informed consent process.
● Providing continuing education asynchronously and on a global scale through online learning communities.
Key concerns relating to social media in healthcare include:
● Ensuring compliance with standards of online professionalism and patient privacy protection.
● Active dissemination of medical myths and misinformation by self-interested propagandists.
● The proliferation of physician and hospital rating and review sites, which often lack sufficient patient participation to provide an accurate reflection of satisfaction with services.
Thankfully, the opportunities for beneficial applications also provide the best ways to mitigate concerns. For example, hospital and physician participation in social media platforms helps them to manage their reputation by elevating their own content in search results, while also reducing the influence of misinformation. And training in digital professionalism is a prime candidate for delivery via online social collaboration platforms.
In healthcare, professionals and organizations must recognize society's ever-increasing use of social media tools, and that abdicating their leadership role on the issues raised by these tools would have harmful effects because the conversations will continue with or without them.
Health practitioners, researchers and agencies should also consider the potential benefits of using social media for obtaining rapid and timely data about trends and patterns in health. Syndromic surveillance, which relies on watching data streams ranging from patient intake to over-the-counter medication purchases to determine and predict health trends, can potentially employ this information shared via social media channels. There will continue to be advancements in mobile health (mHealth) that will unveil new questions about data sharing and privacy, and while encouraging the use of social media to prompt conversations -- not just one-way information sharing of public health concerns -- we must also ensure that strategies to address misinformation are stronger than ever.
1. As we continue to develop applications for sharing personal health information and ask people to share health data about themselves, keeping up with the requirements of personal and patient privacy will be vital in order to protect social media users.
2. We're able to share information about health -- both our own and that of others -- via social media more rapidly than ever before. The verification of this shared health information, especially as it relates to fast-moving epidemics or heightened seasonal health concerns is crucial to keeping the public accurately informed.
3. A major challenge that health professionals and agencies now face is the ability to respond publicly and in a timely manner to the spread of misinformation and health-related rumours during public health events, as the 2014 Ebola crisis illustrated. Social media "storms" are able to cause and create shared public responses that may or may not be appropriate for the health event. Health agencies need to have plans in place ahead of time to be able to respond to and counter misinformation or support accurate information shared via social media.
This post is part of a series produced by The Huffington Post and The World Economic Forum sharing insights gained from surveying 5,000 digital media users from Brazil, China, Germany, South Africa and the U.S on the impact of digital media on society. The series is developed in conjunction with the Forum's Shaping the Future Implications of Digital Media for Society project and the Forum's Impact of Digital Content: Opportunities and Risks of Creating and Sharing Information Online white paper. The series is running during the Forum's Annual Meeting 2016 (in Davos-Klosters, Switzerland, Jan. 20-23). Read all the posts in the series here.
Related