The Indian government must back private-sector investments in solar systems beyond the grid to make good on its bold climate pledges.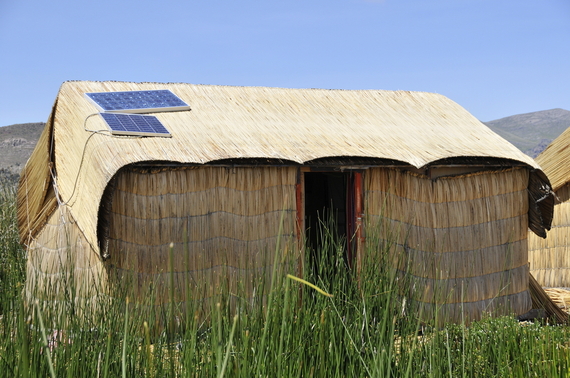 Two days after assuming office, Indian Prime Minister Narendra Modi declared his intention to harness solar power to get every home in India access to at least basic lighting by 2019. This is a bold plan, and just one of many from Modi when it comes to climate and clean energy. But for his plan to attract foreign dollars, he needs to take it one step further - he needs to detail exactly how the Indian government is going to make this goal less risky so private capital can invest. Last week's announcement of $60 million to back innovative solar financing is a start, but more needs to be done.
Bringing reliable electricity to the nearly 300 million Indians without it is definitely a daunting task, but it's something that can be done with a plan and a change of approach. The reason? India already has the technology and the capital. What is needed is a true government commitment not only through words but also with policy. Anything short of that will not attract the private capital necessary to accomplish the Prime Minister's 2019 goal.

Many have pushed universal grid connections through a centralized grid as the only means to power the poor. The problem is that the grid is slow and cumbersome to bring to far-flung communities, and even where it exists its dysfunction still leaves many in the dark. That's why investing in nimble, cheap, direct clean energy services can be life changing -- a few light bulbs so children can study, a TV for some entertainment, a ceiling fan to weather the heat, and of course a place to charge their mobile phone at home.

The 21st century solution to meeting basic electricity needs is putting the most advanced clean energy technologies in the hands of the world's poorest communities. That stands in stark contrast to the failed 19th century solution of making communities wait potentially decades if not more for heavily polluting and expensive technologies. That is the 2019 standard that Prime Minister Modi hopes to hold India to.

In recent years, technologies such as solar lanterns, home solar power systems and micro-grids have transformed thousands of lives in India. What people don't realize is these devices provide benefits far beyond energy services. They drive financial inclusion by allowing people to open up bank accounts and serve as credit history to unlock future opportunities for citizens to borrow money for things like businesses, homes, and cars--a key goal of the Modi government.

To get India's millions access to basic electricity will require over $10 billion of investment over the next three years. The truth is the money is available in both the public sector - the United States Agency for International Development (USAID), the World Bank, and the Asian Development Bank have all committed to funding Indian off-grid renewables - as well as from private investors. But to unlock that money we need smart, targeted investments that make this space less risky and get money flowing. Additional early-stage assistance from the Indian government preparing projects and government-backed loan guarantees give comfort to foreign capital that they can make money serving these populations.

What is required now is a clear policy directive by the Modi government and support from international public financiers. First loss guarantees, more early-stage project grants, and other forms of targeted financial assistance can finally bring hundreds of millions of people into the 21st century. Every country that has fully electrified its population did so with full government financial backing. It's time for the Indian government to do the same. Private capital is waiting.
Calling all HuffPost superfans!
Sign up for membership to become a founding member and help shape HuffPost's next chapter