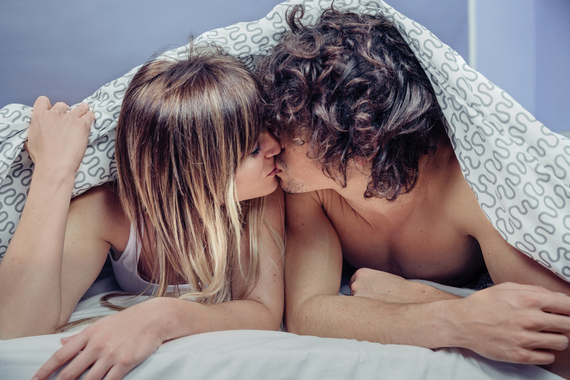 Gone are the days when men courted and wooed women, continuously seducing them with sexual offers. They knew well that women needed to feel loved to want sex, unlike their male counterparts that needed sex to feel loved. Love and trust had to be built before couples would consummate their relationship.
We can feel nostalgic for the romance and courtship of bygone days but know well that those times are behind us.
Welcome to the new world. A world where instant gratification is the new norm, and experimenting with sex with no strings attached is accepted as part of the dating game. Love is rarely present in the equation. We're the hook-up, break-up generation. We get into any relationship at the slightest attraction and step away the minute we get bored, in a rush to find greener pastures.
Fading decorum around courting, and online dating apps among other things, are being blamed. We live in a passive-aggressive culture and are in such a hurry to experiment that we don't particularly care to get to know the person we're dating.
The overwhelming amount of sexual information online and in the media places a lot of pressure on men and women to perform. Added to that is overwhelm of technology that prevails, so much so that we have become a generation with few communication skills. Our lives exist in the ether realm of Skype, Snapchat, and texts. What we share is mostly hovering in cyberspace so that when we do get together there is not much left to say. Action in the form of sex is the only alternative. It is how this generation communicates, through sex.
To many a man sex is a game where he feels he has scored. He needs to win and feel like a man through consistent intercourse. Of course, for those who are not particularly interested in building a life-long partnership then this is an acceptable way of life.
However, at the heart of many men is a desire for intimacy and connection in lovemaking. These men crave intense, passionate, surrendered sexual experiences with their lovers and they want a sexual SoulMate as much as women do. It is therefore, to these men and women we address this question: How soon is too soon to have sex?
My advice is wait as long as you can.
Baby boomers are far more likely to wait to have sex than young daters because having gone thru the sexual revolution, with maturity they realize there are emotional consequences for getting involved in a sexual relationship. However they play by far different rules than young 20-something daters.
Many young Generation X'ers tend to move on to the next person if they didn't have sex on the first or second encounter. They may find that they don't even like the person, but in the heat of the moment they think nothing of having sex for the instant satisfaction it affords them. They find it liberating that intimacy doesn't have to be wrapped up with commitment. To be able to walk away after having had sex, without even a backward glance is the new norm.
However, if you are a person looking for more than just a fling, regardless of age or experience it is a good idea to develop a set of prudent dating rules before going out on the big date.
1. Know your boundaries: Know your boundaries before you start dating. Not just the physical but also the emotional boundaries that come with sexual territory. Emotional wholeness is crucial when making a decision of whether or not to be intimate. Think about your sexual boundaries before your big date. Women typically enjoy sex more when the emotional connection is highly established and strong.
2. Decide if you value a committed relationship: If you do value commitment then ask yourself if waiting until you get to know your date isn't a better choice than letting your libido rule over your head. Make sure your brain, heart and your sexual organ are in sync and align with your decision before you have sex. Have conversation with yourself before that big date so that you can build that firm resolve and stick to it.
3. Be aware of the risks and possibilities of STDS: A healthy dose of fear is a good thing. It will give you pause to consider whether or not to take sexual activity to the next level. Concern about STDS and unwanted pregnancies can help create sexual boundaries, particularly if you're not prepared to take the necessary precautions. This is a sure sign and may signal an overall non-readiness to engage in sex.
4. Determine what you would like in a life partner: It's helpful if you can determine exactly what you need in a life partner, your must-haves and your deal-breakers, and make sure your guy has them and vice-versa. If your core values are satisfied and both of you want to commit to each other then having sex can be very fulfilling. It may even lead to a flourishing long-term relationship.
5. Decide you will not have sex out of obligation: Just because a guy buys you dinner and a few drinks, spends money on you doesn't mean that you must go to bed with him. Build a strong resolve that you will not succumb to feeling sorry or obliged to have sex with your date no matter how sweet or wonderful he seems. Give yourself time and at least a few dates to know him better.
Having sex after commitment and monogamy are firmly in place is the best way to build a strong foundation for a long-lasting relationship. When you have sex too soon, it is possible that both parties didn't get to know each other - and now they may remain in a relationship that is based on initial chemistry and lust only.
Instead of a rock solid foundation built on core values and similar beliefs you have decided to settle, and as a result you may have robbed yourself of the opportunity of meeting your true SoulMate.
© Rani St. Pucchi, 2016
Look for Rani St. Pucchi's imminent release of her book:
The SoulMate Checklist: Key Questions to Help You Choose Your Perfect Partner
For more information on Rani please visit www.ranistpucchi.com