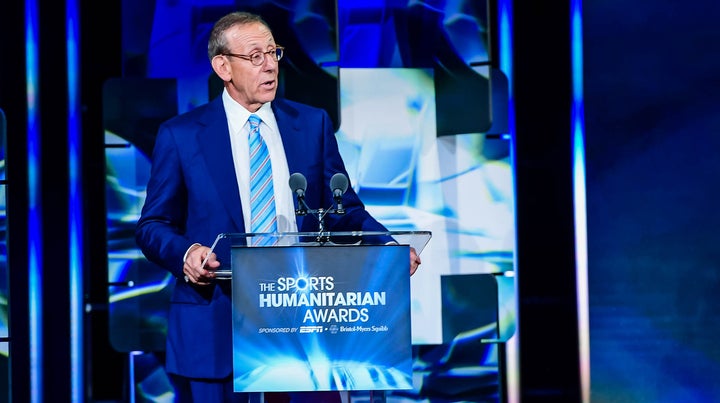 Our country is starving for unity.
In today's political climate, where many have receded to their ideological corners, it is increasingly difficult to overcome a widening divide and come together around a shared vision for equality.
But one proven way to bring people together is through sports. People in this country bond over sports unlike any other interest or activity. The ability to harness this unifying power to initiate social progress is an important tool that can create real positive change.
That's what we have been able to achieve at the Ross Initiative in Sports for Equality (RISE).
In October 2015, Miami Dolphins owner Stephen M. Ross founded RISE, creating an unprecedented alliance of professional sports leagues, athletes, educators, media networks and sports professionals, to use sports to improve race relations and drive social progress in our country.
For RISE to receive such an honor less than two years into its existence is a testament to its philosophy and the tangible efforts it has made to address issues of racial inequality.
We believe that athletes, coaches and sports executives have the ability and opportunity to rise above societal differences and use their platform to influence social progress. RISE works with athletes at all levels – from professional all-stars to student-athletes in colleges and high schools – providing them with the tools they need to become leaders in standing up against racism, discrimination and harassment.
Recently, a group of 20 NFL players donated $20,000 to a youth football program in Texas that had its season canceled after players and coaches decided to kneel during the national anthem last fall to bring awareness to the unwarranted killings of African-Americans by law enforcement. NFL players like Philadelphia Eagles' safety Malcolm Jenkins and veteran wide receiver Anquan Boldin helped lead the initiative to donate the money after meeting the young players at the RISE Super Bowl Town Hall, "From Protest to Progress: The Power of Sports to Improve Race Relations," in Houston.
At the grassroots level, RISE is implementing its high school leadership program at various schools throughout the country. The curriculum is administered to student-athletes by their coaches during the course of their respective team's seasons and is designed to increase awareness, build skills and create safe spaces to have difficult conversations. It teaches participants about the power of sports to drive change and how they can become leaders in improving race relations within their own teams and communities. This past spring, the most-recent group of student-athletes, coaches and administrators at schools in Michigan and Florida completed the program. RISE aims to instill its leadership programs at schools in all 50 states.
Earlier this year, RISE teamed up with the NBA and other partners to create "Saturday Morning Hoops," a six-week program in New Orleans that brought local youth and law enforcement together. The program featured a combination of on-court basketball training and hands-on learning developed by RISE focused on leadership, conflict resolution, identity and diversity. RISE and the NBA partnered with Under Armour and the Union League Boys & Girls Club to create a similar program, "Building Bridges Through Basketball," that is ongoing in Chicago this summer.
This is only the beginning.
In the 20 months since its inception, RISE has provided events and programs in 15 states, engaging more than 6,600 student-athletes, coaches and athletic staff through its leadership program and more than 25,000 fans through public awareness campaigns at live sporting events.
RISE continues to prove that sports can serve as an effective conduit for social progress. With the Stuart Scott ENSPIRE Award and the $100,000 grant that comes with it, RISE will continue to lead and help others lead, as we fight for racial equality.
Jocelyn Benson is CEO of the Ross Initiative in Sports for Equality (RISE).
Popular in the Community