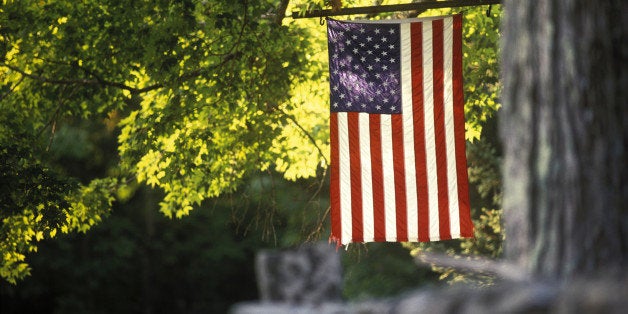 Chatting over slices of chocolate pie in a diner, a lunchtime roundtable in a living room, and a packed, high-energy event: all these scenes are very familiar every four years in New Hampshire during Presidential primary season. Yet on October 1st, we saw the same scenes, with a different focus: startups.
The importance of policy to startups

Entrepreneurs are why America is the most innovative nation in the world. Yet in the most recent three-hour Presidential debate, entrepreneurship was not mentioned once. Entrepreneurs and politicians usually don't overlap. Yet for entrepreneurs keep the U.S. the most innovative country in the world, policy will be increasingly important.
At fast-growing New Hampshire tech company Dyn, a 400-person enterprise in downtown Manchester, Steve Case talked about the "Third Wave" of the Internet: while the "First Wave" built the backbone of the Internet (companies such as AOL and NetScape); and the "Second Wave" enabled people to connect to each other (companies such as Twitter and Facebook), the "Third Wave" of startups, defining the next 15-20 years, will see the Internet integrate into the areas that have the highest impact on our lives: health, energy, education, food systems, and more.
What's different about the next wave? Entrepreneurs, to truly impact people's lives, are increasingly going to need to understand policy and work with government, as the industries technology will disrupt are often regulated industries operating within areas many people have historically considered "government's job." For the U.S. to remain innovative, government needs to understand startups and entrepreneurs need to understand policy.
The Rise of the Rest Tour stop in Manchester was, unlike most other stops, a chance to integrate entrepreneurship into the political debate. At our pitchfest, we had representatives from every Presidential campaigns but two share their candidate's platform for entrepreneurship. We got a range of ideas: the Clinton campaign talked about issues such as student debt and health insurance that prevent people from starting a company; the Bush campaign talked tax policy; the Paul campaign talked about the 1099 economy (Uber, AirBnB), and the O'Malley campaign talked about giving a greater spotlight/platform to entrepreneurs through government.
Ultimately, we urged every New Hampshire voter we met to ask the candidates coming across the state for their thoughts on entrepreneurship. People running for office respond to what the voters are asking for, and we were encouraged that nearly every campaign at least had to have a conversation about what their Rise of the Rest pitch would be.
As we have toured the country, what are the areas of policy we have consistently seen most related to entrepreneurship?
Access to capital

Some programs are working pretty well. In many "Rise of the Rest" cities, the government is often the seed capital provider: Small Business Administration loans and Small Business Innovation and Research grants have given many startups we have met their first major cash infusion; these investments are paying dividends.
Other reforms are more long-term, but can level the playing field for entrepreneurs. The JOBS Act provided for greater crowdfunding and new ways of raising money for entrepreneurs. Crowdfunding can help mitigate major factor preventing the success of startups from under-represented backgrounds: today, fundraising is largely network-and-relationship-based. 75% of venture capital goes to three US states, 93% of venture capital goes to men, and only 3% of venture capital goes to African-American and Latinos. This should be no surprise, as the people who control investment decisions are largely white guys from Silicon Valley, New York, and Boston (and yes, I'm writing this as a white guy).
Yet on the fast-growing crowdfunding platform Kickstarter, 50% of funds raised have been by women, suggesting that when entrepreneurs have greater access to broader sources of capital, people from under-represented backgrounds over-perform. The JOBS Act is a start, but greater clarity on crowdfunding guidelines from the SEC could open new pathways to capital.
Another recent positive policy move was the US Treasury releasing clarifying statements on foundation investments and Program-Related Investments (PRIs). Charitable foundations can make investments in startups that are aligned with their mission (e.g. economic development in New Hampshire, environmental sustainability)--yet only 1% of foundations do. Greater clarity on how foundations can support startup businesses would go a long way.
The global competition for talent

U.S. policy can also better boost entrepreneurship through recruiting the most talented entrepreneurs worldwide. The US is the most innovative country in the world in part because the best entrepreneurs want to move here, start businesses here, and stay here. Countless stand-out successes--Google, Tesla, Chobani, PayPal, and more--were immigrant-founded.
Yet U.S. immigration policy is not entrepreneur-friendly. In Philadelphia, we heard the heartbreaking story of an Indian entrepreneur who came to graduate school in the US and wanted to start his company here, yet due to visa issues, he had to go back to India. His e-commerce startup now employs thousands of people in India--jobs that could have been in the US.
Companies know how critical talent is--investing billions of dollars finding, recruiting, and attracting the best talent in the world, and for over a century, the U.S. has been the country of choice for the world's best and brightest, who have created a bigger and better economy for everyone. The country should continue to recruit the best entrepreneurs to remain competitive.
Infrastructure for entrepreneurs

Finally, entrepreneurs need physical and ecosystem infrastructure. One complaint we commonly heard in the Northeast is that broadband was worse regionally than New York and Silicon Valley, making it difficult for companies to compete. We have seen an extraordinary health innovation ecosystem evolve in Nashville in part due to Google Fiber's investing in the city, but policymakers should consider necessary infrastructure for businesses as critical as roads in the 21st century.
Existing "economic development" investment also often does not work best for entrepreneurs. Most economic development dollars focus on recruiting major employers away from other states--which works well in the short-term, but does not create a broader-based economy. Thinking about economic development as growing new jobs--through startup companies--versus an elaborate three-card Monte game of shuffling existing jobs across the country would create a stronger economy.
Every city and state has their own idea for infrastructure: working spaces, seed funds, accelerator programs, and more--and sometimes the ecosystem makes a difference. We saw in Buffalo how the "Buffalo Billion" from Governor Andrew Cuomo, and in New Hampshire, the "Live Free and Start" initiative, launched by Governor Maggie Hassan, invested in all five of New Hampshire's startup incubators.
Planting the seeds for the future economy

Ultimately, entrepreneurship matters to policymakers because in order to understand what the economy will look like in 25 years, we need to look at the entrepreneurs today. In what may be a New Hampshire first, representatives from 13 campaigns agreed on a winner of the $100,000 pitch competition: FreshAir, a sensor that helps monitor air quality. Let's hope that policymakers can find similar consensus in how best to grow the businesses of the future.
Calling all HuffPost superfans!
Sign up for membership to become a founding member and help shape HuffPost's next chapter