The top five reasons startups fail are: 1. no market need, 2. ran out of cash, 3. not the right team, 4. get out-competed and pricing or cost issues - this according to a postmortem analysis of 101 startups. One notable reason missing from the list is the ability for startups to gain traction. To learn more about startup critical success factors, Ray Wang, founder and CEO of Constellation Research, and I invited a brilliant venture capitalists with a proven track record in early stage investments in unicorn startups with multi-billion dollar exits to our weekly show DisrupTV.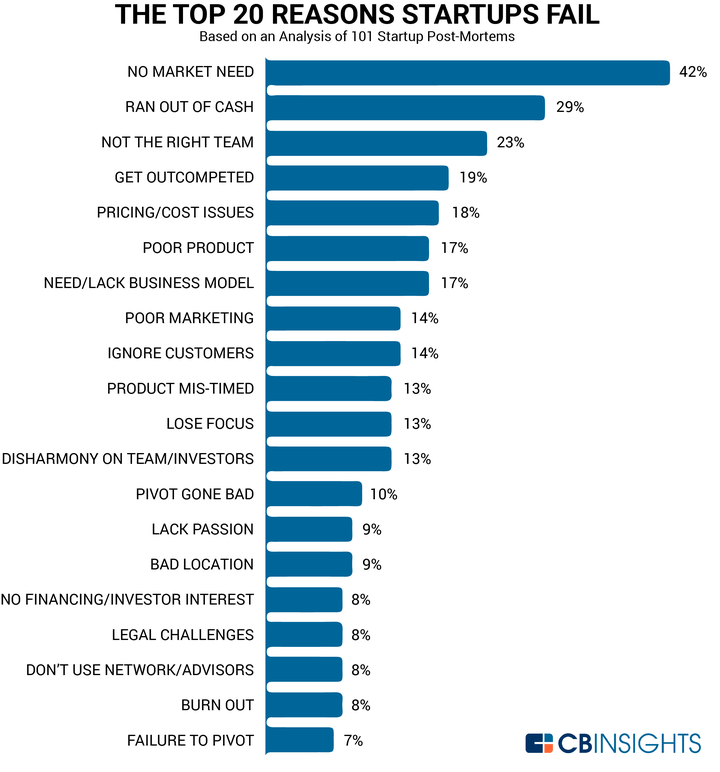 Bruce Cleveland is a Founding Partner at Wildcat Venture Partners where he focuses on investments in artificial intelligence (AI) marketing, EdTech, enterprise software as a service (SaaS) and the Internet of Things (IoT). His specific areas of interest include enterprise automation, education and training, and general business applications. Cleveland works with early stage companies that use technology and data to increase revenue and decrease costs.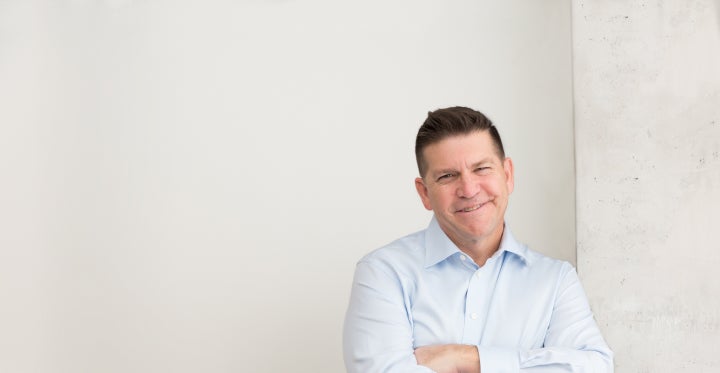 Cleveland is interested in growing entrepreneurial hubs outside of Silicon Valley, with a particular focus on the Pacific Northwest. Cleveland also is committed to sharing his knowledge and experience through the Traction Gap Framework™, which helps entrepreneurs navigate the critical go-to-market period between initial product release (IPR) and reaching minimal viable traction (MVT). Cleveland held senior executive roles in engineering, product management and product marketing with companies, such as Apple, AT&T, Oracle and Siebel Systems. Cleveland began his venture capital career at InterWest Partners, where he was the first investor and a former board member of Marketo, which held an IPO in 2013 and was acquired by Vista Equity Partners in 2016 for $1.8 billion.
Here are the key takeaways from our conversation with Bruce Cleveland:
The 21st Century Wildcatters Are Technologists
Cleveland provided us with a historic perspective in terms of the next generation of wildcatters. In the twentieth century, land and oil drove the industrial age and created tremendous wealth for the early wildcatters of that century. In the 21st century, the wildcatters are technologist in the first intelligence age. These technologist are developing systems of intelligence that enable other companies and consumers to prospect, refine and monetize digital oil, or data. Cleveland invests in companies that focus on capitalization and monetization of data - like Facebook, Amazon, Alibaba. In the first intelligence age, companies that focus on macro digitization are focus areas for Wildcat Venture Partners.
The Traction Gap Framework
80-90% of all startups fail in terms of returning capital, according to Cleveland. Cleveland used 10 years of investing expertise to develop a new framework for ensuring startup success. Cleveland began describing the traction gap framework using a historic perspective. As an entrepreneur and venture investor, Cleveland saw many startups successfully go from an idea to product (the go-to-product phase), from product to traction (the go-to-market phase), and from traction to scale (the go-to-scale phase). Yet time and again, too many companies falter in the middle, go-to-market phase, exposing themselves to lower valuations, significant financing risks, and sub-optimal outcomes.
Cleveland referenced the work by Steve Blank, and the Lean Startup initiative, led by Eric Ries, in terms of their incredible value helping early-stage startups through the go-to-product phase. Cleveland also referenced the Chasm, developed by author Geoffrey Moore, as a framework used by later-stage startups to successfully advance through the go-to-scale phase. The missing piece for Cleveland was what occurs between an early-stage idea and a company that is scaling. Cleveland notes that too often companies stumble in the middle, go-to-market phase, as they fail to generate sufficient momentum to attract new customers or users, and, as a result, investors. This is what Wildcat Ventures calls the Traction Gap™, and Cleveland his team have developed a framework to better equip entrepreneurs during this critical phase.
The initial go-to-market failures are rarely about the product or technology, according to Cleveland. The initial go-to-market period is successful when it includes a revenue architecture, a team architecture, and a systems architecture that powers the team. Startup founders need to know how and when to hire a head of sales - an example Cleveland used to demonstrate the need for a systematic approach that is guided by a framework. To arm company founders with a go-to-market blueprint aimed at ensuring optimal traction, Cleveland and his team created a framework with value inflection points in order to maximize startup traction and a go-to-scale playbooks. A playbook for early stage startups exposes tactics, metrics and successful best practices from go-to-product, to go-to-market and go-to-scale.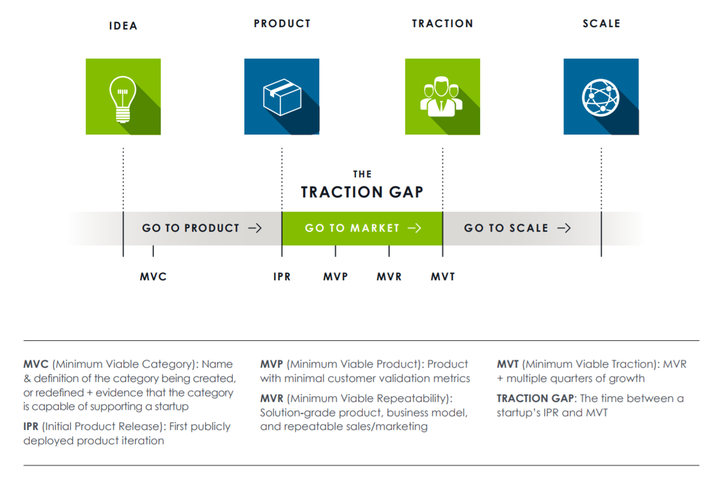 A startup seldom marches in linear fashion across the Traction Gap path. Rather, it is far more typical for a startup to move in fits and starts – forward and backward - as it experiments, learns, iterates, and executes. Ever present, no matter where a startup may be currently positioned along the Traction Gap, are four core architectures — Product, Revenue, Team and Systems. These are the foundational building blocks of all companies irrespective of their size or maturity level. — Bruce Cleveland
Startups must successfully reach a series of increasing value inflection points along the Traction Gap Framework path. Here are the phase definitions used by Cleveland and the Wildcat Ventures team:
MVC (Minimum Viable Category): Name and definition of the category a startup is attempting to create or redefine – and evidence that the category is large enough to warrant pursuit. MVC is a key part of the Traction Gap Framework. Competing in an existing, well-defined category dominated by an incumbent can be disastrous and result in outright failure. This milestone must be reached well before entering the Traction Gap.
IPR (Initial Product Release): First publicly developed product iteration. IPR is when a startup first makes its product generally available to the public. At this stage, the team is seeking customer validation metrics to demonstrate it is on the path to developing a MVP. This milestone signals entry into the Traction Gap.
MVP (Minimum Viable Product): Product has achieved minimal customer validation metrics. MVP is a debated term, but we define it as the most pared down version of a product that will be purchased or used by customers.
MVR (Minimum Viable Repeatability): Solution-grade product, business model, and repeatable sales/marketing. Wildcat defines MVR as the smallest amount of repeatability a startup can execute to demonstrate its business model feasibility and product/ market fit. MVR is a critical value inflection point for most startups.
MVT (Minimum Viable Traction): MVR + multiple quarters of growth. MVT signals a company's exit from the Traction Gap. To reach the point of MVT, a startup must build upon the lessons it learned reaching MVR. It must now scale successively quarter over quarter for the next 12-18 months.
Cleveland and a network of experts at the Traction Institute evaluate startups in order to baseline and develop a personalized traction gap analysis, that leads to action plans that illustrate proficiencies and deficiencies that can be addressed to reach optimal traction.
Digital Transformation Will Impact Every Company, Every Industry
Cleveland believes that digital transformation is impacting every company, including the big incumbents. Cleveland referenced Salesforce as a company that successfully defined a whole new category. Just because you are a big company, doesn't mean that you are not vulnerable, according to Cleveland. Cleveland also talked about new business models to disrupt industries - a shift away from product and service disruption and more of a focus on new processes and delivery channels. Cleveland spoke about workforce training using a micro-credentials model of education with 85% job placement success. as an example of investing in new business model innovation opportunities.
The One Thing VCs Look For in Entrepreneurs
I asked Cleveland to give his best advice regarding what he looks for before making an investment decision. Cleveland looks for athletes. Did they compete? The ability to put fear aside. To be completely dedicated to their craft. This could be a chess master, it doesn't have to be a sport according to Cleveland. Cleveland looks for people who like to compete and win. Being self-taught, having grit, and continuing to compete is a key part of the successful entrepreneurs DNA.
Please watch our video conversation with Bruce Cleveland to learn more about how successful venture capitalists operate and develop their investment thesis.
Related
Popular in the Community