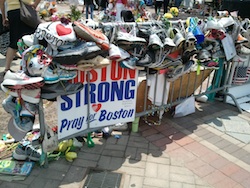 It's been just over two months since that sunny Monday in April was suddenly and cruelly interrupted. In a flash, two powerful explosions at the marathon finish line reduced one of Boston's premiere public events to chaos. Three innocent bystanders lost their lives, 15 lost limbs, and over 200 others were injured. I ran a slow marathon this year. I was three blocks short of turning the corner onto Boylston Street, the memorable home stretch, when the bombs exploded.
The outpouring of support for the victims has been unprecedented and inspiring. To date, $54.6 million has been donated to the One Fund by businesses and individuals from across the country and around the world. I am proud to know that we have stepped up to take care of so many people whose lives were so abruptly disrupted.
Yet, there is one aspect of this outpouring of generosity that troubles me. It's not about how we've stepped up. It's about the how and why when we don't.
As a Bostonian, the news coverage since April 15 hits close to home. It is home. Virtually every day, after reading the Boston Globe's front page coverage about the marathon bombings and their aftermath, I turn the page and am faced with small articles about shootings and murders in neighborhoods across the city. And I ask myself, why isn't there an outpouring of similar magnitude for these victims of senseless violence?
The only answer I can come up with is that these victims are mostly poor, and mostly black and brown. I understand that we all have our biases, conscious and unconscious, that lead us to rally for people like ourselves, and distance ourselves from those who are not.
Yet, this systemic failure of empathy is troubling. It begs the question, who is worthy of our help and who is not?
We all carry our race and class biases into answering this question. Since April 15 I've been asking myself, how many of these individuals are also deserving of our concern? Surely the 10-year old who made honor roll last year. And the teenager who had never been in trouble with the law and volunteered at a violence prevention program. What would it look like to step up and provide a broader community of support to these individuals and their families? The trauma counseling, medical care, long-term rehab, compensation for lost wages and lost opportunity? What would it take for us to show the generosity that we've poured into the One Fund?
I have an idea what it would look like. Six years ago, Boston Mayor Thomas Menino was troubled by the increase in violence in our city's neighborhoods. In the winter of 2007, he called a local business leader and, in partnership with the Boys & Girls Club of Boston, they started Camp Harbor View. The camp was built in 100 days, by a Boston contractor who also must have understood the value of providing low-income city kids with the support and opportunity that all children need and deserve. Located on an island in the Boston Harbor, the camp offers hiking, swimming, boating, arts and crafts, as well as academic and leadership opportunities. All the stuff that middle class families take for granted. The camp has raised $45 million to date, enabling it to expand its offerings while charging families $5 for each four-week session. Since that first summer, it has served nearly 800 young people every summer, along with dozens of older teens as leaders in training.
Initiatives such as Camp Harbor View give me great hope that we can, as a city look out for our own. And it is a model of how strong a city can surely be.
Popular in the Community