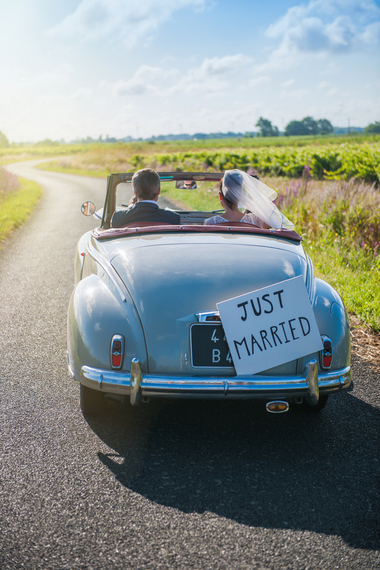 Are you a newlywed or thinking about getting married? If so, you're probably eager to start sharing your life. Combining families, homes, cars, and even bank accounts is expected and embraced by most couples entering marriage. But there's one thing that many newlyweds forget they'll be sharing when they say, "I do"--their spouse's student loan debt.
Spouses are not technically responsible for their partners' student loans. Your spouse's student loan debt does not affect your personal credit, or if your spouse dies, you are not obliged to pay off the loan. However, as married partners, inevitably finances become intertwined. Even if the student loan debt isn't yours, a portion of your combined income will go toward paying it off. In many cases, especially marriages where only one spouse has student loan debt, this can create tension.
Student Loan Debt Weighs on Couples
Studies show that student loans are growing as a source of conflict for married couples and those who are thinking about getting hitched.
According to The College Investor, disagreements over money and finances are the biggest cause of divorce in the United States--and student loan debt can play a big part in that. As tuition continues to rise and more people pursue graduate degrees, student loan debt increasingly leads to marital problems or prevents couples from marrying in the first place.
Research conducted by an economics professor at the University of North Carolina found a negative correlation between student loan debt and marriage: $10,000 of student loan debt decreased the probability of marriage by 3 to 4 percent.
A National Foundation for Credit Counseling survey found that more than half of people (54 percent) are unwilling to participate in helping a spouse pay off large sums of debt. Ten percent of that group said they'd go ahead with getting married but would not help pay off the debt, while 44 percent said they would either delay marriage until their partner's debt was paid in full or end the relationship altogether.
Given that student loan debt is continuing to grow at an unprecedented rate in the United States, marriages may be at risk.
Three Simple Steps for Newlyweds with Student Loans
If you or your partner are one of the millions of borrowers who are saddled with student loan debt, here are some steps you can take for the sake of your marriage:
1.Lay it all out on the table upfront: Money can be a difficult topic for some people, but couples considering marriage must be honest with each other about finances. Make time to have respectful conversations about money and whatever debt you may have. Even if the student loan debt isn't yours, it will affect how you and your partner spend time together and plan for the future.
2.Make a plan: Sit down with your partner and get organized around what debt needs to be paid off, in what order, and then create a budget and timeline for allocating income accordingly. Look at your expenses and see where you can cut back and redirect dollars toward the debt.
3.Investigate payback options: There are many repayment options when it comes to paying off student loans. You can defer a loan or put it into forbearance during times when you have less income. Another option is to refinance the loan at a lower interest rate, reducing your monthly loan payments to a more manageable size.
A Possible Solution for Couples
DRB can help couples navigate their options for repaying student loans. The company has been refinancing student loans since 2013 and has originated $1.3 billion in loans to borrowers in all 50 states. If you or your partner decides to refinance your student loans, DRB will work with you to determine a payment schedule that fits with your plans as a couple. There's no better way to start a marriage than on the right financial foot.
DRB (Darien Rowayton Bank) is a leading bank and marketplace lender and the fastest lender in industry history to reach $1 billion in student loan refinancings. FDIC insured and established in 2006, DRB Student Loan has helped thousands of professionals with graduate and undergraduate degrees across the country to refinance and consolidate federal and private student loans, saving these borrowers thousands of dollars each.
Support HuffPost
The Stakes Have Never Been Higher
Related
Popular in the Community