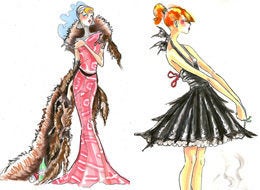 Last week I moderated a panel on "Preserving Culture through Style" at Madeline Weinrib's Atelier at ABC Carpets. Weinrib and I, who co-hosted the event, share the belief that the more of the world that you see, the greater your commitment to safeguarding indigenous cultures. Weinrib's ikat blouses and dhurries woven in electric colors with silver thread motifs are vibrant examples of how stylish creations can play a role in this mission. When she first discovered ikats woven by hand in Uzbekistan -- years before they had reappeared on runways in Paris and Bryant Park -- there were only two men still crafting them as their predecessors had; today, as demand for the true (not machine-printed varieties) has soared, there are multiple Uzbek villages supported by the ikat trade.
Our panelists included furniture designer Vladimir Kagan; Weinrib, who is a textile designer; architect Andrew Kotchen; developer Mitch Willey and interior designer and author Rita Konig (she is also editor at large at Domino magazine and the daughter of English design legend Nina Campbell). All of them use their talents in different ways to celebrate traditions, but with a modern sensibility. In this time of renewed huddling and tightening of belts, their values resonate on many levels.
For instance, almost all of them touched on the idea that in times of crisis, people tend to want to be surrounded by things of lasting value. And when money is tight, people spend wisely. They are hesitant to buy cheaply made items and prefer investing in well-made objects. Vladimir Kagan, whose iconic furniture can be found in such museum collections as the Victoria & Albert in London, spoke about how he sees a renewed interest in the work of craftsmen. He argues that we, as Americans, cannot blame the Chinese for stealing our production business when we demand lower-priced goods. In fact, as these items have flooded the market, in recent years, he has also seen an increase in appreciation for artists who focus on individually made pieces. Perhaps, the boom in box stores has resulted in a craving for the bespoke.
It's a starkly different trend than one that he recalled in the 1960s, when disposable furniture was declared the next big thing. "It was conceived for the mobility of American life," he explained. "Back then twenty-five percent of the population moved every two years." Blow-up couches and stackable cardboard tables, which could be disassembled and reused were to be the rage. He also argued that in recent years, the design world has not shown the obsession with fads that the art world has. In particular, he pointed to the work of artist Damien Hirst and his sheeps' heads in formaldehyde as an example of "the emperor's new clothes" art.
However, Konig pointed out that fads, or trends, serve an essential role in elevating styles that ultimately become classics as well as bringing needed flair to traditions. "Fashion or fad is that dash of color that gets us excited about the every day," she said. "It's the innovation that makes us look at things in a new and passionate way." She also spoke of how in her work and her own life she likes to think of new ways to incorporate the past. "For instance, I may buy one or two beautiful antique Nymphenburg cups and saucers at a market to drink my morning coffee," she explained. "Most people cannot buy a full service for twenty as they were originally made, but that doesn't mean that we cannot integrate that beauty into our lives."

Architect Andrew Kotchen, who has worked with Mitch Willey on the Harborview Place condominiums in Nantucket as well as lofts in New York, made the point that while green design may be a fad, incorporating original elements and focusing on lasting quality is practicing sustainability. In Nantucket, his building exteriors are faithfully preserved or kept in the historic vernacular, while the interiors are opened and updated with loft aesthetics. Weinrib also practices a form of chic recycling by bringing the past and present together. For example, she salvages ornate Victorian furniture from flea markets and reupholsters it with ikats or suzanis. The result: an instant update that is shockingly new, thanks to an unexpected combination of relics.

Weinrib wound up the discussion with an even more poignant example of how style can preserve culture. "I buy Tibetan carpets from Tibetan communities in Nepal, who have been practicing their art form for generations," she noted. "The families are able to hold on to the traditions of their predecessors through what they weave." It's a powerful image to think of people who have been forced out of their homeland passing their folk culture down to the next generation through their carpets. Yes, many of the rugs are destined to be sold a world away, but the practice helps to keep the stories and culture alive -- a modern update on the magic carpet.