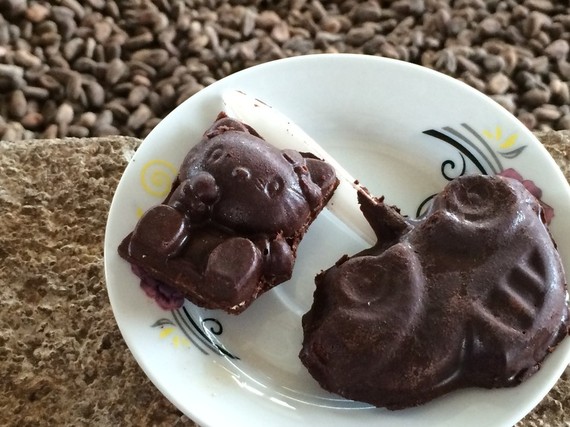 By Rick Peyser, Lutheran World Relief
The future of the milk chocolate bar that we have loved forever may be at risk. Industry experts predict that by 2020 the supply of cocoa will be struggling to meet the growing demand.
That means that unless we do something to increase the world's cocoa supply, your future chocolate bars may not contain very much chocolate!
The products we know as cocoa and chocolate comes from a crop called "cacao." About 70 percent of the world's cacao originates in West Africa, with the balance coming from Asia and Latin America. Most of the cacao grown in West Africa is used to produce milk chocolate, cocoa powder, and cocoa butter. Demand for chocolate has been growing, primarily due to the increased consumption in India and China where consumers have been enjoying greater purchasing power. This growth in demand is expected to continue to accelerate in the coming years.
The world market price for cocoa, like that of other commodities, is based upon supply and demand, or perceived supply and demand. With demand increasing, logic would lead us to believe that prices for cacao must be increasing, and that life must be good on farms where cacao is produced. Unfortunately, this is not the case.
Even as cacao prices increase, the farmers' who grow it aren't seeing the full benefits of that price. Most small-scale cacao farmers struggle in meeting basic needs, including access to a continuous supply nutritious food, clean water, educational opportunities for themselves and their children, medical care, and more.
According to The Guardian, cacao farmers in West Africa are likely to receive between 3.5 to 6.4 percent of the retail selling price of a chocolate bar, while manufacturers receive closer to 70 percent, and retailers about 17 percent. Given the extreme poverty and the challenges of climate change, many farmers in West Africa are encouraging their children to leave the farm to seek better opportunities in nearby urban areas, which leads to the question: "Who is going to grow the next generation of cacao?"
The situation is somewhat different in Latin America, where most of the world's fine flavored cocoa is sourced. Most cacao grown in this hemisphere is used to produce high quality dark chocolate. You've probably seen these bars identified by their cocoa content (i.e. 60%, 80%, etc.). You may have also noticed they are more expensive than milk chocolate and often sell for more than $5 per bar.
While this "specialty" chocolate industry is relatively young, demand is growing rapidly, as in Africa. The growing demand for specialty or fine flavored chocolate, is increasing the amount of land farmers in Latin America are dedicating to growing cacao. In fact, many small-scale coffee farmers at lower altitudes are especially attracted to growing cacao. Climate change is making it more difficult to produce quality coffee at lower altitudes. Cacao thrives in higher temperatures, making it a viable alternative for farmers who struggle to support their families from growing coffee.
Lutheran World Relief (LWR) is working with small-scale cacao farmers, and those in transition to cacao, in Latin America to help farmers take advantage of this growing market. We're helping farmers with both technical assistance (teaching things like seedling selection and how to graft plants to produce favorable characteristics) and market access, while encouraging farmers to diversify their sources of income to protect themselves against shocks posed by volatile market and climactic conditions.
In addition to convening and participating in regional forums on cacao production, LWR is playing an active role in helping the emerging "specialty cocoa" industry develop universal standards for sensory evaluation, as a member of the industry's working group focused on this effort. In addition, on the international level, Jenny Wiegel, LWR's Regional Representative for Central America, is on the Consultative Board of the International Cocoa Organization (ICCO) that is composed of members from cocoa producing and cocoa consuming countries. LWR continues to participate in international forums focused on high quality cocoa, that seek to develop market access for producer organizations, like Salon du Chocolat which is held in Paris.
By introducing and strengthening cacao livelihoods, and helping farmers capture more of the profits of the cacao value chain, we are making it possible for farmers to grow high quality cacao today, and for their children to grow it for generations to come.
Rick Peyser is LWR's Senior Relationship Manager for Coffee & Cocoa. Rick has worked more than 27 years in the specialty coffee industry, and has served as President of the Specialty Coffee Association of America, and as a Board of Directors member of the Fair Trade Labeling Organizations International, Food4Farmers (co-founder), Root Capital, Pueblo a Pueblo and The Coffee Trust.
Calling all HuffPost superfans!
Sign up for membership to become a founding member and help shape HuffPost's next chapter