There's something uniquely motivating about shopping for sports bras. Maybe it's their vivid colors that instantly catch your attention, the infinitely soft padding that offers the right amount of support or the excitement that comes with walking into SoulCycle in something new. Yet no retailer incites this emotion quite like Sweaty Betty. The activewear brand creates quality garments for a variety of sizes, promotes self confidence, body positivity, allowing women to transform themselves stylishly and comfortably. As many women can attest, there's an exhilarating rush that comes from finding a sports bra that doesn't sacrifice style for support. Sweaty Betty does all of this...and then some. With the success of their 2016 "Stop the Drop" campaign and interactive online sports bra guide, Sweaty Betty is also educating women when it comes to their boobs.
It was once said that "a friend is like a good bra: hard to find, supportive, doesn't leave you hanging and is always close to your heart." This sentiment now applies to a woman's new best friend, the Sweaty Betty sports bra.With an easy-to-use online sports bra guide, the hassle of finding a great bra is a thing of the past. From size 30A to 38F, women have more options than ever before to find something that's beautiful, supportive and comfy. A user-friendly website questionnaire also allows anyone to figure out what bra works for them and for their workout routines. Even though it's easy to go back to the same favorite bra for different fitness activities, not all bras are created equal and this is what Sweaty Betty wants women to know.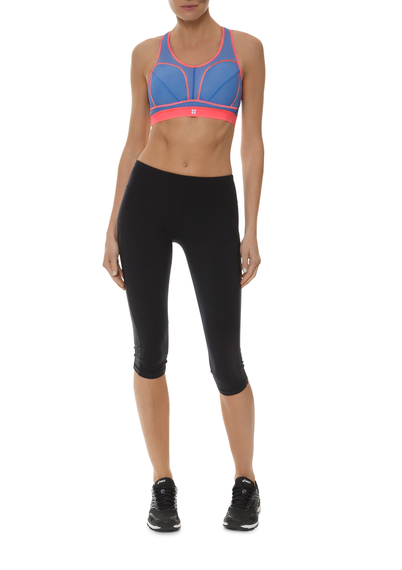 Model in the Victory Run Calm Blue Bra. Image courtesy of Sweaty Betty

As part of their ongoing mission to help women, Sweaty Betty successfully launched their "Stop the Drop" campaign in October 2016. The message was simple: help women prevent the effects intense fitness has on Cooper's Ligaments by buying the correct fitting bra. But what exactly are Cooper's Ligaments and why is it important for women to maintain them? Cooper's Ligaments are the connective tissue between the breast and the pectoral muscle that can stretch over time with intense movement. Medium and high intensity workouts (think cycling, HIIT and running) can lead to a loss of elasticity in Cooper's Ligaments, thereby making boobs droop.This doesn't mean instantly canceling your favorite weekend spin class, but rather opting for the proper bra now. Garments that are high in support can reduce bounce by as much as 78 percent when worn correctly. The campaign resonated so strongly it increased sales of high support bras by 82 percent.
Sweaty Betty's informative website is also dispelling common misconceptions about bra support and size as well as how they relate to exercise. Contrary to popular belief, 80 percent of a sports bra's support isderived from the under strap, not the shoulder straps. Similarly, while some might think cup size determines the necessary support of a sports bra, it also largely depends on the activity. Women with breasts over a size D benefit from higher support pieces, though a medium support bra would work for lower impact activities like yoga. Misconceptions like these are why many struggle to find that perfect, elusive bra.
"I was really shocked to find out that 80 percent of women wear the wrong sports bra!" expressed Tamara Hill Norton, Founder and Creative Director of Sweaty Betty. Hill Norton established the activewear giant 18 years ago in Notting Hill, and now advocates for garments to be both aesthetically pleasing and functional. As an active woman herself, Hill Norton believes that this type of far-reaching awareness and education is how to create stronger body positivity amongst women overall. "We create beautiful, technical pieces with our incredible design team, so it's important as a female brand that we design products that are suitable for women's active lifestyles."
There are no misconceptions here, the chic pieces speak for themselves (and your boobs!).Sweaty Betty's stylish apparel means supportive is no longer synonymous with frumpy. From strappy pieces to fuller-coverage bras, there's a great selection of colors and prints for a variety of sizes in stores and online.