When she first started out in stand-up back in 1982, Lea DeLaria – who now proudly describes herself as " … an actress, singer, comedian and professional lesbian" (though not necessarily in that order) -- could have never imagined the path that her 35-year career in entertainment would follow.
Lea's first unexpected turn came back in November of 1998 when she played Hildy in the hit revival of "On the Town." Which was when Ben Brantley of the New York Times declared that DeLaria was " … a large, loud stand-up comedian who turns out to have been born for the musical comedy stage … She is (this show)'s glittering center."
"I was paired with Jesse Tyler Ferguson on that show. And we've been best friends ever since," Lea revealed during a recent phone interview. "And since he's in 'Modern Family' and I'm in 'Orange is the New Black,' we now get to see each other on red carpets everywhere. And Jesse & I just enjoy the fact that it was us appearing together in 'On the Town' that got all this started."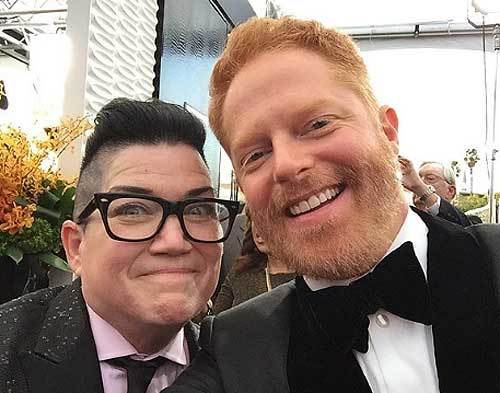 Mind you, what also got launched because of DeLaria's acclaimed turn in that Broadway revival was her career as a jazz singer. And among the biggest fans of "Play It Cool" (i.e., Lea's 2001 debut album where she reimagined the Modern Broadway Songbook) was musical theatre giant Stephen Sondheim.
"That album starts out with a swing version of 'The Ballad of Sweeney Todd.' Which Stephen himself has told me several times that he loves. Which is a real compliment coming from him because Stephen typically does not like it when people in jazz do his songs because they usually change the music," Lea explained. "And all we did was change the style. We followed the form of 'The Ballad of Sweeney Todd.' We even kept the chord progression exactly as it was in the original version of that song. Which is one of the reasons that I think Sondheim so loves that jazz version of 'The Ballad of Sweeney Todd.' I and the musicians that I recorded that song with clearly had a lot of respect for our source material."
Of course, one of the reasons that DeLaria had this sort of respect for music was that her Dad was a jazz pianist back in the 1940s, 1950s & 1960s.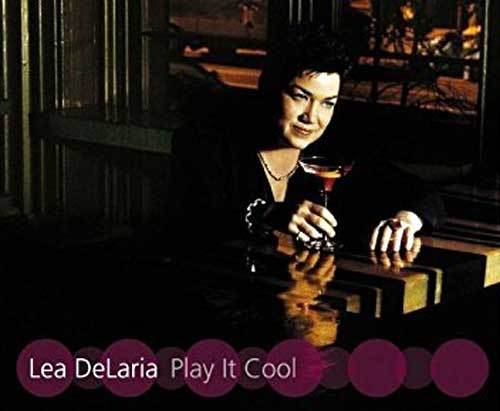 "He always encouraged my musicianship. He was the one who taught me – not only my love of music -- but the very particular love of jazz," Lea enthused. "This is why – when I was growing up -- Ella Fitzgerald and Betty Carter are my heroes."
Which isn't to say that – when DeLaria takes the stage tonight at the Wilbur Theatre in Boston – you can expect to hear many of the jazz standards of the American Songbook that Ella & Betty made famous.
"I'm actually more of a fan of weird jazz. Largely because I'm concerned that we're just not reaching the kids of today when it comes to jazz because … Well, how many times can you listen to the same 50 songs from the American Songbook?," Delaria asked. "That's why – as a follow-up to 'Play It Cool' – I recorded 'Double Standards.' Which is the album where I swing all of these college rock & alternative rock tunes. And on my most recent record, 'House of David,' I swing the David Bowie songbook."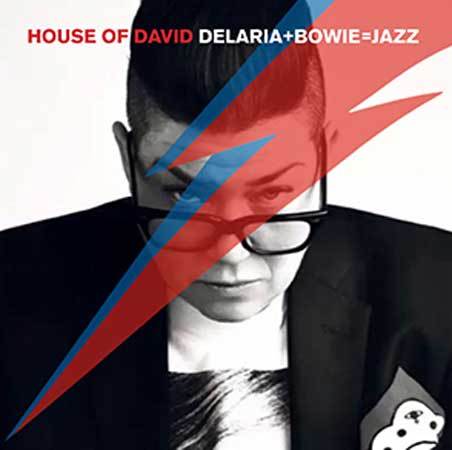 And just so you know: It took Lea years to persuade the folks at Warner Bros. to allow her to go forward with the production of this particular jazz album.
"They were like 'We just don't see it.' So the way that I finally won them over was -- at the London Jazz Festival a few years ago – I scheduled a concert of the David Bowie Songbook. And it sold out. It sold out so fast that we then had to add a second show," DeLaria stated. "Anyway, the Warner suits came to this concert. And when they saw how the audience was responding to the material, how people would begin applauding when I started a song. That's when the people at Warners went 'Oh. Now we get it. Of course this album is going to work.' And that's how 'House of David' came about."
Getting back to Lea's Dad now … In addition to exposing her to jazz, Delaria also instilled in his daughter a love of the demolition derby.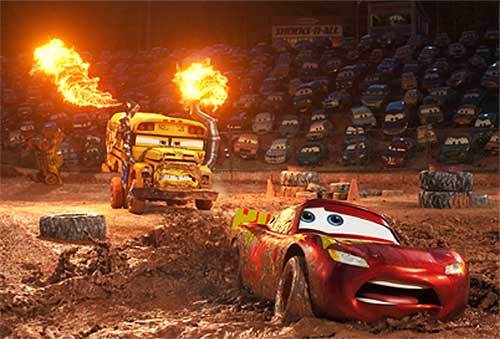 "Where I was growing up in Illinois, there were a lot of demotion derbies. I went to a number of these when I was a kid. Which is why – when Pixar reached out and offered me the chance to voice Miss Fritter in Cars 3 – I immediately said 'Yes.' I knew exactly what I wanted to do with this character," Lea remembered.
And how exactly did DeLaria end up on the short list for this diva of demolition? Well, as it turns out, Kevin Reher (i.e., the producer of Cars 3) has been a Lea DeLaria fan for many years.
"Kevin actually saw me on Broadway in 'On the Town.' Which is why he previously brought my name up for a number of different projects that Pixar has worked on over the years. But none of those other characters were a really good fit for me," Lea recalled. "But as soon as they showed me that drawing of Miss Fritter and then explained the scene she'd be in in this movie, how Miss Fritter would chase Cruz & Lightning McQueen all around Thunder Hollow Speedway during that Crazy 8 demolition derby, I knew that I just had to do this movie."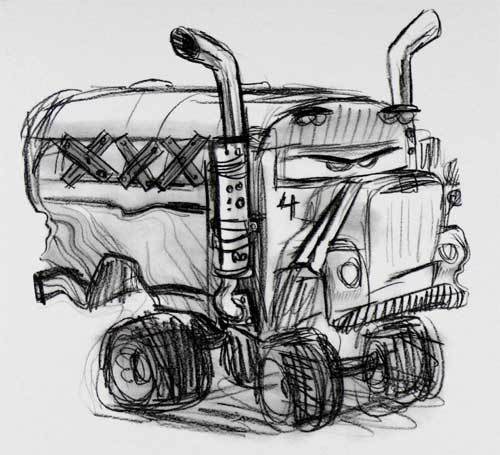 And this wasn't just because … Well, as DeLaria flatly admitted "There's not an actor on the planet who doesn't want to be in a Disney Pixar film." But Lea also said "Yes" to Cars 3 because she was kind of hoping that there might be some Miss Fritter merchandise.
"But what I honestly wasn't ready for was that I'd see my character everywhere. I mean, I have actually been out on the street and seen kids carrying around a version of Miss Fritter. It's wild. They really love this character," DeLaria declaimed. "And I can understand why. Miss Fritter is a genuine bad-ass. She is this strong female character who pulls no punches. Which – I think -- are great qualities to teach young girls who go to see this movie."
And the folks at Pixar clearly love Miss Fritter as well. Which is why – as an exclusive offering to go along with the Blu-ray & DVD version of Cars 3 (which become available on Digital on October 24th and then hits store shelves on November 7th) – they put together an all-new mini-movie starring the diva of demolition. Entitled "Miss Fritter's Driving Skoool," this short gave Lea yet another chance to get behind the mic and once again voice a character she's clearly embraced.
"Of all the characters I've ever portrayed, Miss Fritter is more me than anybody," DeLaria stated. "This is why – while I've given away a lot of the Miss Fritter merchandise that Disney has sent me (I've got a lot of friends who have had or are having babies right now. So don't tell me that things haven't changed in the LGBT world) – I'm hanging onto my Miss Fritter plushie."
If you'd prefer to hear Lea sing rather than revv Miss Fritter's engine, in addition to tonight's concert at Boston's Wilbur Theatre, Delaria will be performing selections from "House of David" as well as doing stand-up in Honolulu at Blue Note Hawaii on October 20th & 21st. After Lea returns to the mainland, she'll then begin a four day stand at NYC's Birdland on October 24th.
"That's been my formula for years now. I come out. Then I sing a song. Then I do some stand-up. Then I sing another song and then perform more stand-up," Delaria said. "By doing things that way … Well, in my stand-up act, I'm very loud, I'm very fat, and I'm very vulgar. I'm very in-your-face. I pull no punches. And while it's very funny, it also never stops. So most people can take it for around 10 minutes, maybe 15 minutes, before they're then like 'Mommy, make it stop. It's too much.' So what I learned is that -- if I sang something -- this would then give them a respite from the crazy in-your-face comedy I was doing. And then – once I was done singing – I would go back to the crazy in-your-face comedy."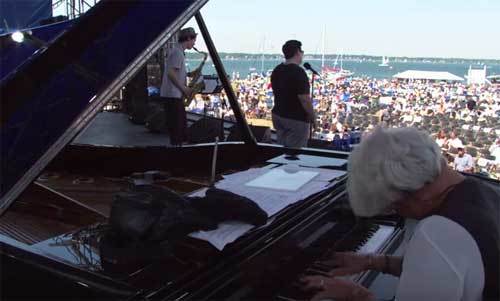 Ironically, it was the singing that Lea did to leaven her stand-up material that eventually led to Delaria playing Hildy in the Broadway revival of "On the Town." Which – because Kevin Reher caught this show during its run at the St. James Theatre – eventually led to Lea's opportunity to voice Miss Fritter in Cars 3. And in between these two points, there were also sorts of thrilling stops like when Lea sang at the Newport Jazz Festival back in August of 2002.
"As thrilled as I am to be a part of Cars 3, I have to say that being on stage at the Newport Jazz Festival was one of the greatest thrills of my life," DeLaria concluded. "All I could think about while I was up there was … Well, my Dad. And then Anita O'Day. You know, Jazz on a Sunday Afternoon. That documentary of the 1958 Newport Jazz Festival where Anita was onstage wearing that fabulous hat & outfit singing 'Sweet Georgia Brown.' And I thought 'Here I am. At the Newport Jazz Festival.' Yeah, it was a pretty big thrill."
Calling all HuffPost superfans!
Sign up for membership to become a founding member and help shape HuffPost's next chapter
This post was published on the now-closed HuffPost Contributor platform. Contributors control their own work and posted freely to our site. If you need to flag this entry as abusive,
send us an email
.