Over the past two weeks, at least 70,000 people migrated to my hometown of Austin, Texas for the annual SXSW extravaganza. Having lived here for 3+ decades, I've participated in my fair share of festival activities across interactive, film and music. But this year, in the thick of parenting two children under the age of 3, my husband and I stayed as far away from the festivities as possible. But I didn't have much FOMO (that's fear of missing out, Mom), as parenting and SXSW are, in many ways, the same.
Walking through the streets of Downtown Austin during Southby, you'll see throngs of individuals trying really hard to look like they're not trying at all. They sport distressed, rumpled t-shirts; pants that could (and likely do) double as pajamas and tousled hair, all of which says I may or may not have showered this week. This is my motherhood look in a nutshell, though I'm really not trying, my clothes are in distress, and I often have not showered.
SXSW Interactive was all atwitter about "Programatic", an up-and-arrived, real-time digital media buying approach. The word on my South by South Austin street was "tooshiebootiebaba -- ROAR," an up and arrived, real-time battle cry one apparently does while potty training naked.
3. Poor Decisions Regarding Who Gets Into Your Bed at 3 a.m.
Last week, it was my irresistible 7-month-old daughter in a brief moment of weakness after weeks of sleep training. Years ago? Let's just let South bygones be bygones.
During his keynote, Snoop Dogg debuted his new artwork, a piece completed by sprinkling marijuana ashes on top of the paint. Our son recently unveiled a masterpiece of his own. The canvas? Our dining room wall. The medium? Crayon, pencil and purple pen. But hey, at least no weed or fire was involved. This time.
There is never enough time during SXSW to hear all the music, watch all the movies or attend all the panels you'd like. Ditto for parenting. Except the panel part. At this stage, I'd probably just fall asleep, anyway.
Much of both experiences consists of interminable waiting -- for bands, BBQ or toddlers -- it's all the same purgatory.
Duh. SXSW is all about the music. Acts like Courtney Barnett, Big Sean and Charlie Belle killed it. But none of these incredible talents (to my knowledge) has a dog guitar that actually BARKS B-I-N-G-O or can own "Leaving on A Jet Plane" like this guy.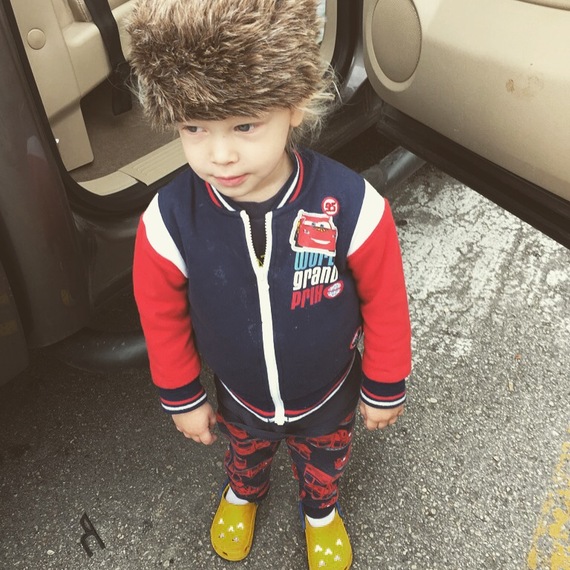 According to Mashable, wearables were one of the top five future-focused tech trends covered during SXSW Interactive this year. Always hoping to stay on the leading edge, we've clearly been exploring wearables as well.
For 11 days of festival fun, clean-up is estimated to take around 4,800 hours -- a ratio of 18 hours of pain for every hour of playtime. To someone currently mired in Matchbox cars, Legos, Play-Doh and Spiderman stickers, that math sounds about right.
Of course parenting and SXSW-ing aren't exactly the same. The biggest difference being no matter how much fun I've had in March over the years, I've always been glad when the festival concludes. But the parent party? Well that's one I never want to end.
SXSW photo courtesy of Brad Leese Photography.