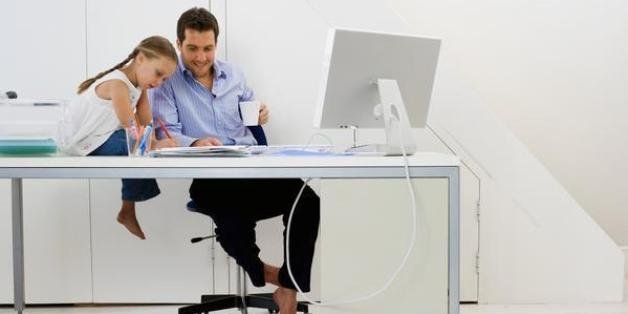 In 1993, a small article announcing Take Our Daughters to Work Day in New York City appeared in Parade Magazine. We created that day when I was the president of the Ms. Foundation for Women. The goal: To help stop the slide in girls' resilience and self-esteem at adolescence, which we had seen in recent research.
The day went "viral" before there was such a thing, and it suddenly became a national phenomenon. On that first day of the first year of TODTW, I watched girls in operating rooms and controls rooms, at NASA and at the stock exchange. People all over America "adopted" girls for a day or took their own daughters on the morning commute. This day, when girls were seen and heard, changed many lives, as I've come to know through the years.
The program also brought about an amazing bond between fathers and daughters who spent the day in the place where those dads spent most of their waking lives. Suddenly, these men were public fathers. Many of them did not often bring that private part of their lives into the office, so the departure for them stood out. Now, they were family men at work.
I think for men in the working class, it was less risky or odd to show their daughters a workplace. Though I have no empirical evidence for the following statement, I also believe it was very risky for men in banking, hedge funds, investment houses and other spots like them to do the same. These men's work personas are not particularly valuable if they show their softer side - it is testosterone that counts. So I was particularly happy to give these business titans a chance to "come out" as having other lives.
I often still hear of men who are devalued if they need to take their turn at child care, or if they simply want to see their kids play softball, which might require leaving early or NOT working on a Saturday. I think the program gave them air cover to be their entire selves in the workplace, at least for one day. And I loved d seeing this new generation of men owning their role as public fathers, many of whom are taking their kids to work today and are true 50/50 partners who #LeanInTogether with their families at work and home.
One of the most memorable fathers I met was the groundskeeper for the White House lawn. He heard a TV cameraman taunt me about the program as I stood waiting for the connection to a New York morning show. He called out: "The day I brought my daughter to work was the proudest day of my life." My father, a typesetter, was a working-class man like that groundskeeper, so this defense had particular resonance for me. The cameraman said no more.
Of course, it wasn't long into the campaign before I heard what I expected: "What about the boys?" It was the first all-girl program in history that boys actually wanted a piece of. This focus away from girls was a distraction, but the controversy actually fueled the program's success. In fact, it brought more attention to boys' lives than any boys program ever had. And it confirmed a sense I'd always had about making change: If you give people one small thing to do, it is likely they will do it.
And those girls who first appeared in operating rooms and controls rooms, at NASA and at the stock exchange back in 1993? They are women now, likely with careers of their own, and children who are participating in the day. I can only hope that in their lifetimes, it will seem quaint that we needed Take Our Daughters to Work Day in the first place--that when their own children ask why such a day was needed, it will be hard to explain in a world where children of both sexes know that they can be anything.
Until then, we'll keep bringing our daughters and sons to work to give them a glimpse of their futures, a hint at the possibilities at hand, and exposure to an ever-evolving world of working adults.
Popular in the Community