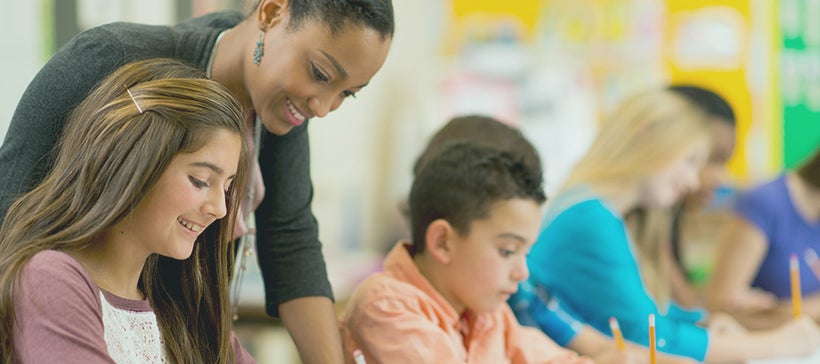 According to Babson Survey Research Group, the number of students registered in online courses grew to 5.8 million nationally. Online class growth has been consistent for the past 13 years, and more than a quarter of higher education students (or 28%) are enrolled in at least one online course.
Also, Imo Education predicts that by 2019 at least 50% of all classes will be delivered online.
Online courses deliver many advantages for students. For example, they can:
Help students who never finished their degrees and help them to save money
Provide flexibility for parents raising families
Help full-time workers increase their salaries and move up the career ladder
Open doors to new opportunities and provide the base for a career change
Build networking skills while creating new personal and professional relationships
When students are looking into an online degree program, the most important things to consider are accreditation, flexibility, cost, and quality of programs.
One growing higher education institution that offers various online programs is Southeastern University.
SEU is an accredited institution that provides a vast amount of higher education programs.
I had the chance to chat with Dr. Samuel Bennett from SEU to learn more about his experience working with students who are working on their Master's in Elementary Education through their online program. In this program, every year, they have approximately 5-15 students who graduate both semesters. In December 2017, they will have their largest graduating class.
In this interview, which has been edited and condensed, Dr. Bennett shares his views on the Master's of Education program, work-life balance for students, and tips for succeeding as an adult online learner.
1. Dr. Bennett, please tell us about your background in education. Also, how did you start teaching in this specific area?
My career began in law enforcement. I served for four years on the St. Petersburg Police Department in St. Petersburg, Florida. My police partner saw how I interacted with children and encouraged me to seek an elementary teaching position.
After moving to Georgia, I attended Toccoa Falls College and graduated with my bachelor's degree in the middle-grade levels.
In 1985, I started teaching 6th grade at Toccoa Elementary and moved back to Florida, where I continued my elementary teaching at Garner Elementary in Winter Haven. I taught 5th-grade for 12 years.
In 2006, I became the first Dean of the College of Education at SEU and served in that capacity until 2012. After that, I returned full time to the classroom working with pre-service teachers and teachers desiring a master's degree.
2. Please tell us about SEU's Master's in Elementary Education online program. What does obtaining this degree look like to the average graduate student?
The online Master of Education in Elementary Education is a 36 credit hour online program that we designed for the working person, and the practicing teacher. The most significant benefit from this degree is that it provides students with 18 credit hours in elementary education that qualifies them to teach elementary classes in community colleges and universities. We have hired many of our own M.Ed. graduates to teach in our College of Education.
3. Let's talk about the benefits of receiving the degree in an online format. Can you tell me two things you've noticed that have been quite helpful for graduate students?
The M.Ed. program allows students the flexibility of taking courses at their own pace. Since there are no prerequisite courses in the program, they can take any of the ten core courses whenever they desire. They can take one class per semester and work at a slow pace or take four courses a semester and work on the fast track.
For students to be able to work during the day, take care of their families in the evening and work on their coursework anytime in between those other obligations, it is a significant advantage for them.
Another tremendous benefit of this degree is the cost. We have been able to keep the price down. The M.Ed. program is much lower than most, if not all, of our local colleges and universities.
4. What are two-personality traits do you believe a student needs to stay committed to an online program?
Students need to develop a "stick-to-it-ness" and have the tenacity not to become discouraged and give up. They need to develop a "never give up" attitude. Our graduate professors have empathy for the working person and are extremely understanding in their courses.
5. Can you share a favorite story about the program?
I am presently working with an M.Ed student who lives in Puerto Rico. She has two remaining courses to complete before December graduation. At this time, she and her family, with a five-month-old baby, still do not have power or water because of the damage from Hurricane Maria. She must go to her local church to have Internet. Cell phone service is also limited. We are working with her to help her complete her work and be able to graduate in December. I contacted our SEU Leadership team and shared Joan's story. They found a donor who contributed almost $1200 to her school account. I look forward to seeing her walk across that stage in December.
6. Has online teaching been just as fulfilling for you as the brick-and-mortar space?
I love online teaching and helping so many people see their dream come to fruition along their educational journey. Since all of my teaching is now online, I do miss a little of the face-to-face setting and being more involved with my students.
7. Finally, what would your best piece of advice be for prospective students who are interested in the program?
I speak with many prospective students and always try and give them godly council and find the program that will best fit their goals, even if it is not the M.Ed. program. I tell them the hardest thing to ever do is start. Once you accomplish the "start," the program will be completed before you know it.
8. Any final thoughts you'd like to share?
I received my Master's degree in Elementary Education from Clemson University. At the time I was completing my degree, I was not even slightly aware of all the doors of opportunity that would open for me because of this degree. I am somewhat partial, but I believe the M.Ed. degree is the most beneficial education degree of all others.
Before coming to Southeastern, Dr. Samuel Bennett accumulated over 20 years in public school education, including stints in elementary, middle, community college and adult education. In 2005, Dr. Bennett was selected as the Polk County Teacher of the Year. In 2006, he was named the Florida Teacher of the Year, an honor that put him in the national competition with the top teachers from every state. He was eventually honored as one of four national finalists for the 2006 National Teacher of the Year.
Dr. Bennett is active at both county and state levels of public and parochial education, serving on several boards and advisory councils: Noah's Ark of Central Florida, Big Brother/Big Sister of Tampa Bay and Pathways School of Excellence. He is also involved with the Winter Haven Chamber of Commerce and the Winter Haven Optimist Club.
Dr. Bennett teaches several of the Advanced Methods of Teaching courses in the Southeastern M.Ed graduate program. His research interests are parental involvement in education, educational ethics, pre-service teacher education, cooperative learning, and teacher encouragement and retention.
Calling all HuffPost superfans!
Sign up for membership to become a founding member and help shape HuffPost's next chapter
This post was published on the now-closed HuffPost Contributor platform. Contributors control their own work and posted freely to our site. If you need to flag this entry as abusive,
send us an email
.