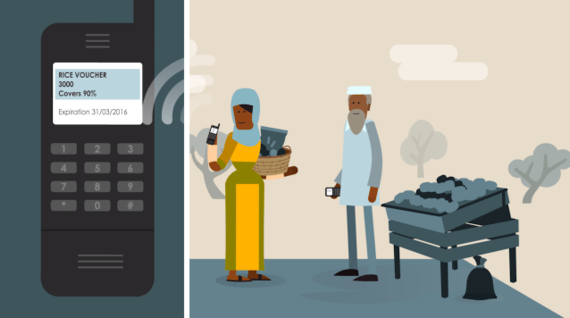 Kosta Peric
Deputy Director for Global Development
Bill & Melinda Gates Foundation
Right now, roughly 2 billion adults around the world lack basic financial services like bank accounts. Here is why that matters: When the poor can't manage their resources, they become trapped in a cycle of poverty that is difficult to break.
The unbanked poor are, for all intents and purposes, excluded from the formal economy. They are forced to rely upon cash or relatively insecure assets such as jewelry and livestock. They can lose their entire holdings through theft, natural disasters, or other circumstances outside their control.
The result, quite often, is that health conditions linger untreated; children go uneducated; and the cycles of poverty and disease continue into another generation.
However, when people have access to formal financial services, they're better able to tend to their essential needs. We know that providing financial access can be a powerful poverty alleviation tool; one that can pull individuals, families and whole communities out of poverty. A growing number of exciting examples prove the point. Farmers in Malawi harvested more land and grew more crops when they started using a simple savings account. Tibetan families using similar accounts ended up spending 20 percent more on education.
It is no coincidence that, in both instances, the accounts were digital.
Research has shown that digital financial services (DFS) are the most effective way to provide banking, insurance, and lending in emerging markets.
DFS enables the global poor to handle their money in digital form, storing value securely and transferring it instantaneously.
The global revolution in mobile communications is making all of this possible, enabling the poor to connect to reliable and affordable financial tools through phones, kiosks, and other digital platforms.
These digital services are becoming increasingly well established. There are more than 400 providers of mobile money services - digital wallets that customers can access over simple cell phones - in the world today. More than half are in Sub-Saharan Africa, where the industry is expected to be worth more than US $14 billion by 2020.
While this growth is impressive, the billions of unbanked people in the world are evidence that we still have a long way to go.
We are only beginning to develop the robust infrastructure we need to ensure universal access to DFS. The digital infrastructure needs to be capable of massive growth and handle countless small transactions securely and at low cost to providers.
My colleagues and I at the Bill & Melinda Gates Foundation are looking closely at what goes into a thriving DFS market. We're convinced that expanded access to financial services can help low-income nations and communities get out - and stay out - of poverty.
In order to establish an inclusive economy, we need to build on the early momentum we have seen around the development of basic DFS infrastructure.
Three technologies are especially vital.
One is digital identity and authentication. In order to bring billions of people into the financial system swiftly and securely, we need reliable ways to verify that new customers are who they say they are.
This straightforward principle is sometimes referred to as KYC, or "know your customer." As you might imagine, KYC can be a challenge when it comes to the global poor, most of whom lack a formal credit history or government-issued identity card.
A "tiered KYC" approach has been introduced as one solution. This approach requires little or no proof of identity for simple accounts and offers more advanced financial services as you provide higher levels of authentication. India's Aadhaar national identity program is connected to tiered DFS accounts; so far it has allowed 200 million people to begin banking for the first time.
Another key piece of a digital financial network is distributed ledgers (DL). Broadly speaking, DL technology provides a continually updated record of transactions, in the form of time-stamped blocks of data.
The "distributed" quality of these systems refers to the fact that transactions are verified automatically by a network of chained computers. With no single centralized governing authority, systems backed by this technology are very secure and flexible.
Finally, DFS technology should provide open sourcing. All other platform technologies, such as the Internet and the GSM mobile-communications framework, have flourished as standardized protocols and application program interfaces (APIs) have emerged, enabling massive scale and interoperability.
This kind of broad-gauge growth and openness to innovation are exactly what we need to see in DFS. Our foundation is looking with keen interest at ways to apply open-sourcing principles to this dynamic and critically important field.
In an ever-more-connected world, digital financial services represent one of the most important and effective poverty-alleviation strategies of our time. The possibilities of DFS are limitless - and so is its potential for improving the lives of the world's poorest.
Kosta Peric is a deputy director for global development at the Bill & Melinda Gates Foundation in Seattle. He leads the foundation's Level One Project, which seeks to help build inclusive and interoperable digital economies to benefit low-income populations.
Related
Popular in the Community