Being a part of the Seattle tech community – first at Microsoft, and then for the past 11 years at Zillow – has been a great experience. I've been able to grow and take on expanding levels of responsibility for complex product innovations, all while living in a vibrant and beautiful city. But as I continue to develop in my career and plant my roots deeper into this community, I see more people struggling with the increasing unaffordability of the area, and I feel a growing sense of responsibility to help.
There are so many problems begging for creative solutions. One that feels especially urgent to me – both because I spend my days thinking about housing, and because it is so apparent all around me – is homelessness. As I drive around my neighborhood and walk around downtown Seattle, I see people living in places that are not meant for human habitation, or holding signs asking for help with basic needs. I feel the overwhelming need to use the problem-solving skills I apply to product development challenges to help find solutions to this big, daunting problem.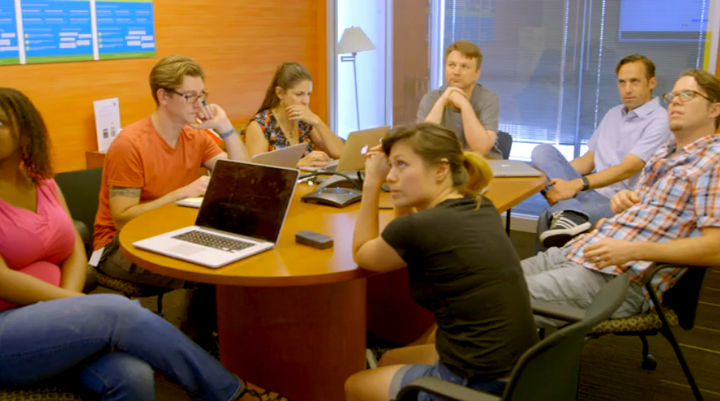 The issues behind homelessness are complex, and my first step was to learn as much as I could about them. I joined some boards (the United Way of King County Homelessness Impact Council, the Seattle Housing Levy Technical Advisory Committee and the All Home Coordinating Board), spent time talking to experts and read a ton.
While I could never create a product that would fully solve homelessness, I did find one area where I thought Zillow could help: helping make more private market rentals available to people struggling to find housing. The affordable housing and supportive housing inventory is not large enough to accommodate everyone who needs a home. In an effort to increase this supply of housing by involving private market landlords and property managers, the Community Pillar program was born.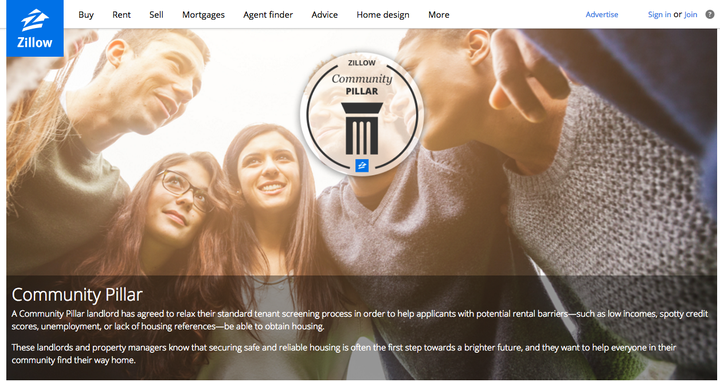 I gathered a team of colleagues during Zillow's "hack weeks" – three weeks a year in which Zillow product folks can work on any project – and we created Community Pillar last year. Community Pillar allows landlords and property managers to indicate that they have some flexibility around rental criteria like credit scores and employment histories. We continue to update the program, and now renters can search for properties belonging to these self-identified landlords and property managers as well as income-restricted rentals. So far, over 20,000 landlords and property managers have signed up.
There is still so much opportunity to make an impact in this space and to grow the Community Pillar program at Zillow. And I now feel confident that it is not only possible, but also necessary, for the tech community to find ways of creating social change. The tools, products, people and voices within our reach carry the power to transform entire systems.
There are lots of ways to make a difference – from volunteering to giving money – but as technology pervades every part of our lives, there is increasing potential to generate social change from within companies, using their platforms to create new products.
The first step for anyone wanting to create positive change is to ask yourself three questions:
What problem(s) are you passionate about solving? For me, helping people obtain safe and reliable housing struck a chord as it related to both my work at Zillow and the empathy I felt on a daily basis seeing people struggling to find a home.
What skills do you have? I'm at my best when figuring out strategies and driving solutions. But so many skillsets are needed to solve our biggest challenges: Are you good at bringing people together? Writing code? Analyzing data? If you are doing what you are best at, you will be more fulfilled and bring the most value to the table.
What resources do you have? In starting Community Pillar, I had the leading national rental network to build on. We don't all have access to platforms of that magnitude, but we do have resources that can be leveraged. Resources might include people you can rally together, software you can build on top of, data storage or web hosting or even physical space. Think about what you have access to and how it can help address the problem you want to solve.
We in the tech community have a unique opportunity to use our skills, resources and passion to create change. And with that opportunity comes responsibility – responsibility to better the communities that are supporting our growth. As I look around at all the smart, motivated people in my community, I feel a surge of optimism that we can create that change.
Related
Popular in the Community