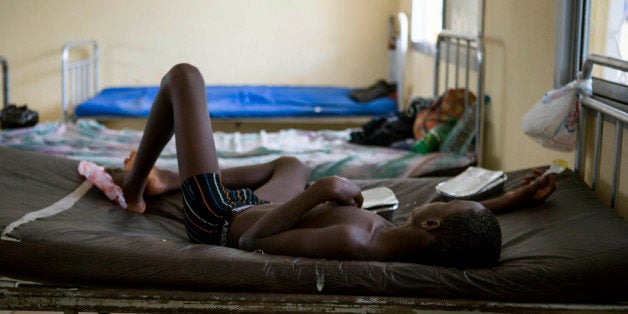 The response to the worst Ebola outbreak in history has been unprecedented. Between public, private and individual donations, we are making tremendous strides in turning the tide on this disease and stopping it in its tracks. Just this week, three of the major technology giants -- Facebook, Google and Microsoft in the form of Paul Allen -- have given to nonprofit groups working on the ground, including ours, because they care, first and foremost, but also because they know that their contributions will help our organization, and others on the ground, "have an even greater impact."
That impact is being seen already in the form of Save the Children's first specialist Ebola Treatment Center, which opened in Sierra Leone earlier this month, and our first Ebola Community Care Center, which opens in Liberia today. Save the Children is building a total of 10 Community Care Centers in Margibi County, Liberia -- smaller centers where people can go and get tested, where those testing positive are isolated from others before being transferred to a more sophisticated Ebola Treatment Unit, getting basic care while waiting for a bed and receiving visits from a mobile team of doctors and nurses. Both places ensure that children receive the care and protection they so desperately need and aim to prevent further transmission of the virus.
When I was in Liberia last month, it became immediately clear to me that children were among the most vulnerable -- as they are in any crisis. Indeed, 2.5 million children under five are living in the hardest-hit areas across the region, and 75 percent of all children infected in the current epidemic have died. Even those who are not infected themselves risk losing their parents to this terrible disease and often end up alone and ostracized by their communities. Fear, like the virus, is spreading rapidly.
We obviously need to break the back of transmission of the disease -- reducing the reproductive rate of cases to below one -- but we also need to bring down the fear. The public health messages, chlorinated water, and radio programs are helping, but people must leave their houses and get into care and stop infecting others at the first sign of symptoms. Tragically, there is just not enough care and beds available.
The generous support of donors like Google, Facebook and the Paul G. Allen Family Foundation is certainly helping us meet some of that demand, but additional resources are still needed to close the gap entirely.
Calling all HuffPost superfans!
Sign up for membership to become a founding member and help shape HuffPost's next chapter