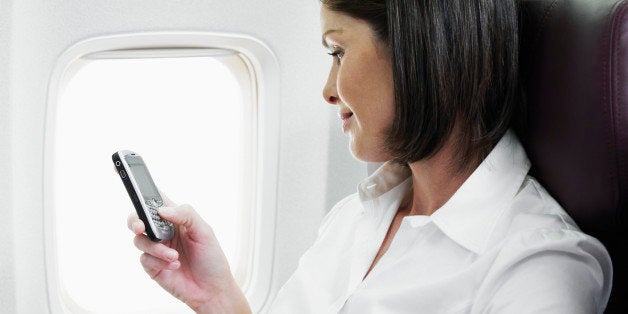 If you are heading out of town during the busiest travel season of the year, you may want to take advantage of what technology has to offer to ease the holiday stress. From apps that will alert you when your plane is delayed to hotels that will lend you an iPhone charger for free, here are some of ways that technology can make your life easier during the hustle and bustle of the most wonderful time of the year.
If you are flying during the holiday months, do yourself a favor and take advantage of Inflight Internet services. Gogo Internet, which is now available on 2,000 flights, recently released Gogo Vision, letting you stream content right to your tablet or phone. The in-air entertainment service offers nearly 150 movies and TV shows starting at $1.99 for most TV shows and $3.99 for most movies. What I like about this is that you don't have to take up precious memory and storage on your tablet by downloading movies before your trip. Instead, you (or your squirmy child) can watch a movie on the flight for only a couple bucks. The company also just made a deal with T-Mobile so customers can now take advantage of free in-flight texting and voicemail.
Book A High-Tech Hotel Room
Many hotels are differentiating themselves with some really cool high-tech offerings. Starwood Hotels & Resorts, for example, now lets users open their hotel room door at some locations with an app on their phone instead of with a key card. Many other hotels offer use of an iPad such as SLS Hotel South Beach, while others like the Hotel Zetta in San Francisco, includes a G-Link docking station, letting you stream video from your smartphone to your room's TV. Marriott has USB outlets in the rooms at some properties for your smartphone or tablet and Candlewood Suites keeps a universal charger on hand.
Having travel apps at your fingertips can reduce the unpredictability of traveling. Gate Guru, for example, lets you add a flight and receive full flight tracking, wait times, and airport information. It also offers user-submitted reviews to help you find the best food in the airport and airport maps and checkpoint wait times. The app is also integrated with Facebook, Twitter and Foursquare for real time status updates and tie-ins to KAYAK and Tripit for flight details. Need a ride to your in-laws after your flight lands? Book your ride while the plane is taxiing with Lyft. With the press of a button, Lyft will get you ride whenever you need one. The company also recently introduced Lyft Line, a way for get more cars off the road by teaming up consumers headed in the same direction for a split fare.
If you have some downtime sitting in the airport, on a plane or at your mother in law's, why not get some holiday shopping done? You don't have to stand in lines or fight mall traffic to take advantage of some great deals out there. Amazon, for example, offers daily deals with limited quantities that change every few hours. Smoopa will show you where the best deals for certain items are and let you set price alerts when your item hits your target price. Want to support small businesses? 11 Main is new website (think Etsy meets Amazon) that offers a collection of hand-selected specialty shops and boutiques that help you find unique items to express your personal style. If you have the right apps downloaded before your trip, you could actually have all your holiday gifts purchased and shipped before your flight lands!
REAL LIFE. REAL NEWS. REAL VOICES.
Help us tell more of the stories that matter from voices that too often remain unheard.