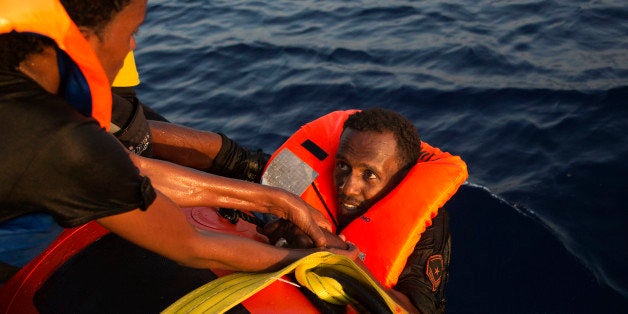 Today, World Leaders from 193 Member States of the United Nations are coming together in New York to participate at the UN Summit for Refugees and Migrants. Amongst them are Heads of States and Governments, Ministers, Royalties, Civil Society representatives, the private sector, academia, journalists and most importantly, refugees and migrants themselves. I am watching with hope and anticipation that the meeting today will be the beginning of making positive differences in the lives of refugees and migrants all over the world, as well as for the countries hosting them. More refugees and migrants are leaving their homes, travelling unsafe routes and failing to find long-term solutions, than at any time in the last seven decades. Over 65 million people are currently forcibly displaced. Refugees who flee their homes face new dangers on their journeys and often reach countries that do not accept them. Migrants find too few options for safe, regular and orderly migration. Criminal smugglers exploit both refugees and migrants, sending them on unsafe routes to cross borders, exposing those 'on the move' to great risks.
Governments understand that no state can deal with these challenges alone and, frankly, should not have to. In fact, the challenges of addressing large movements of refugees and migrants are not insurmountable if we approach international cooperation in a spirit of shared responsibility. In this context, it is important to note that 86 percent of refugees are hosted by developing countries. Half of the top ten refuge hosting countries are located in sub-Saharan Africa, four of these in the 'least developed country' category. It is incumbent upon us to find ways to increase solidarity and share responsibilities more equally among countries. The Summit today is a vital step in this direction.
I believe in the Summit's possibilities, because all 193 Member States of the United Nations have reached agreement by consensus on a substantial outcome document containing commitments which they will officially adopt today. The outcome document, called the New York Declaration for Refugees and Migrants expresses the political will of world leaders to save lives, protect rights and share responsibility on a global scale. It is based on universal principles of human rights, the strength of diversity, and a commitment to sustainable development for all. In adopting the Sustainable Development Agenda at the UN last year, we agreed to 'leave no one behind', and to address first those who are furthest behind, among them refugees and migrants.
Governments engaged in extensive, intensive negotiations, in an atmosphere of heightened political tensions surrounding refugees and migrants in many countries. My UN colleagues and I are encouraged that the outcome document contains strong commitments to address the issues we face today, and to help us to prepare for the future. Countries have agreed to protect the human rights of all refugees and migrants, regardless of their status, and to ensure, for the first time, that all refugee and migrant children will be in school within a few months of arrival in a new country. Countries will also work towards ending the practice of detaining children because of their immigration status and increase support to those countries rescuing and receiving large numbers of refugees and migrants.
Besides joint commitments for refugees and migrants, Member States agreed upon specific suggestions for each group. Governments will begin further negotiations to adopt a comprehensive framework for the governance of international migration in 2018. As a result, migration will be governed by a set of common principles and approaches like other areas of international relations. To further strengthen responses for refugees, countries agreed to create a system leading to a more equitable sharing of the responsibility for hosting the world's refugees by 2018, based on the implementation of Government and UNHCR experiences with new refugee flows and protracted refugee conditions.
Today I expect to hear from world leaders how each of their countries intends to contribute to the implementation of these commitments. Refugees, migrants, those who assist them, their host countries and communities, will all benefit if the proposed commitments are met.
My expectations and appeals are directed not only to world leaders and governments but also to the public, who can support these commitments to make a positive--and necessary--difference in the lives of migrants and refugees.

Join the call to action to protect the safety and dignity of all refugees and migrants: #UN4refugeesmigrants. More info on: refugeesmigrants.un.org.
This post is part of a series produced by The Huffington Post to mark the occasion of two critical conferences at the UN on the Refugee and Migrant crisis: the UN Summit for Refugees and Migrants (Sept. 19th, a UN conference) and the Leaders Summit on Refugees (Sept. 20th, hosted by U.S. Pres. Barack Obama, at the UN). To see all the posts in the series, visit here. To follow the conversation on Twitter, see #UN4RefugeesMigrants.
REAL LIFE. REAL NEWS. REAL VOICES.
Help us tell more of the stories that matter from voices that too often remain unheard.