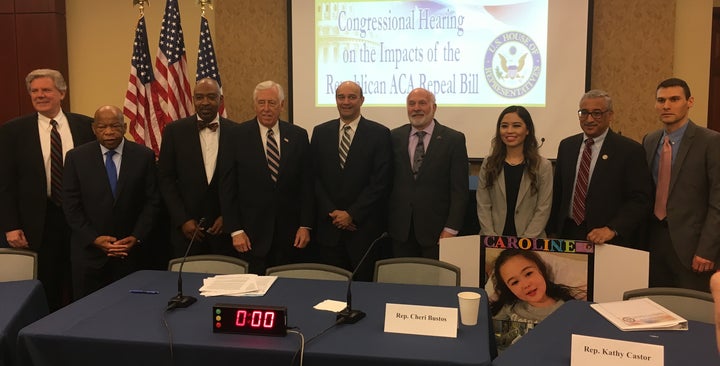 Today I had the opportunity to share with Members of Congress what the impact of the American Health Care Act will be on people with intellectual and developmental disabilities. This bill is barreling through Congress – and too little attention is being paid to the dire consequences of the Medicaid cuts on the lives of people with disabilities. I'm sharing my testimony here because I'm dismayed by the fact that the mainstream media is not paying enough attention to the disability angle in this fight. The public needs to understand what's at stake – so please take a few minutes to read my comments, and share them with your family, friends, and in your community. Then take the step to Join Our Fight.
I'd like to thank Minority Whip Steny Hoyer, Congressman Frank Pallone, and Congressman Bobby Scott for organizing this important hearing. You can watch the full hearing here.
Testimony of Peter Berns, CEO, The Arc of the United States on The American Health Care Act March 16, 2017:
The Arc of the United States appreciates the opportunity to submit testimony today on the draft legislation that repeals the Affordable Care Act, or ACA, and pays for it by decimating Medicaid, a program critical to the lives of people with intellectual and developmental disabilities.
The Arc is the largest national community-based organization advocating for people with intellectual and developmental disabilities, or I/DD, and their families, with over 650 state and local chapters nationwide. I'm here today standing on the shoulders of countless people with disabilities, their family members and friends, and professionals who support them, who have fought over more than 65 years for the rights of people with I/DD. We have come a long way, from a society that warehoused people in institutions to one in which people with intellectual and developmental disabilities are living, learning, volunteering, working, and doing so much more as members of their local communities.
We are once again calling on Congress to protect their fundamental moral, civil, and constitutional rights to be fully included and actively participate in all aspects of American life. The Arc opposes The American Health Care Act because it would turn back the clock on 65 years of progress.
Medicaid is the primary source of funding for the vast majority – about 77% -- of the supports and services that individuals with I/DD use to live in the community. These supports and services include help with meals, bathing and dressing, toileting, in-home skilled nursing, and communication support, to name but a few. These supports are critical to people with disabilities to be able to live their life in the community. In many cases, they can be the difference between life and death.
Just this week, we spoke with a mom from Maryland, whose eleven year old daughter has Rett syndrome. For years, she and her husband took turns staying up all night with their daughter, who required suctioning and other care around the clock just so she can keep breathing and stay alive. Medicaid provided a solution to this unsustainable situation. Through Medicaid, the family was able to get nighttime nursing care to keep their little girl alive, and Mom and Dad are able have some peace of mind and get some sleep too.
Families like this exist in every Congressional district in every state in our nation. Unfortunately, and fearfully for these families and individuals, the proposed law would leave many individuals with disabilities and their families without health insurance to cover essential medical care. Even more troubling, it is unconscionable to use the Medicaid program to pay for the repeal of the ACA and to provide tax cuts for businesses and individuals that don't need them.
The current proposal to implement a per capita cap on the federal government's investment in Medicaid – what I call Cap and Cut -- will reduce federal spending on Medicaid by $880 billion over a decade. What this means for people with disabilities is that optional Medicaid services like home and community based supports will become scarce. And this will happen despite the fact that these programs have long enjoyed bipartisan support.
Home and community based services are discretionary for the states and, when facing loss of billions in federal funding, they are what is likely to be cut first. There will be limited availability of home and community based services, fewer people eligible, reduced reimbursement rates for staffing which will lead to poorer quality of care, and the long waiting lists for services that exist today will grow even longer.
Medicaid is already a lean program, and many states already had to cut their human services budgets during and since the recession. So what else can they do to make up the difference in funding? Perversely, states will still be required to provide mandatory services such as institutional care and nursing home beds. We fear that states will return to outdated modes of serving people with disabilities, congregating large numbers of individuals in facilities with inadequate staffing and no real-life opportunities. Cap and Cut will pave a path backwards to institutional care and segregated services.
I would like to close by sharing how one Dad in North Carolina put it when he heard what was being proposed in Congress. He said "I'm old, and I'm going to die in the next five years. My life's work has been to keep my son in the community in a meaningful way. To give him a life. Do you mean to tell me that I'm gonna die, he's going to end up in an institution all alone, and what we built is for nothing?"
We, as a society, have a responsibility to this older gentleman and his family. We cannot let our answer be "yes, that's right." We cannot let the plans he so carefully put in place for his son's future, which depend on Medicaid being there, to now unravel. And we cannot turn our back on the commitments we made as a society to all other people with intellectual and developmental disabilities and their families.
The Arc thanks you again for shining a light on the concerns of people with disabilities who, as President Kennedy once remarked, are too often living in the shadows. This hearing is critically important because the catastrophe that Cap and Cut will wreak in the lives of people with disabilities and their families is not getting the national attention it deserves.
These proposed Medicaid cuts will be life altering to children and adults with disabilities, they are morally reprehensible, and as a nation we cannot allow this to happen. Thank you.
The Arc is the nation's largest and oldest human rights organization for people with intellectual and developmental disabilities (I/DD), serving more than a million individuals and their families. To support The Arc's efforts - https://www.thearc.org/donatejoinourfight
Popular in the Community