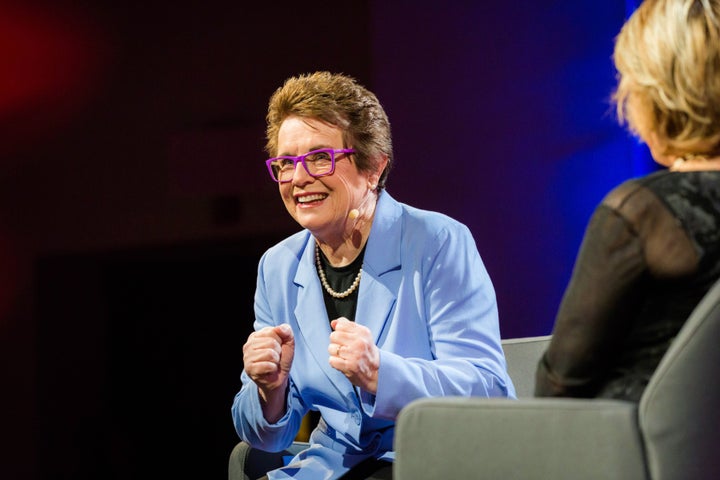 Forty-three years ago this week, the number one tennis star in the world, 29-year-old Billie Jean King, agreed to take on 55-year-old Bobby Riggs, in a match dubbed the "Battle of the Sexes." The prize was $100,000 — which compared with today's million-dollar-winning pots wasn't much — but it was the first time that women and men were offered the same amount of prize money for victory.
The exhibition match, which admittedly was more notable at the time for its spectacle and outrageousness — Billie Jean King entered the Houston Astrodome on a feathery litter carried by shirtless men, for instance — was the most watched tennis match ever, with an estimated worldwide television audience of 90 million people. If you are old enough to remember it, you probably watched it.
Billie Jean King won in straight sets: 6-4, 6-3, 6-3.
This weekend, a new movie based on the true story starring Emma Stone as Billie Jean King and Steve Carell as Bobby Riggs hits theaters. With the election of Donald Trump — and all the sexism and misogyny that the 2016 election entailed just behind us — the story is sadly relevant today. As Lynn Sherr wrote in her review of the movie today at BillMoyers.com, "It's all frustratingly familiar, but this time, the over-the-hill clown won."
I interviewed Billie Jean King at TEDWomen in 2015 about her tennis career and lifelong fight for gender parity in sports and in the workplace. She talked about the match with Riggs and the intense pressure she felt on every stroke to win for women. She recalled, "I thought, 'If I lose, it's going to put women back 50 years, at least.'"
After she won, many women told her that her victory empowered them to finally get up the nerve to ask for a raise at work. "Some women had waited 10, 15 years to ask. I said, 'More importantly, did you get it?'" (They did.)
As for men, the reaction was delayed. Many years later, she came to realize that the match had made an impact on the generation of men who were children at the time – an impact that they themselves didn't realize until they were older. She told me, "Most times, the men are the ones who have tears in their eyes, it's very interesting." They say, 'Billie, I was very young when I saw that match, and now I have a daughter. And I am so happy I saw that as a young man.'"
One of those young men was President Obama.
He said: "You don't realize it, but I saw that match at 12. And now I have two daughters, and it has made a difference in how I raise them."
A common refrain of those working to improve diversity and representation in media is that if you can't see it, you can't be it. And that's true in sports, government and in the workplace as well. If leaders don't represent the diversity of our globalizing world, fresh ideas, diverse talent and an inclusive society can't flourish. Through the Billie Jean King Leadership Initiative, King works to level the playing field for all people of all backgrounds so that everyone can "achieve their maximum potential and contribute to building a better society for all." (Full disclosure: I am a member of the BJKLI advisory council.)
Emma Stone told USA Today earlier this month, she's proud to play a part in showing some of King's story to a younger audience. "The nice thing about doing a film like this," she said, "is that there's a whole generation of people who weren't born before the Battle of the Sexes who are going to learn about this incredible period in history and all the things that have come since, so I'm grateful for that."
"It wasn't about tennis," says King. "It was about history and social change."