There is no greater sin than for a man to wear cargo shorts in the year 2017. Equipped with more pockets than dignity, cargo shorts bring together the worst of style and portability into a single pair of trousers. Like many gay men, I am an outspoken opponent of cargo shorts. For that reason, several of my friends have been shocked to discover that I keep a pair in my closet. The most shocking part of their discovery, however, is finding out that I still wear them.
Yes, I am a hypocrite in my crusade to eradicate cargo shorts – thanks to the Boy Scouts of America. For the last sixteen years, cargo shorts have been a staple of the uniform I wore while attending troop meetings, serving as a summer camp counselor, and building some of the closest friendships I have ever made. There is no doubt that the moments I've lived in a pair of forest green cargo shorts have shaped the man I am today – especially my sexual orientation and the way I've come to accept it.
Leading A Double Life
For years, the Boy Scouts of America vigorously defended its right to enforce membership standards that kept LGBTQ+ Americans from joining its ranks as Scouts, volunteers, and employees. Members of the LGBTQ+ community faced an ultimatum: live their truth and turn in their credentials or live in the closet to keep them. I chose the latter.
To be fair, Scouting wasn't the only force keeping the closet door tightly shut as I discovered I wasn't straight. But the fear of being outed to my conservative family or facing the social stigmas of a South Texas high school invoked less fear than being outed to BSA leaders and losing the identity that was most important to me at the time: my identity as a Scout.
But the fear of being outed to my conservative family or facing the social stigmas of a South Texas high school invoked less fear than being outed to BSA leaders and losing the identity that was most important to me at the time: my identity as a Scout.
A contentious discussion about the organization's membership standards in 2013 led the BSA to allow gay youth to join – just as I became old enough to be considered an adult. I graduated from high school and found sanctuary at The University of Texas at Austin, where I slowly became more comfortable with the fact that I wasn't straight. Still, I loved Scouts more than I loved parts of myself. So, as I became a young adult leader in Scouting, I began to lead a double life. The Alex that my friends knew in college liked boys and even dated a few. Meanwhile, the Alex most of my fellow Scouts knew "didn't have time for a relationship" and defended the BSA's membership resolution which allowed gay youth to join, but not to stay as adults. The result of my decision to stay in Scouts was ultimately more damaging than leaving probably would have been. I hid some of my happiest moments from my closest friends and I stumbled through some of my darkest moments without guidance from my closest mentors in an effort to keep my membership card.
One Step Forward, Two Steps Back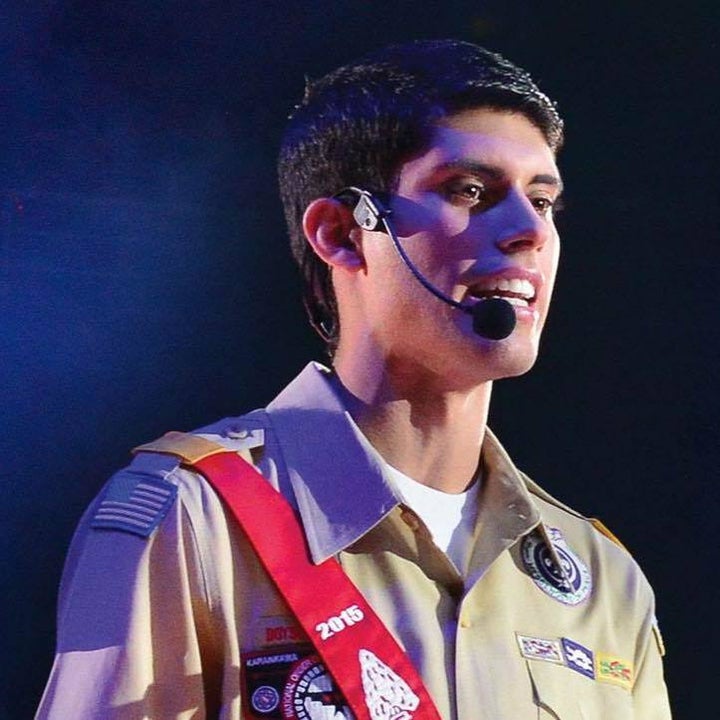 Two years later, the young adults of the Boy Scouts of America's national honor society elected me as their top leader. In this role, I represented the voice of Scouting's 2.1 million young people on the organization's national executive board. It was also this year that the executive board, under the pressure of mounting discrimination lawsuits, voted to end its blanket prohibition on gay adult volunteers and employees. I wiped tears from my eyes as I cast a vote in favor of the BSA's own Missouri Compromise which allowed charter partners to choose whether or not to allow LGBTQ+ volunteers at the unit level. It was far from perfect, but it represented a glimmer of opportunity for LGBTQ+ families and potential volunteers to finally join Scouting – in units that would have them, at least. It also represented the first time I could choose to be open about who I really was.
I wish I had chosen to be open about my sexual orientation after the outcome of that vote. While the policy had changed, though, the underlying culture – rooted in keeping people like me out of Scouting – kept me from rocking the boat. An intense case of cyber-bullying via Yik Yak at a national Scout conference shortly after the vote proved that even rumors of me being gay could make me the target of harassment and ostracism. So I decided that the pockets of my cargo shorts were still deep enough to store all the baggage of growing up gay in the Boy Scouts. It has taken several months of therapy to unpack and address the consequences of that decision.
Coming Out in Support of All Youth
I've taken some time away from Scouting in the last year. My time away has given me the resolve, awareness, and courage to be open about my identity as a gay man. And, as I return to volunteering in a more active capacity, I find it necessary to share my story for a variety of reasons. Among them is my desire to share an important part of my life with people who are important to me. Most prominently, though, is my desire to be an advocate and resource for the Scouts who will come to terms with their sexual orientation as they grow up. It is my hope that their involvement in Scouting will help them in their journey – not hinder them like it did me.
Unfortunately, little progress has made to deliver Scouting's promise to gay youth since 2013. Inclusion remains to be the standard in all Scouting units. Resources for LGBTQ+ young people – and the volunteers who support them – remain to be created. A culture that supports and celebrates diverse identities remains to be cultivated. And yet, the Boy Scouts of America has once again amended its membership standards – this time to allow female youth to enroll in more of its programs. Given its track record, part of me questions whether the organization is even equipped to deliver its mission to a more diverse crowd of young people. If the BSA cannot update its programs to support the development of boys who don't identify as straight, how can it possibly be prepared to support the development of young girls?
It is the words of the Scout Oath, however, that remind me this is why I'm coming out. By pledging "to help other people at all times", I must do my part to ensure that Scouting does a better job of serving all youth. I'm coming out to be an advocate and take action in supporting gay youth in Scouting. And so, as I focus my energy on achieving the progress that these young people desperately deserve, I'll save the battle on those forest green cargo shorts for another day.
Popular in the Community