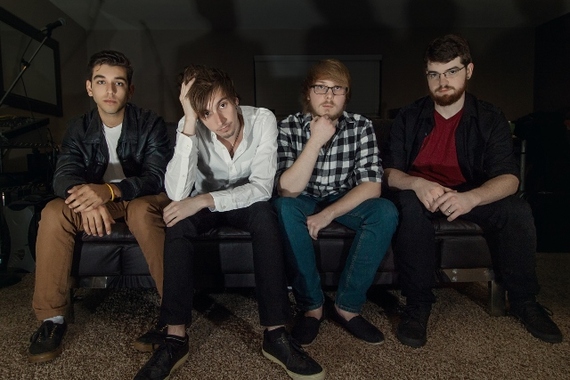 You have an idea worth sharing. But how do you get others to notice? That was the question Phoenix rocker Derek Hackman sought to answer after five grueling years as a local musician and poet.
Faced with the daunting task of standing out amongst hundreds of other locals, and finding little-to-moderate success, he finally cracked the code with The Breaking Pattern.
Within just six months of conception, TBP played multiple sold-out shows and headliners across Phoenix. This trend rapidly crossed over to their Instagram and Twitter presence, where they have 30K active, passionate followers--one of Arizona's largest and most active fan bases. They've also garnered positive press from local bands and critics alike.
I sat down and talked to Derek to ask him, what clicked? What was it that made The Breaking Pattern...well, break the pattern? And what are the seven points he could give anyone who wants to break into their industry of choice?
1. Figure out your brand image--how you see yourself.
People tend to think of branding as slapping logos across t-shirts and water bottles, or doing cheesy PR stunts. What made The Breaking Pattern successful was narrowing down their focus to their core competency--or, in other words, the thing that made them unique.
"Not to be cliché," Derek said, "but I think the biggest factor was finding ourselves as musicians. Not just as writers, but what we represent as an entity. Once I figured that out, I was able to determine who the audience would be and what direction the band needed to head."
2. Figure out the other side of your brand image--how your audience actually sees you.
Of course, branding can also be more of a two-sided conversation. "Our friends kept comparing us to what was coming out during the mid 2000's emo movement," Derek laughed. "And to be honest, instead of shunning that comparison, we just kind of owned it. We consider ourselves a new type of emo, and we aren't really afraid of the label. "
3. Blend the two sides and keep your image consistent.
The Breaking Pattern took what they became known for - lyric centric rock - and amped it up a few notches. "During the course of writing this album, I was going through a particularly vicious break up. Naturally the songs that came out were cathartic, but I wanted to do something that offered both a fresh perspective lyrically while still maintaining a sense of relatability."
They keep their brand image consistent across their social media platforms, too. All their pictures, posts, and music reflect Derek's poetic stylings. As a result, The Breaking Pattern has quickly become the face for the "emo revival" movement in Phoenix.
Even the clearest branding won't help you sell out shows immediately. To get people buying his tickets, Derek was able to pull strings he had spent years building.
Derek described his success as "a little bit of luck and a WHOLE lot of years spent paying dues." He continued, "I knew the names of all the promoters. I knew what venues to play. I still know what bands are on a hot streak and who has a positive reputation."
5. Build up a network of friends.
But aside from just doing your homework, you've also got to show up to class. "I worked my butt off for years in previous bands proving myself to those people, bringing fans out to shows, being diligent on my social media, promoting other bands and being a generally good human being to everyone I met along the way."
When you spend your time cultivating a group like that, it's no surprise that Derek went on to say, "When the time came to finally launch The Breaking Pattern, those friends we made were all on board with the vision and really stepped up to help us out. That was the luck part--that people enjoyed what we were doing, and were willing to reciprocate the goodwill. I don't think that's ever a guarantee."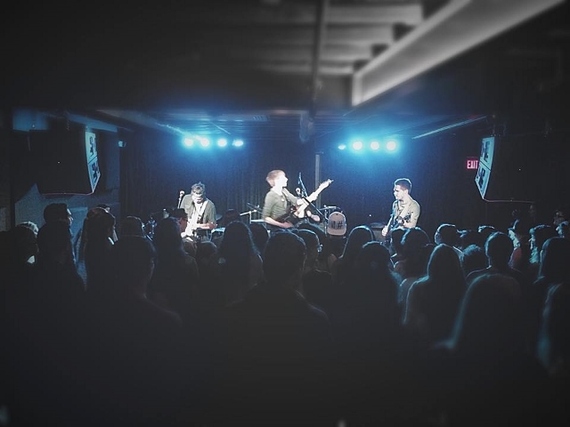 6. If you're trying to build a fan base, engage your fans.
We asked Derek how he intends to hold on to his newfound status. "We try to be approachable. We respond to every message. We are the last ones to leave the venue after everyone else. We want to meet people and get to know fans, and really make a connection. And I think when you genuinely care about others and put them first, then others will start to care about the things you do."
7. Don't let your product quality slip.
Once people recognize your name in your desired market, where do you go from there? For Derek, "The big focus right now is finishing off this album and polishing up our live set. All the marketing jargon in the world can't make up for a mediocre product. If we want a shot at a world stage, we need to be the best."
He continues, "That said, all big things start off small. The love and support we've received recently has been overwhelming, but we'll need to continue growing our fan base and community here in Phoenix. Then, hopefully, we can start branching out to other cities soon."
Conclusion

Even if you're not a musician, this applies to people looking to break into the restaurant business, pioneer a tech startup, or climb the corporate ladder. No, there isn't a shortcut--but the long and winding road makes the destination that much sweeter.
The Breaking Pattern plans to release their debut album in early March of 2016. You can follow them on Instagram at TheBreakingPattern as they forge their journey into the world's toughest industry. You can also check out their brand new promo video by clicking here.
Calling all HuffPost superfans!
Sign up for membership to become a founding member and help shape HuffPost's next chapter