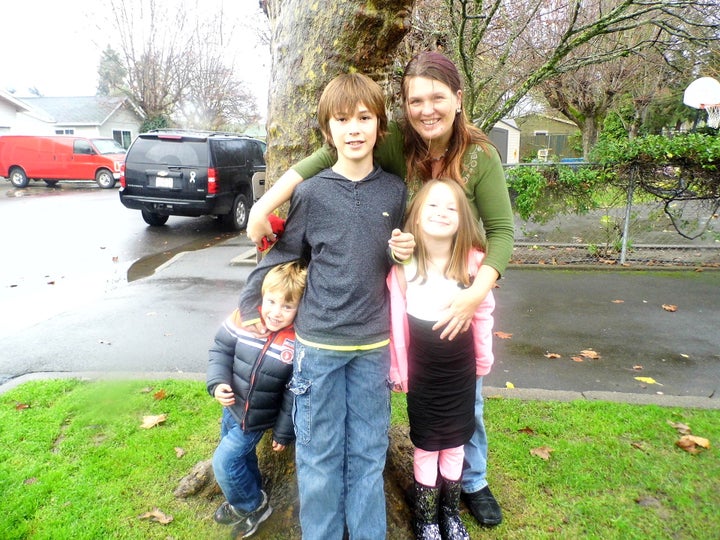 By this picture you would think that we are an average family getting our picture taken outside on a bright sunny day. On another day you might be right, but on this particular day you don't know the half of it. We have had a great day and are about to part ways. Everyone is strained and worried about what tomorrow will bring. At this point my children and I have been separated from each other for over four years. Each month we have a short visit and then they are transported to different parts of the state by county employees of CPS and foster parents.
I was a victim of domestic violence, am a survivor of three car accidents, and recently was awarded disability status under Federal Social Security Laws and medical recommendation. Before I was awarded my benefits under federal law, I could not make enough money to support myself and my three children and needed help.
In 2011, my oldest son and I suffered from domestic violence. I called the police for help and CPS came and told me to leave my house and my trailer, with nothing but a few suitcases and my children. They urged me to go to the local homeless shelter, which is full of drug addicts and mentally deranged men, and would not leave until I drove out of the driveway. Homeless shelters are not safe houses. I did not go, having concerns for my family's safety, and stayed with a friend for a few nights. For the next week, I continued looking for a place to put my trailer, when the abuser pleaded for me and the children to stay at a hotel across from his room and work. Having no relations or job prospects, being disabled, and in great desperation, I accepted the room and his apology.
I believed that this would ease my children's and my circumstances and I drove to Juvenile court with him and our 6 month old baby, believing that everything would be OK. When we arrived, one lawyer came in to talk with us. I thought that we could still be a family if we just worked out the issues surrounding the abuse my son and I had experienced. Another lawyer separated us and informed me that I would have to comply with CPS's demands if I wanted to regain custody of my children. I was naive and desperate, and was told that, since I arrived with the abuser and failed to appear for court two days earlier, to get a permanent restraining order, that I was 'failing to protect' my children. Why couldn't I get it done right then? I did file that RO through the lawyer immediately.
On October 26, 2011, my children were removed from my custody, my six month old had just fallen to sleep after nursing, and I have been fighting for their return ever since. Although there are many occasions when I have had stable and adequate housing, I was told that I was too late and that my disability was such that I was incapable of taking care of my children. This is simply not true.
During the last four years I have remoulded my existence to remove all concerns regarding the safety of my children in my care. Despite my efforts, attendance, and cooperation with county officials over the past four and a half years, CPS has awarded my children to their fathers, who are the abusers. When this move was not deemed safe, after many warning signs, 'red flags' as they call them, topped off by abusive explosions by their fathers, my children have been removed and placed in foster care.
The United States Supreme Court has stated: "There is a presumption that parents act in their children's best interests, Parham v. J. R., 442 U. S. 584, 602; there is normally no reason or compelling interest for the State to inject itself into the private realm of the family to further question a parent's' ability to make the best decisions regarding their children. (Reno v. Flores, 507 U. S. 292, 304.) "The state may not interfere in child rearing decisions when a parent is available." Troxel v. Granville, 530 U.S. 57 (2000).
I have been available since the day my children were borne.
I have always been present for hearings regarding the custody and care of my children and have objected to the placement of them with their abusive father. All while in legal custody of the government public service workers. These 'public servants' are not serving the public they were hired to help.
'Why were my children not placed with me?', you ask yourself. I have been asking myself this very question as well.
I am disabled and marginally existed on $295.00 from 'general assistance' a month for three years. Public assistance and subsidised housing is limited and often people are on a waiting list for three to five years. You try doing everything required and maintain impeccable attendance to every Court Ordered class and visit for any length of time.
When I received my Social Security Disability I thought that my problems were solved. That was not the case. Although I owned my own trailer and then moved into a two bedroom house, payed for all the furniture, and continued to attend all classes and visits with vigor, CPS of F.B., now managed by the same worker who originally awarded my kids to their abusive fathers, instead felt that my medical condition and my humanitarian and forgiving nature were too risky for my children to return to me with no substantiated evidence.
CPS failed to offer 'true statement of facts', 'due process', 'due diligence', 'diligent effort', and/or 'fair and equal representation'. This violates my rights as a citizen of the United States and should not be overlooked. In fact, U.S. District Judge Rebecca Pallmeyer in 2005, ruled that "families were deprived of their constitutional rights when state child welfare officials threatened to separate parents from their children during abuse investigations." (Dupuy v. Samuels, 397 F.3d 493 (7th Cir. 2005)). This type of treatment of parents who are suffering from poverty and have disabilities is occurring nationwide at an alarming rate and is a level of discrimination which is not limited by race, religion, or nationality and many do not receive fair and adequate representation.
I was also not provided with adequate legal representation or appropriate services for 'family reunification' with my children from October '11 to November '15, spanning over four years. I tried to file a complaints and even voiced my feelings, but was discouraged from complaining about the unfair treatment because this would make me look like I was blaming the system for my problems.
I have called the Disability Rights Advocate, the American Civil Liberties Union, Family Law, and lawyers in my area and have been told that there is no advocacy or representation without a very large sum of money to provide me with fair and adequate representation in this matter, anywhere. Everyone I have spoken with has directed me to another agency, department, or legal firm and I have encountered little to no help. Only incompetent and inept services due to lack of funding or timing.
When I requested a new attorney and time to become acquainted with my case, I was denied by the Court, on the basis that, although I 'deserve fair and adequate representation,' the Court and lawyers have too many cases and it is just not possible for me to have adequate representation.
Everyone has a right to 'fair and adequate' representation and this includes parents with disabilities who have children involved in juvenile dependency cases. All across this nation there are millions of families suffering from discrimination by our Public Social Service Workers, due to economic and disability status. Those with disabilities and victims of domestic violence are two of the highest statistically to never successfully reunify with their family.
Prior to the detention of my children, I had stated that I am disabled, poor, about to become homeless, afraid, and alone with no family nearby but my children. Since the 'Detention' of October 2011, all of my children have endured multiple moves to multiple towns, attended multiple schools, experienced abuse by abusive parents, and have been living in multiple foster care homes.
When the children were removed from my care, I was told that I would have to stop using effective medication to manage my condition if I had any chance to have my children returned. I stopped using this medicine for two and a half years, excepting some extreme situations, brought on by CPS's complete disregard for my children's safety and the nature of my disabilities.
Despite my deteriorating health due to improper medicines, I continued to attend all of the classes, believing that my efforts would not be overlooked. This was not the case, as I continued to see that my civil and parental rights were violated and denied, apparently due to my disabilities and the positive results of appropriately prescribed medication in my urine.
Social workers and their associates also continued to discriminate against me, accusing me of not taking responsibility for becoming a victim of domestic violence, while they proceeded to lie, accommodate the abusive parents' lack of attendance and progress in the court ordered reunification plan, (citing their disabilities as a reason for their noncompliance), and allowed my children to be continually exposed to unstable, abusive situations.
FCS/CPS social workers and public officials took discriminating actions against me, at the onset of, and throughout this case, for being poor, a victim, and disabled. There is no moral or ethical injunction for the discriminating actions and allegations of this agency and its constituents. This has caused me and my family undue stress, trauma, and separation, as it does in many forced separations.
I was a victim of domestic violence and exhibited various signs of 'stockholm syndrome' early in my recovery, and there has been no substantiated reason for their discrimination and disrespectful treatment of me. I have complied with reunification services, and provided more than adequate information regarding my disabilities from the beginning, which CPS choose to ignore.
I have, instead, been exposed to addicts and people with aggressive tendencies on a regular basis within the agency and to comply with Court mandated meetings and classes, and have been forced to relive the trauma of being a victim, until I accepted responsibility for being a victim.
How does a person become responsible for being a victim?
The act of forcing me to become accountable for being a victim is a direct violation of my rights as a victim, and further traumatized and immobilized my efforts to recover and rehabilitate. In late 2015, when I was no longer forced to relive the traumas of abuses I suffered, and my disabilities became properly managed, I have endeavored to become a strong and independent woman well on my way to recovery.
Prior to my involvement with CPS, I had no history of drug abuse and remained clean and sober for an extended period of time, in compliance with the reunification orders. Prior to my children being detained from me, I have survived three major car crashes and over fourteen years of being trapped in domestic violence relationships.
My doctors have tried a number of medications and therapies to relieve the symptoms of migraines, degenerative disc disease, anxiety, and PTSD, in my quest to remain compliant with CPS's unreasonable and discriminatory requirements for reunification with my children. After many tests, several CAT scans, an EEG scan, and almost a year of monthly hospital stays due to the side effect of prescribed medication, it was determined that medical marijuana was the only medicine that helped manage my disability symptoms.
Irregaurdless of my current stability, both mentally and physically, through the effective use of medical marijuana, CPS has continued to allege that my condition and medical treatment will not allow me to be a good parent who is present for my children. This is simply not true and I have never shown any lack of love or understanding for my children, have maintained an alert perspective during all our visits together, and have gone so far as to take classes at the local college to help me grow both mentally and physically, while investigating and understanding my own physical and mental disabilities as well as the mental health and safety of my children and how I can better support their needs.
In November of 2014, my youngest son's father was killed and I was not able to console him. Instead, the agency choose to let the foster parents inform my four year old son that his father would never come back, without even discussing it with me. On July 10, 2015, I appeared in court to request return of my children, after my oldest was again subjected to abuse by my ex-husband, to a two bedroom home where they would be safe and cared for solely by me, all payed for by HUD-Section 8 Voucher. This hearing allowed me to bring in supportive witnesses, one of which was not well, to testify to my care and devotion to my children. The lawyer failed to produce key witnesses I requested and failed to adequately represent my concerns.
At the end of the hearing the judge, instead, ruled for CPS's recommendation to close my case and consider permanent placement of my children elsewhere. I stood up in indignation, asking the judge, "How can you make this decision? What about how the children feel about this? She did not tell you how my children cry when we part. She lied on the stand."
The judge looked me in the face and said, "Even if I had heard any of that I would still have made the ruling I have." I walked out.
What else was I going to do? They have all of the power and I don't have any money, family, or political power to back me up. My lawyer was ill prepared and incompetent and the social worker who left her job two days earlier, lied on the stand.
Although I continued to see my children as little as once a month for the next four months, I was told that, in November of 2015, my children could be adopted or placed into adoptive families. This greatly concerned me because I will not be able to see them anymore, until they are old enough to make their own choices, that could be a while, and no one is telling them this information either. In the mean-time I have found a permanent home on the North Coast and continue to access services that are useful and free to me.
At the hearing of November 2015, the judge ruled to terminate my parental rights to two of my children and I can not contact my oldest. I have not seen or spoken with my children in over six months now. I love and miss them very much and hope that we can soon become the family that God intended us to be. Right now however, each of my children is located in a different county with a different family and, to my knowledge, none of them has contact with each other. This is cruel and unusual punishment.
I am disabled and a survivor of domestic violence and I have the right to care for my children. The laws are not different for social workers, but in many counties across the nation, lies are viewed as truth in the Juvenile Court, as long as representatives of the government and CPS are the ones that are lying.
Please help me right this wrong and bring my children back home. Children should be with their parents, as long they love them and are present for their needs, regardless of disabilities.
In the 1990's Hillary Clinton enabled the foster care and quicker adoption rate to rise and broadened the reasons for removal while shortening the time for biological parents to comply with the unreasonable demands for reunification. She has even boasted about this accomplishment and has stated that she would not change the policy if she becomes President. This policy is effectively destroying families across the nation at alarming rates while violating parents' U.S.Constitutional Rights, laws, and codes; including the first, fourth, fifth, eighth, fourteenth, and eighteenth Amendment Rights, as well as violation of their parental rights, patient rights, victim's rights, disability rights, and rights as a human being. It is also fostering a larger number of juveniles entering the criminal justice system, as well as provides an increase in the number of teens suffering from drug addictions due largely to medication prescribed for mental disabilities diagnosed when the children are non-compliant with the forced separations and trauma associated with this loss of their family and everything that they know.
Parents should not be discriminated for being poor and disabled in the United States of America. Nor should children be forced to leave their parent if that parent is still capable of raising them. This is our right and what our forefathers founded this country to protect us from.
As we continue to face worse socio/economic stresses in this country, more parents are falling into the target population which is most discriminated against. Meanwhile, if you come from a well known family and have an established background and enough money, you can get away with vehicular manslaughter using the defense of 'affluenza'. This must stop.
E-mail: lyraprism@gmali.com
Popular in the Community