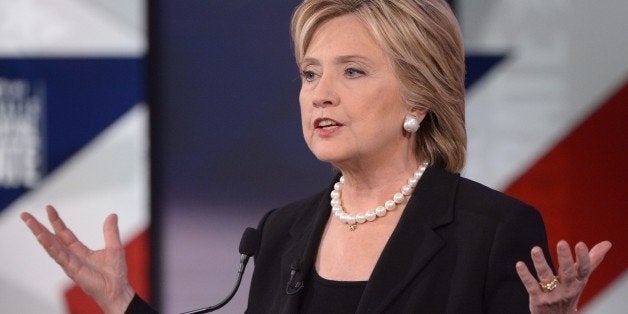 Conventional wisdom holds that primary debates are bad for Hillary Clinton. According to this view, the Democratic front-runner has more to lose from sharing a stage with her rivals than she has to gain. Inevitably debates are risky; for a highly disciplined candidate like Clinton, this most unpredictable of campaign exercises would appear to pose serious risk with minimal potential for reward.
But a counterargument can also be made. In the first two Democratic primary debates of the 2016 presidential cycle, Clinton has shown herself more than capable of navigating these tricky shoals. And while Saturday night's CBS debate in Des Moines constituted a considerably less decisive victory than her first outing in Las Vegas, the night helped the presumptive Democratic nominee more than it hurt her.
Pundits have seized upon a couple of moments from the Des Moines debate that represent supposed gaffes on Hillary Clinton's part. "I come from the '60s--a long time ago," Clinton said in response to a question about activism on college campuses, allegedly handing her Republican opponents a video snippet that can be weaponized to depict her as a relic of the past. Will they exploit it? Probably. Anything and everything Clinton says will be used against her. But as a sound bite, taken out of context, the words are not exactly damning. Whichever Republican eventually runs against her will need to find better ammo than that.
More troubling was Clinton's attempt to justify her close ties to Wall Street, a response that unwisely invoked the terrorist attacks of September 11, 2001. A valid point might have been made about then-Senator Clinton's collaboration with her Wall Street constituents to safeguard the security of the financial sector, but that's not how the message came across. Instead she seemed to be enlisting 9/11 for bragging rights, just as former New York mayor Rudy Giuliani has been doing all these years--and as Jeb Bush did on behalf of his brother in a recent Republican debate. When CBS panelist Nancy Cordes followed up with a tweet from a viewer who reprimanded Clinton for dodging a question about campaign contributions by raising 9/11, the candidate offered her weakest defense of the night.
Yet even this moment, unhelpful as it was, did not rise to the magnitude of a full-blown gaffe. Clinton has her weaknesses as a debater--the 9/11 comment is a vivid example--but the errors she makes in debates are not sufficient to knock her off her stride. Audiences may love or hate Hillary Clinton, but even the doubters must concede that she knows what she is doing on the debate stage. That sense of self-confident determination--not to mention her sheer command of the issues--helps insulate her from missteps that might wreak havoc on a lesser performer.
Against Bernie Sanders and Martin O'Malley, Clinton has an easy job positioning herself as the candidate most shovel-ready for the White House. When moderator John Dickerson asked the debaters to cite an experience that prepared them for the presidency, this difference in standing came into sharp focus. O'Malley literally could not come up with a response, while Sanders unconvincingly cited his work on behalf of returning veterans. Clinton, by contrast, spoke of being part of the brain trust that brought down Osama Bin-Laden. Try topping that, boys.
The smallness of the Democratic field, especially now that it's down to a trio, provides Clinton with an excellent workout for the general election debates next fall. This muscle-toning is something her eventual Republican rival is likely to lack, unless the cast-of-thousands GOP field begins to thin out soon. Back in 2008, some of the best debate prep Barack Obama received came toward the end of the primary election cycle, when he twice shared the stage with just Hillary Clinton and John Edwards, followed by four grueling one-on-ones with Clinton. Unfolding over several months, these events did not end until April, placing Obama in an excellent position to take on John McCain, who had stopped debating in January and who never went up against fewer than three of his rivals.
The primary debates are abetting Hillary Clinton in another way: they allow her to preview, and craft responses to, the lines of argument that will be used against her in the general election. Clinton is an undisputed target in the primary debates, in a way that cannot be said of any of her Republican counterparts. Front-runners Donald Trump and Ben Carson have been playing a far less defensive debate game than Clinton, leaving them poorly positioned for future attacks. Because she draws--and will continue to draw--a barrage of criticism in these early jousts, Clinton is building a suit of armor that will hold her in good stead over the long haul.
We are now officially one-third of the way through primary debate season. Hillary and company are scheduled for only four more joint appearances, including two weekend events that are likely to generate low ratings. For Clinton the timetable could hardly be more fortuitous: a few more rounds of real-life debate prep, courtesy of Sanders and O'Malley, in a relatively low-key media environment--then on to the general.
Calling all HuffPost superfans!
Sign up for membership to become a founding member and help shape HuffPost's next chapter