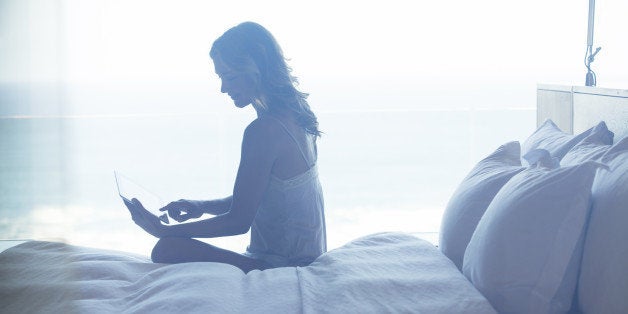 "Everyone mourns differently." I cannot estimate the number of times I have heard this phrase in the past month since my father's death. And while true, there are common themes amongst everyone who mourns the loss of a loved one. So common, in fact, that psychologists identify five stages of grief that we all experience: denial, anger, bargaining, depression and acceptance.
What is not common is how people navigate these stages. There's no list of boxes to check to assure you're ready to move on to the next step. How do you approach denial and move on to anger? What do you need to do to be considered done with one and on to the next? Hell, in a single month, I have felt each of these emotions but have yet to fully conquer a stage and move on to the next. I have realized, however, that going through the items in my father's home has helped me embrace those emotions while gaining a clearer picture of who my dad was and what was important to him.
Where I Am
I now find myself a 28-year-old executor of an estate. While many would constitute a 28-year-old as a full-fledge adult, I still feel like a child in many aspects. Being thrust into this adult world where a will must be executed upon and timeliness is of immense importance, I've found myself wondering when I'll ever have time to actually sit down and process the whirlwind that has happened to me.
Nothing can prepare you to write a eulogy, plan a memorial service and reception, to call companies and explain that your father has died and you need to close his credit cards, to sell your dad's belongings or to go through the copious amount of memories and items someone else accumulated over 65 years. But it all needs to happen. All of these experiences are a part of the mourning process, especially the latter: the things.
The Things
I am fortunate. My dad was a vibrant and complex man. He lived a life that was rich in experiences and collected items to document the memories along the way. This is a man that was born in 1950. He lived through Woodstock and The Altamont, the Vietnam War, the resignation of Nixon, and experienced the wildest technological shifts that any generation could imagine. In his 65 years, he collected hundreds of books, magazines that covered the emergence of drugs and political scandals, vinyl records from the most talented bands and artists of all time, images from the first polaroid cameras, planners where his hand had excitedly written that he and my mom were expecting a baby in the summer of '87 (me), and letters from friends that screamed their first-hand frustrations at the world right from the page.
These things give me insight into the person that he was and the life that he lived long before I was ever in the picture. I find myself pouring through albums that transport me to a different time and help me to accept that my dad is no longer here. The connection between the physical items and the mental state cannot be underestimated. Scouring through a drawer to find photos of your grandparents alongside their siblings and cut-outs of newspaper articles, is all a part of the process and provides closure.
But how will this change when no one has actual things?

"Sure, we'll always have certain items -- clothing, kitchen goods, favorite childhood toys -- but what happens when all of our memories are stored in the cloud?"

When all of our stuff that provides a glimpse into who we were, are digital? The photos, magazines and books, the calendar of engagements, the invites to weddings, are all stored in the cloud and the handwritten letters become emails, texts, tweets, Facebook posts, and "check-ins" of our whereabouts and music simply streamed onto our devices instead of physical albums?
When a drawer only houses sweaters and not accompanied with photos from generations past? Will we simply provide our loved ones with logins to all of our accounts to help them mourn and understand us even better?
Where We Are
I am as guilty as the next. I cannot tell you the last time I had a photo printed, wrote an engagement in my agenda instead of saving it to Google Calendar, purchased a physical album from my favorite artist or drafted a handwritten letter to a friend instead of a text. But maybe it's time that we do.
Technology is incredible, it has afforded us greater connectivity with the world but I'm not ready to live in a world where there are five stages of grief and the best way to navigate each is to sit in front of a computer looking at music merely listed on a streaming service instead of touching the albums that our parents would listen to while the wildest revolutions happened outside their windows.
I am not a psychologist. I am only a daughter who has found solace in pouring through my father's photos stashed in yearbooks, planners filled with his handwriting of events he looked forward to, books that his fingers touched with favorite quotes underlined, letters he exchanged with his friends during the height of a cultural revolution. I am not ready to live in a world where logins are inherited.
I want my future family to pour through physical items stashed in random locations that provide insights into me and my personality. We're all so concerned with masking our digital footprint, but maybe it's time to stop worrying about the digital and make sure we have a physical legacy to leave behind.
This post is part of Common Grief, a Healthy Living editorial initiative. Grief is an inevitable part of life, but that doesn't make navigating it any easier. The deep sorrow that accompanies the death of a loved one, the end of a marriage or even moving far away from home, is real. But while grief is universal, we all grieve differently. So we started Common Grief to help learn from each other. Let's talk about living with loss. If you have a story you'd like to share, email us at strongertogether@huffingtonpost.com.