Per everything but absentee ballots, Thomas Suozzi, the Democrat two-term Nassau County Executive, has a 237 vote lead over Republican opponent Ed Mangano. The problem is that there are reportedly almost 12,000 absentee ballots. Those ballots might put Mangano over the edge, which might lead to a recount. However many sources on both sides cite this wonder if this is the end for Suozzi. So, you can put one thing in the bank, the Democrat on Long Island are declawed at the least now that the legislature has gone to Republican hands this election day.
Suozzi, at one point, was even touted on this website as a possible replacement for Hillary Clinton. Yet one day ago with a 2009 election snapback, where many of the 2008 voters who came out for Obama disappeared along with the jobs, additional plans for any stepping-up have gone very awry.
If there was panic in the eyes of Nassau Democrats, perhaps it could be finally be seen as they flooded Penn Station last Monday, accosting the dull glazed eyes of Long Island Railroad commuters on their trek home. Perhaps a sudden recognition of how tenuous their control really was came late to a party who mostly sleepwalked through the summer as if their retention was foreordained.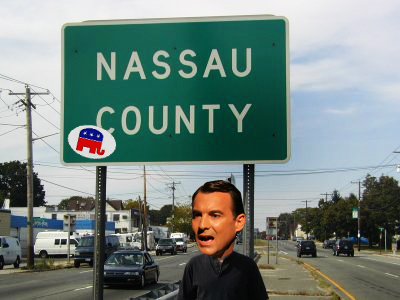 It wasn't. Democrat hopefuls, campaign managers, party gophers, and other ilk flooded the train station as the herd of commuters passed through them like a cattle call, perhaps then and there might have been a realization that it was too little and too late.
Tom Suozzi's supposed easy ride to a third term blew out in embarrassing fashion as many voters were not seeing change or results.
Ed Mangano, who many thought was going to be run down by Team Suozzi, instead has taken him to the limit. Highly placed Long Island Republicans cited to me that polls were closing between the two weeks ago. Democrats on Long Island then had to split money to try to hold the Legislature and hold off the County Executive at the last minute as a slow realization only hit them at the very end.
Nassau Republicans did not even run on anything new and exciting. They merely played a card that discontent was still rampant and no new taxes were desired. As their party boss Joseph Mondello reaps the rewards, don't buy it. Mondello is who lost NY State control and made to look like a buffoon as Long Island NY Islander hockey fans got under his skin at a rally. Luckily the rest of the party was clear on their objectives.
The Democrats never were very clear on much. Somewhere someone made a fatal mistake in how many new Democrats and voters would come out to the polling booths. This wasn't a new age for Long Island in 2008; it was merely a blip as 2009 ended up back to the same old voting habits.
What did change however was a groundswell by those who felt off put by those 2008 results and continued malaise on Long Island. The result was a political embarrassment that was not a referendum on Obama, but more a referendum on the dull witted punditry on TV, blogs and print that tried to pretend they understood it all.
These days many of these talking heads babble to themselves than have any connection to the public at large or the consumers of their product. MSNBC, Fox News, and even CNN prattle to themselves endlessly and then seem surprised when they are deviated from reality, seeming to believe their own espousals.
The simplicity of the political situation is that people are unhappy. Especially those of an upper middle class in a high tax and deep debited county, who are fearful the bottom is falling out. This is the real story of Long Island and Nassau County. No referendum. No confusion. No jobs. No hope. Only tough days,
For Nassau Democrats, it just got a lot tougher. Even if Suozzi exceeds expectations on the absentee ballots...the Democrats face an uphill battle of reclaiming any strut in their step that occured one year ago facing a Long Island population that is frustrated and now an unfriendly Legislature that is now 11-8 Republican.
Chances are, however, despite the 560 vote lead* before the absentee ballots, their hopes are more optomistic than realistic once those absentee ballots are counted.
(*Per a source, the 237 vote lead increases to 560)