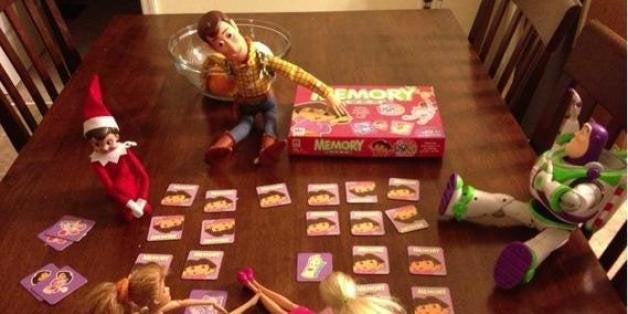 My wife and I have always enjoyed Christmas, even though the structure of the holiday has changed during our marriage. Gone are the days of lavishing gifts on each other because we had no one else to buy for. As it is with most parents, we are now content to live vicariously through the joy seen through the eyes of our children on Christmas morning.
That joy was sapped last Christmas because of a villainous invader whose very presence was meant to enhance that Christmas experience, not destroy it. That villain was the Elf on the Shelf.
If you're not familiar with this growing holiday tradition, the Elf on the Shelf, in the form of a cheaply made elf doll that will set you back 30 bucks, is dispatched from the North Pole at the start of Advent to keep a watchful eye on the children and make sure they belong on Santa's "nice" list.
There are rules to the elf's stay inside your home. He or she (they come in different sexes and skin colors) maintain a distance and provide a watchful eye for Santa. Children are not allowed to touch the elf or she will lose her magic. Secondly, the elf must never move or speak when people are home or awake, but can "move" from place to place when no one is around.
The Internet is full of hilarious images of elves doing mischievous things to the delight of the children. We thoroughly annoyed our Facebook friends last year by constantly broadcasting the foibles our children's elf, Missy (short for Mistletoe), got herself into. Activities ranged from sitting atop the water cooler with a line of string into a bowl of water with a sign saying "Gone fishin,'" to the elf lying among some empty beer cans to give the impression of going on a bender. In hindsight, that last one was probably a little too PG for my then 6- and 3-year old.
Missy would find herself in some predicament, to the delight of the kids, but as Christmas was getting closer, something began to happen with my usually happy-go-lucky, bright and smart 6-year old daughter, Kelsey. Another rule says the elf leaves one final time on Christmas Eve, hitching a final ride back home on Santa's sleigh. She would return the following December to start the festivities over again. This was something Kelsey did not want to see happen.
While we prepared our home to host Christmas Eve dinner, Kelsey was working through some crying spells while pretending to put on a brave face. During the night's festivities, which included playtime with her cousins (one of her favorite things) and the opening of presents, Kelsey seemed sad and distant.
Having a child so utterly devastated over something is a shot to the gut for a parent. Nothing we could say or do could make her happy. We suspended some rules and let Kelsey hold and take pictures with Missy, and let her snuggle with the elf while falling asleep on Christmas Eve, her final night in our home.
Christmas morning arrived, and with it a ton more presents, but it didn't take long before the sadness and tears came back. It was a good number of weeks into January when Kelsey didn't casually mention Missy, cry at night or carry her picture around. Nonetheless, she still displayed elf-related paraphernalia in her room throughout the year.
With another Christmas approaching, my wife and I decided we could not have a repeat of a year ago. We could not ruin another Christmas, and quite frankly, it wasn't fair for Kelsey to be ridden with sadness on Christmas. Think back to the best Christmases in your life; most probably took place during childhood. We were concerned that Kelsey's childhood Christmas memories would be forever clouded with sadness.
So, what do we do? Do we tell her Missy has retired? She's moved to a family in need? Or just go ahead with it and hope a year will bring a different result?
In the end, we decided to fess up. Kelsey had seen a toy ad that displayed the Elf on the Shelf, so we used this as a way to tell her that while Missy was not "real," the idea behind her was real. We introduced the elf to our children as another way to bond with them, have fun and create long-lasting memories. We never wanted to cause such grief and sadness.
We softened the blow by telling her she could always keep Missy and that the elf would never have to "leave" again. While there have been quite a few tears over Missy not being real, Kelsey has been happy to have the elf with her all the time and has even started conspiring with her little brother to stage crazy antics to fool and amuse her parents.
We walked a delicate line telling her Missy wasn't real, but kept her belief in Santa alive. This is hypocritical, I know, but show me a parent who says they are not a little hypocritical and I'll show you a liar.
This was a tough issue to deal with as parents. Do we lie or not lie to our children? Do we break their hearts now or later?
Ten years from now I imagine we'll look back on The Elf on the Shelf ordeal and wish we could deal with those problems instead of the teenage issue of the day. We may even look back on it with some regret -- as we sometimes do now, just weeks after ending the sordid elf affair.
After all, we're not perfect, we're parents.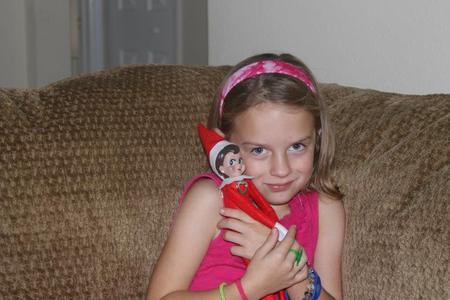 WATCH Matt discuss this post on HuffPost Live:
Related