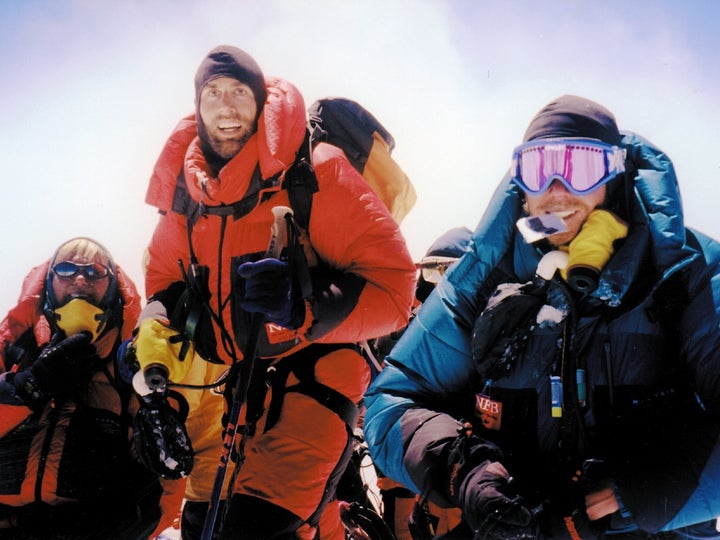 Are you brave? Are we born with courage? Do you think fear is something we overcome, or something that always remains within us?
These questions ran through my mind after speaking with Erik Weihenmayer, the first blind man to summit Mt. Everest. That's right. I was discussing "fear" with someone who has climbed Mt. Everest and kayaked the Grand Canyon with no eye sight. Meanwhile, finding spiders in my bedroom frightens me.
Erik's adventurous lifestyle and ability to overcome barriers inspires others in his community- he walks the talk and practices what he preaches. He has completed the Seven Summits, the highest point on every continent (only 150 other mountaineers share this accomplishment). He has also co-founded an organization to help people overcome challenges with the motto, "what's within you is stronger than what's in your way."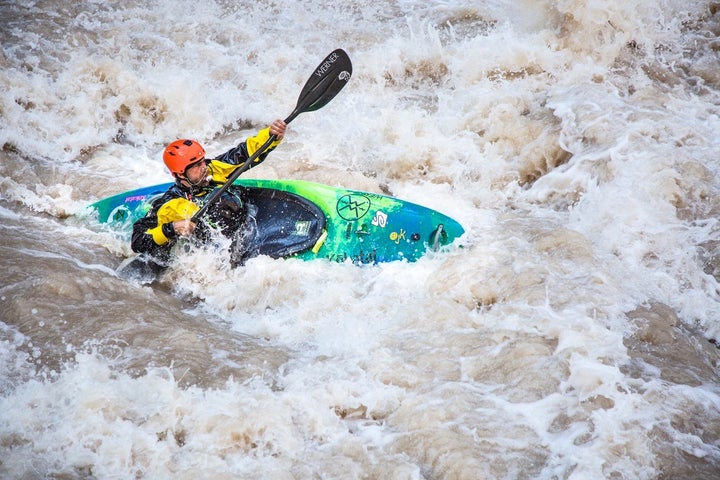 He surprised me with his poignant ability to describe the reality we all face. He was not boastful or conceited about his accomplishments, but rather humble and relatable. He accurately pinpointed our collective fears and detailed how we all face barriers, both physical and invisible. Talking with Erik reminded me that we all have the ability to change our life— with preparation, optimism, and grit. Here are three things Erik left me with:
I always thought of courage as something you create momentously. As the lion from The Wizard of Oz was granted courage at the end of his yellow brick road journey, I thought we too earn courage after conquering our fears. But Erik reframed my thinking. He told me fear is not something we conquer but something we prepare for. Every one of us has the ability to live an extraordinary life with our fears. Erik compared courage to working out a muscle; you have to train it for it to grow. You train, prepare, and challenge yourself every single day. Every day, make a decision to do something different. Do something (even if it's small) that makes you uncomfortable. Courage is a state of mind; it's a decision that you keep reinforcing. This is the key to living a life with no barriers.
2. The nature of the mind is like water.
As someone who dreams of summiting Mount Everest, I listened to Erik's description of being on the mountain with awe. He said that the Sherpas on Mount Everest have a saying for what happens to climbers: "the nature of mind is like water." Meaning that when you're embarking on something big — whether it be starting a business or planning a trip around the world — your mind can work against you and weigh you down. While there is always a need for what if questions and essential planning, at a certain point, the what ifs start to sabotage and distract your brain. "You have to let yourself let all that muddy stuff go. You have to keep your mind free from the mud," Erik said. When approaching life's chaos and big projects, learn how to let it go and be present in order to truly live successfully and freely.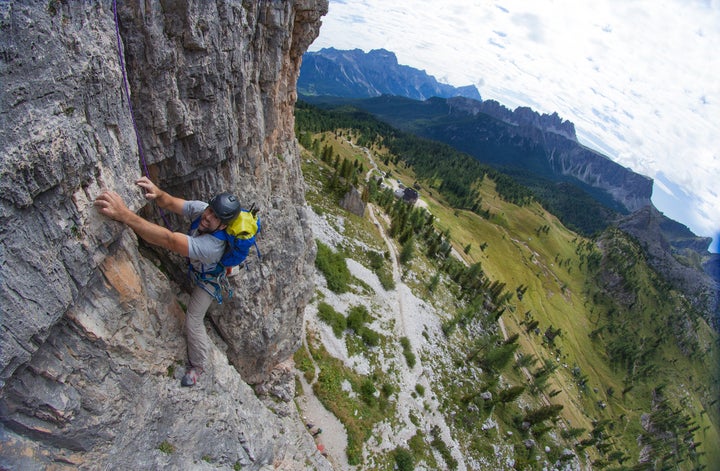 This is my favorite takeaway from Erik, as I too have learned this through recent events in life. Erik told me, "We often see the image of growth as the nice sweeping arch. But it's not like that at all. Growth is bloody and takes grit, with no pretty bow wrapped up at the end of the journey." Our journeys are NOT perfectly formed circles, full of constant smiles and Hollywood perfect endings. True transformation journeys are hard and often painful. The key to growth and success is training yourself to approach new challenges and obstacles with grit. Believing and knowing you can keep going, even it if appears impossible. Embrace the pain, knowing that this is what it takes to reach the top of the mountain.
So remember- if a blind man can climb the most dangerous mountains in the world- you too can overcome life's barriers by practice, living in the moment, and grit. To learn more about Erik and his adventures, visit Touchthetop.com. His latest book No Barriers: A Blind Man's Journey to Kayak the Grand Canyon is available on Amazon or wherever books are sold. For a more detailed interview with Erik, visit the DreamJobbing blog.
Photography Credit: Luis Benitez, Manrico Dell' Agnola, James Q Martin