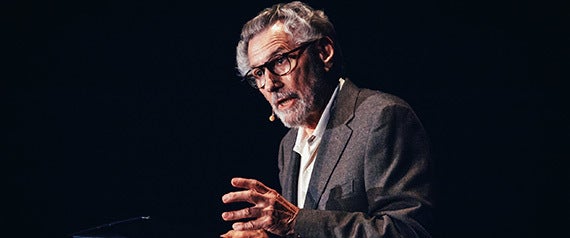 Oral Fixation creator Nicole Stewart says, "You may remember my late-term abortion story which I told for our Season 3 opener, "Bun In The Oven." It is with pride that I share that the clinic where I had my abortion is owned and operated by the incredibly dedicated women's rights advocate, Dr. Curtis Boyd. His story provides essential context to the abortion issue at large."
In 1953 the tiny school I'd attended since 1st grade burned down. I transferred to the high school in the biggest city in my world: Athens, Texas, population 5000.
I got Mrs. Broom for Algebra and the prettiest girl I'd ever seen sat in front of me and she needed my help with math. I told a new friend I planned to ask her for a date.
"You can't date her. She got knocked up. She's got a baby at home."
The boy who got her pregnant was Mr. Athens High: star quarterback, on his way to West Point. She was an outcast. I had no way to understand my confusion, no words for my outrage, but the feeling stuck in my throat.
From early childhood my grandparents taught me service above self, humility always, and compassion. I loved the Bible. It was God's truth revealed. My grandmother, Mama Boyd, declared I was a Prophet, called by God to a special service. The Elders in our church, Footwashing Baptists, agreed: as a high school senior, I started preaching.
But my father had bigger plans for his oldest son. I would be the first in our family to attend university. He wanted me to be an Army officer, so I went to Texas A&M. There I learned I spoke my own language: a cross between the Appalachian of rural East Texas and the King James Version of the Bible. I'd had the highest GPA ever recorded at Athens High but at University my essays were handed back-- "Complete Rewrite Required." My professors were appalled by my English and my reasoning. They taught me to question assumptions, reject dogma, seek evidence and tolerate doubt.
I was becoming a humanist but I couldn't just turn my back on my family and faith. I needed an honorable way out. I excelled in biology so medical school was the perfect solution. I applied to only one: UT Southwestern.
Church had always given my life meaning and purpose. So once in Dallas I joined the Unitarian Universalists whose commitment to social justice matched my own.
When I finished Medical School I returned to Athens-- to serve the community that had nurtured and revered me as their doctor, not their preacher.
At first, it worked. I loved Family Medicine, from delivering babies to caring for the elders. But it was the mid 60's and I was caught up in the social turmoil of the time.
I was invited to work with a national network, the Clergy Consultation for Problem Pregnancy. Women in need were turning to their chaplains for help and those ministers needed safe places to refer women for abortion care. I agreed to serve as their medical advisor.
But I had no success finding doctors. The one place I found, a clinic in a Mexican border town, was clean enough but the "doctors" had never been to medical school.
That's when one of the ministers asked me if I would consider doing abortions.
I was speechless. I knew how to manage miscarriages because I'd seen so many in my training. But I could lose my medical license, go to prison, bring dishonor on my family.
Ultimately, I acted with my hands and my heart. I began to do abortions.
I told no one. Yet word spread and before I knew it women from all across the United States were traveling to Athens on the word of ministers that they were coming to a good doctor and a safe place.
Finally, my work had the larger meaning I'd sought. My religious ideals became immediate and personal. Women told me their stories, thanked me for saving their lives. My commitment grew deeper.
But there were so many women that I had no time for my other patients. I couldn't involve my staff, but they knew something was going on. One day my nurse said, "Dr. Boyd, I believe in what you're doing, but it's not safe to do it here. You need to go to the big city."
Police were following cars with out-of-state license plates to my office. I received anonymous death threats. The situation was clearly dangerous.
I drove to Dallas, found a medical office with a "For Rent" sign and rented it that same day. I needed someone to help me with the workload—someone I could trust with my life. That was Reggie. She was committed to women's rights, honest and loyal beyond belief, a nurse who did the work of three people without complaint. Together we'd do whatever was needed.
Dallas was the big city. I was robbed at gunpoint and obviously I could not go to the police. In fact, the sight of a police car in my rearview mirror sent me in to heart racing, face-flushing panic.
Dallas was also the home of District Attorney Henry Wade. The landmark legal case, Roe versus Wade, was on appeal to the Supreme Court. After Nixon made his appointments, we expected to lose. Something had to change.
By then New Mexico allowed abortions for mental health reasons. I'd visited Santa Fe as a tourist and fallen in love with the most liberal town in the Southwest. I moved to Santa Fe. Reggie and her husband came too.
We were doing abortions in Santa Fe when the Supreme Court decision came down. On January 22nd, 1973 our work was finally legal. We laughed and with shock and delight I cried, "Great God Almighty, it's over!" My fears seemed behind me.
The next day the clergy called, "Would I come back to Dallas?" They arranged a bank loan to open the first legal abortion clinic in Texas. I bought a building, furnished and equipped it, and hired a staff of young feminists. Within 30 days we were performing abortions.
I'd learned the value of counseling from the clergy. Patients had come only through their referral. Those clergymen (and they were men) met with each woman to help her make an important life decision-- one she could live with in the grace of God.
One of the feminists recruited Glenna to train our first group of Abortion Counselors. Glenna was a social activist-- young and brash and beautiful. I was smitten. I pursued her with the same blind determination I brought to the abortion cause and I won.
For the past four decades, we have sustained each other through arsons, a bombing, innumerable death threats, and even the murders of colleagues and one dear friend.
One of our arsons was on Christmas Eve. My youngest son was home from college. As we walked through the wreckage of the clinic, he asked, "Do you really have to do this work?"
"I don't have to. I choose to-- because what's at stake is too important to walk away."
My work is ultimately about every woman's place in society: a truly equal place, a place she doesn't lose because she's the one who gets pregnant.
The violence against women, the murders of abortion providers, the endless legislative assaults on women's reproductive rights have a paradoxical effect. They remind me that our work matters now, more than ever.
The violence also brought media attention, which gave me an unexpected gift.
NBC did a story on my early years in Athens. When I showed it to family, my brother-in-law taunted me, "You're not the first one in this family to do abortions! Bet you didn't know—when your Mama Boyd was a midwife she did abortions."
Mama Boyd, that big Dutch woman with the sparkling eyes, the grandmother who drew me to her breasts when she said, "God has called you out and blessed you, Son."
But what she passed on to me is now no longer a family secret.
Popular in the Community