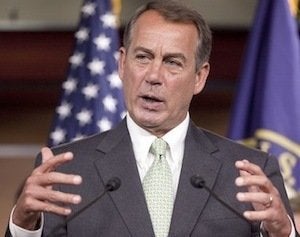 WASHINGTON -- House Republicans are preparing a series of changes to House rules aimed at reversing a long-running trend that has centralized power in the hands of the Speaker and concentrated activity on the House floor. By empowering rank-and-file members and the chairs of committees, GOP leadership hopes to avert an insurrection from its extreme wing and unite the party under a common banner of strict adherence to the Constitution and sharp reductions in spending. Key to the process will be a Transition Committee that will be headed by Representative Greg Walden (R-Ore.), according to a spokesman for Rep. John Boehner of Ohio, the presumptive Speaker of the House. Walden is a Boehner deputy in House Republican leadership.
The reform movement is designed to respond to perceived voter frustration with bills that run longer than a thousand pages and an opaque process run by leadership rather than through a transparent committee process. Republicans will also focus on cutting spending, likely requiring any new spending to be paired with cuts elsewhere, a response to deficit concerns that pop up in poll after poll. Those concerns, however, have much to do with the economy rather than a genuine concern about federal accounting. If the economy improves, concern about the deficit will dissipate.
Cutting spending in the short term will do little to spur an economic recovery and may in fact hamper it, but political science literature has consistently concluded that voters hold the president responsible for the direction of the economy, regardless of which party controls which chamber of Congress. So even if Republicans misread voter anger as directed at spending rather than a lackluster economy, most of the political punishment will be dealt to President Obama.

Whether Republicans can follow through on their pledge is another question. When Democrats took control of Congress following the 2006 elections, they made similar promises, some of which were implemented, such as strict ethics reform, but largely centralized power in the Speaker's office, much as has been done throughout the lower chamber's history. Similarly, Republicans faltered on their 1994 pledge to run an ethical and transparent Congress. Republicans hope this time will be different: Indeed, the strength of the Republican base, and the Tea Party's hostility to Washington leaders, could keep the rising John Boehner (R-Ohio) and the GOP leadership in check. The first few weeks will be telling.
"The first major test that Speaker Boehner will face will be to unite his Republican Conference to navigate through the upcoming GOP Leadership Elections," said a former leadership aide in an email. "The conservative wing of the Conference (including the incoming freshmen class) will be emboldened and Mike Pence, Jeb Hensarling and RSC Members" -- the Republican Study Committee, a caucus of the more conservative elements of the party -- "could stir up some trouble."
Another former leadership aide said that the setbacks Boehner has suffered in internal party struggles in the past have prepared him for the current challenge. "His ups and downs have prepared him for this," he said.
The first rumblings began Tuesday, as Rep. Michele Bachmann's (R-Minn.) spokesman told reporters that she was considering making a bid for the number four leadership spot. The job of chair of the Republican Conference, which now belongs to Mike Pence (R-Ind.), would become vacant if Rep. Mike Pence (R-Ind.) steps down to prepare to run for higher office. Rep. Jeb Hensarling (R-Texas), in that case, is seen as the most likely replacement, though Bachmann is a favorite of the Tea Party.
But if Bachmann is considering a serious bid, she'll start with a handicap: Though the Minnesota firebrand has a phenomenal ability to raise money from the Tea Party base, she has been fairly parsimonious with it. A review of her campaign's giving the past cycle reveals she only donated to 41 Republican House members and challengers, far below what would assist a real bid. The typical contribution was just $1,000, well under the maximum $2,400 she could have given. October 11th is the last date of any contribution, so there may have been a flurry of generosity that hasn't yet been reported, but Bachmann raised more than $11 million and with two weeks left in the campaign still had $2.5 million on hand. Were she making a real bid for leadership, she'd have unloaded that money. Her spokesman has released a statement saying that she has been encouraged to run by colleagues and is weighing doing so, but has yet to make a decision. A GOP aide notes that Hensarling is as conservative as Bachmann but has given much more to and worked harder on the campaign trail for fellow Republicans, an assertion that a review of Hensarling's FEC files confirms, though he raised only $1.6 million.
If Boehner can get over the Bachmann hurdle, he'll finally be able to implement the philosophy of House governance he's been hashing out for decades. "He's been thinking a long time about how he's wanted to be speaker," a former GOP leadership aide tells HuffPost. "He says it all the time: He's the same asshole he's always been. He really has not changed in the 20 years I've known him. He didn't reinvent himself like so many people. He's very secure in who he is."
Central to Boehner's philosophy is the idea that legislators should legislate and the minority deserves a chance to weigh in on legislation. "It's not bullshit. He believes all that shit," said the former aide.
Open and transparent, however, does not mean bipartisan. "The ultimate measure of whether we have a functioning House is not bipartisanship. Our focus shouldn't be on working across party lines for its own sake," Boehner said in a recent speech at the American Enterprise Institute where he laid out his governing philosophy and proposed reforms.
In his speech, Boehner laid out some of the reforms he has in mind and others emerged in interviews with Republicans close to House leadership.
The GOP, assuming it wins control of the House, will immediately establish a "Transition Committee" that would review proposals from members and those just elected and present a set of recommendations to be adopted as new House rules, which would be voted on by the full House. The panel would also propose a set of Conference Rules that would apply to House Republicans and would be voted on by the party in early December.
The earmark moratorium, which Boehner said would continue if the party collectively agreed to it, will be debated by both panels and likely adopted by at least one of them.
The Democratic pledge to post bills online for 72 hours before a floor vote will be extended to committee mark-ups. Boehner proposed the reform in his speech, and GOP sources said it is likely to prevail. Committee votes would also be posted online, which is not done consistently as of now.
The GOP has complained repeatedly the past two years that it has been unable to offer amendments on a single bill on the floor, restricted to "motions to recommit." Boehner pledged to allow for Democratic amendments, even if it meant losing some control. "The more we do to avoid risk and protect our members from tough votes, the more ineffective and polarized the institution becomes. The House was designed to reflect our natural contentiousness as a people. That's the genius of our system," Boehner said. " So instead of clamping down even further, it's my view that we should open things up and let the battle of ideas help break down the scar tissue between the two parties. Yes, we will still have disagreements. But let's have them out in the open. Yes, we will still try to outmaneuver each other. But let's make it a fair fight."
Boehner also praised an idea that he credited to former GOP Whip Roy Blunt (R-Mo.), who is leading in his Missouri Senate race, that would require any new spending to be paired with spending reductions elsewhere. The idea, dubbed CutGo, derives from PayGo, a system Democrats implemented that requires new spending to be offset by cuts elsewhere -- or revenue increases. By taxing hedge fund managers, for instance, Congress could extend unemployment benefits. But the GOP version eliminates revenue increases as a way to offset spending.
The hope is to turn advocates of certain spending programs against each other. Boehner quoted Blunt saying: "Let's turn the activists for big government on each other, instead of letting them gang up on the taxpayer." At the end of the debate, said Boehner, "we might end up finding out that neither program has a whole lot of merit in the first place."
Importantly, tax cuts will not need to be offset by spending reductions. Philosophically, Republicans in Congress don't believe that tax cuts "cost" the government money, arguing that the money belongs to the people in the first place. Whatever the ideological underpinning of the math, however, tax cuts add to the deficit. CutGo, said a source close to leadership, is likely to be enshrined as a House or conference rule.
House Republicans will also hold weekly votes to cut discretionary spending, an outgrowth of GOP Whip Eric Cantor's YouCut. (Cantor is set to become majority leader, barring an unforeseen challenge.)
Boehner said at AEI that the House should spend less time on trivial resolutions naming post offices and congratulating sports teams, a suggestion that aides expect to be carried out as much as possible. One hitch is that scheduling votes on Monday night is the only way to persuade members of Congress to return to Washington and there are only so many substantive bills ready to be voted on. But where Democrats held dozens of "suspension" votes, look for the GOP to hold far fewer -- but enough to get folks back to town Monday, a schedule created by House Democrats, who charged the previous GOP House with spending too little time working. The previous GOP House generally came to town Tuesday night and left Thursday. Democrats ran on a promise to work five days a week -- a schedule that quickly drifted to four days, as members begged for more time at home with family and constituents.
Broadly speaking, the congressional calendar will be given a "hard look," said one Republican source, in an effort to use committee and floor time most efficiently, allowing members a more predictable schedule both in Washington and back at home.
While in Washington, members may face a new metric that will be exceedingly unwelcome: A record of committee hearing attendance. Most congressional hearings are sparsely attended, as committee time competes with fundraising, meetings with constituents and lobbyists, lunch, life, and other hearings going on at the same time. Requiring attendance at hearings could be a jolt to members used to skipping out.
Legislatively, the GOP will keep a tight focus on spending, jobs and the economy, carving out small pieces of legislation. Some immediate attempts to repeal portions of the health care reform law will also be made, aides said.
Much of what the House GOP would do will be strictly political messaging in an effort to shape the 2012 debate. But the party will have real responsibilities, too, such as funding the government and programs it doesn't like. Efforts to defund health care could quickly lead to a government shut-down.
A bigger landmine will come in 2011 when the "debt ceiling" must be lifted. The action was once routine: It authorizes the Treasury to borrow money to pay its obligations. But the vote has become infused with partisan politics and Republicans consistently voted against it -- without practical effect -- in the 111th Congress.
If Republicans don't lift the ceiling, the United States would be forced to default on its debt, leading to a world-wide financial panic. RNC Chair Michael Steele recently vowed on CNN that Republicans would not negotiate and would not raise the ceiling, but his pronouncement was not taken seriously by Republicans elsewhere in Washington.
The most likely outcome, said one Republican, is that the House will use the necessity of raising the ceiling to win concessions on spending.
Committee chairmanships will also be up for grabs. Rep. Joe Barton (R-Texas), who infamously apologized to BP following the oil spill, is the top-ranking Republican on the Energy and Commerce Committee. He is term-limited out but seeking a waiver to become chairman. He isn't expected to be granted the waiver, however, say Republican aides, and the gavel will likely go to either Reps. Fred Upton (R-Mich.) or John Shimkus (R-Ill.).
Rep. Jerry Lewis (R-Calif.), who has the kind of ethical track record that House leadership would prefer to get distance from, is in line to chair the Appropriations Committee, but is similarly term limited.
GOP aides expect Hal Rogers (R-Ky.) to take the powerful seat.
Reps. Pete Sessions (R-Texas) and Kevin McCarthy (R-Calif.) are both battling for the number-three job of majority whip, with McCarthy the current favorite. Sessions may drop out of the race, said aides, and remain head of the National Republican Congressional Committee.
The most consequential House GOP action could come in the oversight arena. Too-clever analysts have been suggesting the past few weeks that the president could benefit from GOP House control, giving him a political foil. But those observers should meet Darrell Issa, the Republican who will soon grab the oversight committee's gavel and the subpoena power that comes with it. "There is no set agenda," Issa spokesman Kurt Bardella told HuffPost Tuesday night when asked what the first investigations would be. "The American people have delivered a mandate that they want a smaller, more accountable government, that's not wasting their money." Bardella said they'll look back over requests they've made for documents the past two years to find out which ones haven't bee answered. "I think there's certainly there's going to be an examination of the questions we have asked that we have not gotten an answer to," he said. Issa will now be able to subpoena the information. He'll double his staff as a result of taking the majority.

Calling all HuffPost superfans!
Sign up for membership to become a founding member and help shape HuffPost's next chapter