On the occasion of World Food Day, Mark Suzman takes an in-depth look at how climate financing and the Green Climate Fund can help us realise Global Goal 2 and end hunger.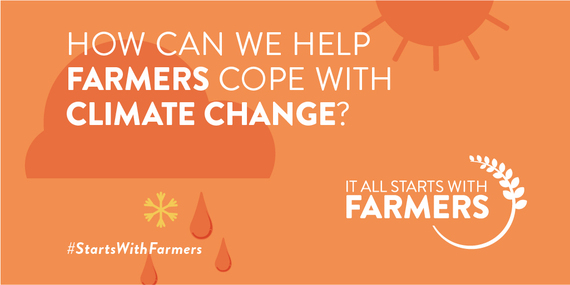 There is a lot riding on December's climate change talks in Paris. Yet the Green Climate Fund (GCF), one of the pillars at the heart of the talks, has so far received little attention in media and policy discussions.
Launched in 2010 under the United Nations Framework Convention on Climate Change, the GCF is part of a commitment by developed countries to provide $100 billion in public and private resources each year by 2020 to help developing countries deal with climate change.
We are on the right track. In 2014, $62 billion was raised in climate financing for developing country needs, and to date, the GCF has secured just over $10 billion, with pledges from more than 35 countries. This widespread and growing support is welcome. The GCF is not only critical to the successful realization of the Paris talks, but also to our ability to have a food secure and hunger-free world.
From droughts in Australia to heavy rains in Myanmar, farmers in rich and poor countries alike know only too well how weather can dramatically affect harvests and food supplies. Several eastern and southern African countries are currently facing food shortages, having lost half of their corn, rice and bean harvests to drought. In India, where 60% of agriculture depends on rains, monsoon variations and failures can affect the country's GDP by between 2-5%.
As weather becomes more unpredictable, farmers will suffer from either too much rain or not enough, and their harvests will be threatened by pests who thrive in higher temperatures.
It is poor farmers - those who contributed least to climate change - who will be worst affected. They make up two-thirds of the world's poorest people, and often lack the resources to survive even a single bad harvest.
Helping them adapt and build resilience to climate change is critical. Even if we invest and develop clean energy, some impacts of climate change are now unavoidable.
Right now, climate funding is still heavily skewed towards mitigation. At the moment, only 16% of funds for developing countries are used to help people - including farmers - adapt to the effects of climate change. More generally, the UN climate change negotiations need to address climate financing for food and nutrition security more effectively.
The GCF has a unique role to play here. Its resources will be shared equally between mitigation and adaptation over time, and half of adaptation funds will support the most vulnerable countries. The Fund should, as much as possible, ensure that it gives equal weight to adaptation and mitigation from the very start.
The GCF's long term success will largely depend on what program it chooses to fund and on how well it make its case to governments and the international community.
The GCF's decisions should reflect its raison d'être - to make a significant and ambitious contribution to global efforts through scalable and actionable interventions. It has already identified opportunities for high-impact investments in climate-smart agriculture, but needs to define its target outcomes and set out how it will achieve them.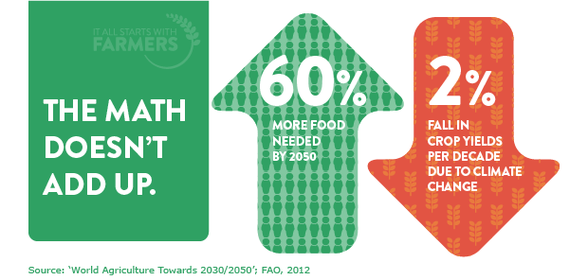 There are many potential areas where the GCF can invest to make a real difference. Here are five:
1. Data: Making satellite weather data available to farmers will help them make more informed decisions about what crops to plant, when to plant them, and what fertilizer to use. Importantly, this information is free to anyone with a cell phone or internet connection.
2. Delivery: Ensuring that poor farmers have access to the right mix of seeds, fertilizer and other inputs will help them respond quickly to new conditions.
3. Agricultural R&D: Developing seed varieties that are tailored to farmers' needs will help them maintain yields - even with drier or wetter soils, higher or lower temperatures, and pest infestations. For example, by supporting the work of the Consultative Group on International Agricultural Research (CGIAR) - a group of research centers around the world to produce better seeds for adaption to a changing climate.
4. Livestock R&D: Making livestock farming more sustainable means fewer animals and fewer emissions, all the while meeting growing demand for meat, protecting livestock from diseases, pests and harsh environments and preserving this critical income and nutrition source for poor farmers.
5. Training: Training and sharing information helps poor farmers use better tools and techniques to boost yields, sell their goods and prevent their produce from spoiling.
Many of these technologies and ideas are already being adopted by farmers in developing countries, thanks to non-profit groups like the One Acre Fund. They provide 200,000 African farmers with the financing, tools, and training to increase their crop yields, and hope to reach one million farmers by 2020.
When it meets in Zambia ahead of the December Paris talks to choose a first batch of projects to support, the GCF will need to pick carefully. It has one shot to make a good first impression and secure long-term support and funding from the international community.
With sufficient resources directed to the right programs through the GCF and other climate financing frameworks, I am confident that we can meet Global Goal 2 to end hunger by 2030, and can look forward to a bright future, where we are able to feed 9 billion people by 2050.
World Food Day this October 16th is a key moment to look forward to the Paris climate talks and ensure that decisions made there support the commitments we've made to end hunger. That's why we're teaming up with partners Global Poverty Project, Oxfam and ONE to remind world leaders that it all #StartsWithFarmers.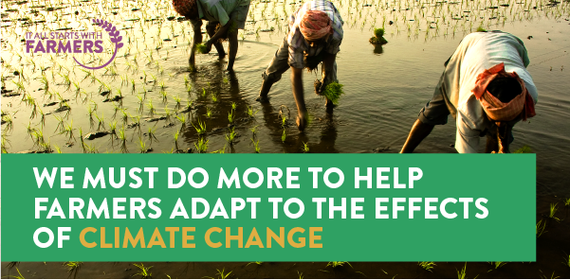 Popular in the Community