The StarChefs International Chefs Congress was created to inspire, inform, and ignite passions. There's no other event in the U.S. that boasts the caliber of talent that the peeps at StarChefs bring to NYC, and I've covered it here at HuffPost for years. Yet this year on opening day, rather than being one of the first through the doors, I sat home on my couch, feeling anything but inspired.
Then my phone chimed the sound of a text coming through, a friend who always flies in for StarChefs... Where you at girlfriend? I thought, Good question. Where am I at? I knew the answer. Somewhere I definitely didn't want to be, and it brought tears to my eyes.
Now, I've never got personal here on HuffPost, but I can't write about ICC without it because this year's Chefs Congress just about saved my life, and it certainly reignited my passion for this industry in which I grew up. You see, in 2014 I took the worst hits I've ever taken in my life, and my passion went AWOL. I fought a brutal battle quitting cigarettes cold turkey, during which time my mom had a stroke that left her with dementia, I had some serious setbacks in my work, and my heart got tossed into a Vitamix by the guy I'd given it to. And I hadn't seen the worst yet.
A few months ago, one of my sisters died, very young and very unexpectedly. She was the sister I shared a room, a bunk-bed, a childhood with--the sister I made my first escargot with at age six, the one who would sit with me on the entry steps to our mom's French restaurant selling our crayon drawings of food and flowers to customers for a dime. I was devastated, and I couldn't even suffocate my sadness in cigarette smoke. Well, I could have, I just didn't. What I did do was shut down. The sister who was closest to me was gone. Not much else seemed to matter. I did what was required for my work to stay afloat, but the wind had gone out of my sails.
Then I got that wake-up text. In that moment I knew I had to motivate, I knew that if I didn't, I might never. It felt like do-or-die. Even then, knowing and doing are very different things, so it took quite an effort to get out the door. The kind of effort I imagine it takes a dead-lifter to rise from a squatting position with 1,000 pounds weighing down on them.
The ICC has always fanned the flames of my passion. Since its inauguration in 2006, I've seen some of the greatest creative minds in my industry take the stage: Ferran and Albert Adrià, Pierre Hermé, Massimo Bottura, Gastón Acurio, Dominique Crenn, Dave Arnold, Emeril Lagasse, Dominique Persoone and Bernard Lahousse, Dan Barber, Angela Pinkerton, Sam Mason, Johnny Iuzzini, José Andrés, Daniel Boulud, Rodolfo Guzmàn, Ron Paprocki, Andoni Luis Aduriz, Elena and Juan Mari Arzak, Joël Robuchon, Oriol Balaguer, Eric Ripert, Thomas Keller...
It's no wonder I normally bounced through the doors day one, bubbling with excitement for all I would see, hear, and taste, anxious to share it with my friends, family and readers. Not so this year. This year I had no flames of passion to fan. I barely had smoldering embers buried under ashes when I dragged my sad little butt into the Brooklyn EXPO Center.
Gunnar Karl Gìslason started to change that. Chef-Owner of Dill in Reykjavík, author of North: The New Nordic Cuisine of Iceland, Gunnar shared the traditions of a cuisine not widely known in the States. Demonstrating old Icelandic techniques like burning seaweed to turn it into a powder that was used like salt before salt was easy to come by, Chef Gíslason brought the audience on an eye-opening journey from the culinary times of the Vikings to the modern Nordic table of restaurant Dill.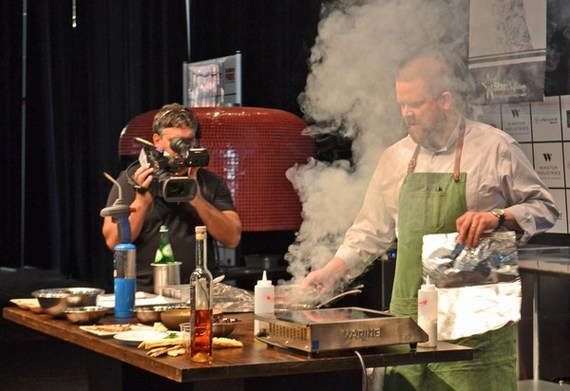 Gunnar described how fire and smoke were important to the Vikings. Adding an interesting, and cringe-inducing, fact, "The Vikings couldn't always find anything to burn, so they would burn lamb shit!" (Regina Varolli)
Then he started talking about opening his restaurant. Dill was being conceived right when the recession hit, and as Gunnar put it, "All my investors jumped off and left me alone." Despite their commitments, they left Gunnar to fend for himself, pulling the financial rug right out from under his dream. He was pretty crushed and for a time he didn't quite know what to do, he simply didn't have the money to build Dill by himself. "So," said Gunnar, "I ran around maxing credit cards and borrowing money from friends because I knew that if I jumped off too I would have regretted it the rest of my life."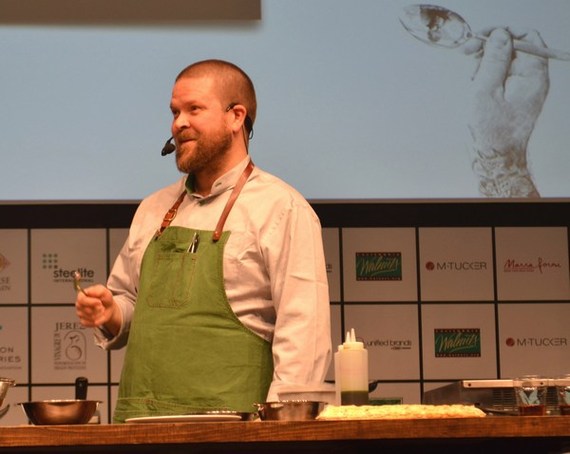 Dill's Chef-Owner Gunnar Karl Gìslason addresses the audience from the main stage, saying that "The Nordic kitchen is a huge umbrella. Like the Italian kitchen, it's so diverse." (Regina Varolli)
Although he didn't share a story of success over struggle, Michael White of NYC's Michelin 2-star Marea and the Altamarea Group shared his lovingly hand-crafted fusilli for the first time on any stage, demonstrating how work that can be so time-consuming can also be pure pleasure. There was a childlike sparkle in his eyes as he twisted and rolled strands of pasta fresca into fusilli and served it up with a sauce made of red wine-braised octopus and bone marrow.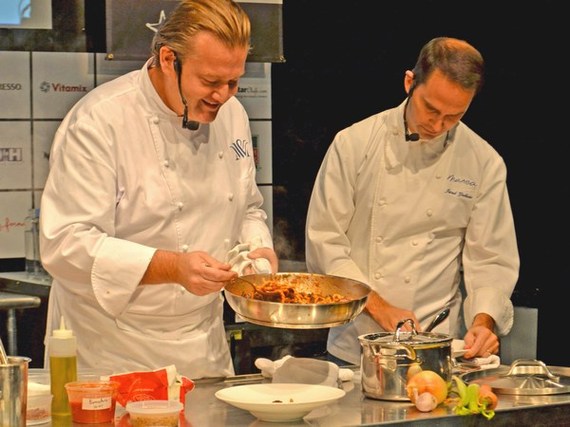 White, on the left, serving up his fusilli as Jared Gadbaw preps the next plate. White told the attendees that "The Amalfi Coast is currently the most exciting place for Italian food." (Regina Varolli)
Watching White work and speak with such great joy in his heart lifted my own heavy heart. I finally felt some of the joy that had eluded me this year.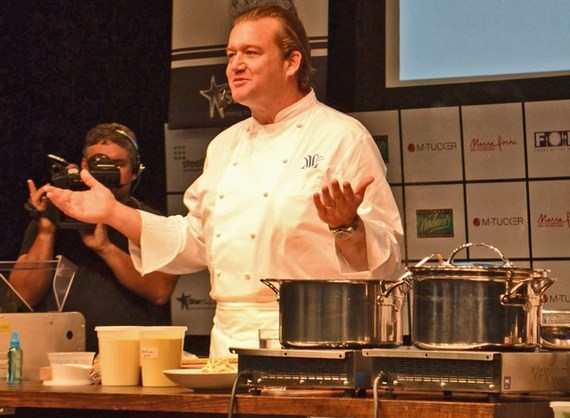 Michael White addresses the audience from the main stage. When he spoke of the technique for "hot water fusilli," he noted, "I didn't find it in a book. I worked in Italy." (Regina Varolli)
The creativity, passion and determination of all the chefs at ICC 2014 shouldn't be underestimated. Each one filled me with the kind of strength-giving, spirit-soaring inspiration I quite desperately needed. Yet, above all, there was Grant Achatz of Chicago's Michelin 3-star Alinea.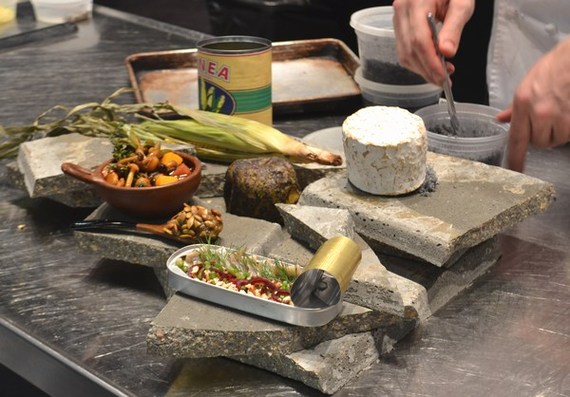 This dish was created to represent Chicago, a big city, as "the story of the restaurant." The team moulds concrete in a jelly-roll pan and then breaks it up, as they "try to mimic the urban-scape." Achatz explained that "the cans represent garbage." He added, "Looking at graffiti as a source of inspiration for this dish," Achatz and the team use a spray paint can table-side that's loaded with aged Aceto Balsamico. "When you hear that spray can shaking in the dining room, there's only one thing it can be." (Regina Varolli)
In 2008, with his Alinea sitting pretty on Pellegrino's "World's 50 Best Restaurants" list, Achatz was diagnosed with cancer. During his battle he lost his ability to taste. A chef of such a high caliber, the eyes of the culinary world were on him. Grant's tragedy touched everyone in this industry, and his triumph is one of the most moving stories our industry has ever known. Modern medicine helped save Grant's life, but his passion and tenacity played a huge part in his ability to not only survive, but to thrive despite--or even because of--such a formidable foe as cancer.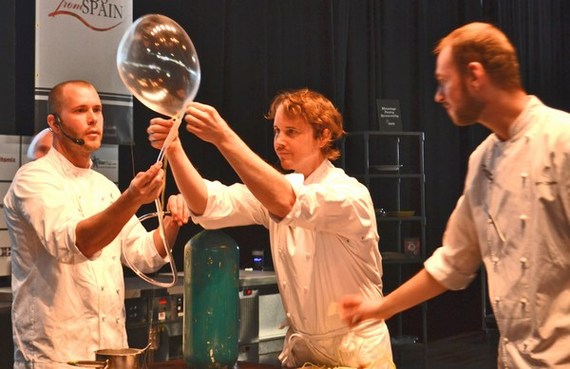 Grant Achatz and Mike Bagale make sugar helium balloons to pass out to the audience. (Regina Varolli)
When we talked at the ICC's closing night party, I told Achatz what an inspiration he was to me and how much I enjoyed his demo, I shared how the balloon that escaped up to the ceiling had popped and splattered down on the cooking surface during Joan Roca's demo, making one of the most celebrated chefs in Europe jump. I didn't tell him that he'd played a big part in bringing me back to my life.
When I got home from the closing night party I couldn't call my sister to blab about ICC like I had in the past. Did this hurt? Of course. Do I still struggle with sadness sometimes? Hell yeah. But thanks to Chefs Achatz, Gìslason, White, and all the others at this year's International Chefs Congress, that pain doesn't douse my drive or passion. Quite the opposite. I'm inspired to keep fulfilling my dreams despite my struggles because, unlike my sister, I am still alive, and the passion for what I do, like the passion we all have for what we love to do, day after day, even--or especially--in the worst of times, is a huge part of what makes life worth living.
During his demo, Grant Achatz spoke about the perpetual process of creation in his kitchen, I hope you find as much meaning, and motivation, in his words as I did. "We struggle every day with concepts, bringing ideas to fruition. Every day we fail." Then he smiled, "I try not to think of the things that didn't work."