Imagine an 8.2-magnitude earthquake hits suddenly, triggering landslides, cutting power, toppling buildings and causing human havoc.
Now imagine the 60 seconds before the first jolts. Thousands of people receive alert warnings to their smart phones. They quickly seek shelter and await additional information from emergency relief agencies. At the same time, in the oceans of the earthquake epicenter, a network of more than 60 deep-water sensors measures the rise and fall of the sea, triggering an international tsunami warning system that also alerts citizens to leave beaches and move to higher ground.
This scenario was reality just two months ago when a megathrust earthquake struck approximately 59 miles off the northern coast of Chile and triggered a tsunami of almost 9 feet. The good news is that the citizens faced with this disaster reaped the benefits of enhanced mass communications and early warning systems -- clearly the power of the Internet being used for social good.
So, how will disaster response and relief efforts play out in the future? Technology is getting smaller, faster, cheaper and more powerful every day. With this phenomenon, sensors in almost everything become the norm -- in our cars, machinery and infrastructure. This evolution, paired with the power of cloud computing and big data analytics, makes it possible for both humans and inanimate objects to communicate valuable information.
• Every Second Counts. When disaster strikes, the mantra for successful rescue and relief efforts is getting the right information, in the right format, to the right people, at the right time, on the right device. Portable, satellite-enabled communication kits are already speeding the flow of information among disaster response teams and tracking systems, which enables real-time mapping of the locations of different relief service groups. And, citizens already turn to social media for disaster updates to supplement traditional governmental and agency sources. Taken a step further, imagine an app that enables disaster victims and relief workers to view a shared map and see where all the rescue and aid efforts are situated in real time.
This isn't just a vision for the future. In disasters such as the devastating 2010 Haiti earthquake, NetHope, with the assistance of corporate technology partners, had LAN and broadband up and running in less than 72 hours to enable coordinated relief efforts. In addition, volunteers from around the world used the Internet to crowdsource maps and translate requests for aid from Creole to English and participate in the large-scale emergency response. When Superstorm Sandy hit in 2012, there were 20 million tweets in five days, and research suggests that many people turn to social media as a primary source of news. The Internet empowers people to have a direct impact on an emergency situation on a global scale.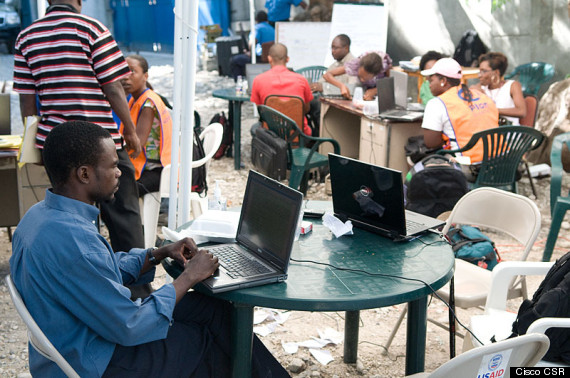 PHOTO: After the 2010 Haiti earthquake, NetHope, with the assistance of corporate technology partners, restored communications in less than 72 hours so humanitarian agencies could coordinate their response.
In the era of IoE, sensors and monitors located throughout cities and rural areas will multiply the impact of rescue and response efforts. Unmanned aerial vehicles (UAVs), or "drones," will have the capacity to fly over collapsed structures and locate trapped victims by detecting heartbeat pings from their mobile phones. Real-time data will be communicated to affected citizens, and the immediate flow of critical supplies will begin even before relief workers arrive at the scene. This means saving days and weeks in rescue efforts, and therefore, saving lives at stake as well.
• Manage Triage Efforts. Health care needs are paramount after a disaster, and medical personnel fight against time to reach and assist victims. In 2008, an 8.0 earthquake turned into a humanitarian crisis when millions of people in Sichuan Province in China were left homeless. Among other relief efforts, IoE technology provided mobile clinics with medical equipment, communication, TeleHealth, and other capabilities. Patient monitoring was made possible through vital sign sensors, and video collaboration linked ambulances to emergency rooms, making a difference when mere moments matter.
Future uses of these same technologies might include a mobile clinic deployed as a field hospital as well as command center; location-based technology identifying people under collapsed buildings to trigger rescue teams; and remote doctors advising and guiding care in the field hospital hundreds of miles away.
• Water, Water Needed Everywhere. After a natural disaster, safe drinking water is a priority. Humans can live longer without food than water, so communication about clean water is essential to help avoid the risk of cholera, dysentery, malnutrition, famine, and death.
Using IoE technology, sensors in reservoirs and wells will enable these inanimate objects to have a "voice" and report water quality to a central source. Individuals can also report outbreaks or water provision failures via SMS and social media, which could then be geolocated and queued for remedy by aid or government organizations. Leveraging the power of the Internet, social media, and IoE, communities of volunteers around the world can help compile data in real time and alert affected populations when and where safe drinking water is available.
Our world and our connections are growing and accelerating at a pace never experienced before. In 1984, there were only 1,000 Internet devices. By 2020, the number is predicted to reach 50 billion. This astounding growth and velocity also brings with it some astounding opportunities that we can use to benefit humanity.
Unfortunately, natural disasters will continue to play a part in our global ecosystem. However, technology and IoE in action have tremendous potential to mitigate the aftermath and vastly enhance response and relief efforts. Recognizing that while technology in and of itself does not save lives, the intelligent use of technology does. We are just scratching the surface of how technology can transform our ability to respond. In the near future, the networked readiness of countries, businesses, and individuals will help elevate the improved effectiveness of disaster response efforts. And in the hands of citizens, emergency response workers, and government and civil authorities, we can witness amazing, life-saving results.
Imagine the benefits that we can make possible in preparing for and navigating relief from the world's next catastrophe. Follow me on Twitter as we continue to discuss how IoE and technology can benefit humanity.