It's kind of a tradition at Walt Disney Animation Studios that the hero or heroine of each new production has an animal companion. Sometimes they talk (EX: Flounder in The Little Mermaid) and sometimes they don't (EX: Abu in Aladdin). But these furry, feathered or finny friends always provide support – emotional and otherwise – for that film's lead character. More to the point, these animal companions always find a way – even when they can't talk – to comment on the action.
Which brings us to WDAS' soon-to-be-released Moana. When John Musker and Ron Clements were sussing out the story for this animated epic, they decided that this film's title character should have two animal companions.
First up is Pua, Moana's pet pig. This black and white petite porker is sweet and loyal to his master, the 16-year-old daughter of the Chief of Motunui. Truth be told, Pua is more puppy than pig.
And then there's Heihei. Who's really a dumb cluck. The village idiot in rooster form.
But here's the thing: That wasn't always Heihei's role in Moana. When Musker and Clements were originally developing their seventh full length animated feature for Disney, they originally had a far different role for this rooster in mind.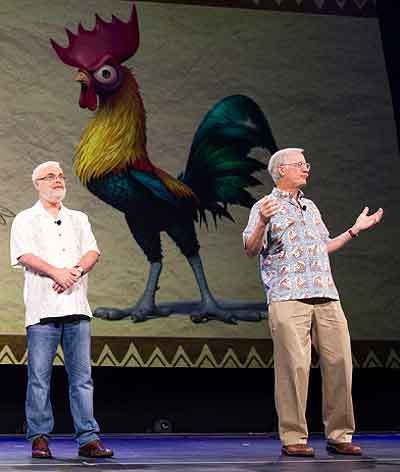 "In the earlier treatments of this story, Heihei was actually smart. Kind of an ornery guy but very bright. But he didn't seem quite as funny as we wanted him to be," John recalled during a recent interview. "So we asked Moana's story team to come up with a funnier take on this rooster character."
Now what made that challenging was – in the original version of this film's story – Heihei was supposed to be the character that Chief Tui (voiced by Temuera Morrison) assigned to keep a close watch on his daughter. Tui fears that Moana (voiced by Auli'i Cravalho) – given that she is so drawn to the sea – will one day abandon Motunui Island. And given that the Chief wants his daughter to remain on Motunui Island so that someday she could replace him as the leader of their people … Well, Tui is determined to prevent Moana from venturing out beyond the reef that rings their island. Which is why (again, in the earlier version of Moana's story) the Chief orders Heihei (voiced by Alan Tudyk) to not let his daughter get out of that rooster's sight.
"The directors really wanted to keep Heihei in this movie. But if this rooster was going to be the Chief's watchdog, that meant that Heihei had to be mean and judgy toward Moana. Which then made it really hard for the audience to like this character," said story artist Sunmee Joh.
Heihei was getting such a poor response during Moana's work-in-progress screenings that Musker and Clements were giving very serious thought to cutting this character out of the picture. But then that rooster won a reprieve. Largely because this film's screenwriter Jared Bush got a stomach bug and then couldn't come into work for a few days.
"With Jared out of the building, that's when Ron and John told us we had 48 hours to come up with a new take on Heihei. We needed to find a way that this rooster could play an essential role in this movie's plot or his character was going to be cut out of Moana, " Joh continued.
Which is when Sunmee and the other members of the Moana story team began exploring the idea of turning this super-bright, always observant rooster into … Well, not the sharpest knife in the drawer. As Ron Clements put it, transforming Heihei into " … the dumbest character in the history of Disney animation."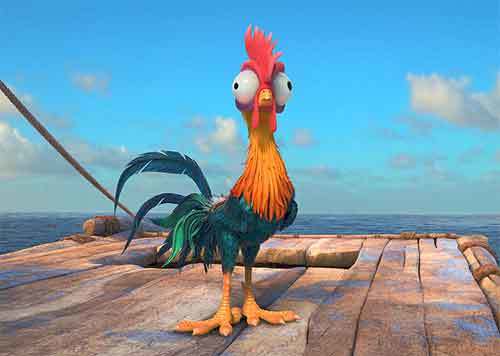 And what was the upside of doing that? Well, what if this brain-dead bird stowed away on Moana's raft when – after Motunui is threatened by a terrible darkness ― the chief's daughter ventures far beyond the reef as she searches for that someone or something that could possibly save her people. That would certainly complicate Moana's quest, wouldn't it?
So the Moana story team put together a series of drawings which then showed the sort of material that could be mined out of turning Heihei into a moron. And when these drawings were showed to Musker, Clements and John Lasseter (who acts as Chief Creative Officer at both Pixar and Walt Disney Animation Studios), they immediately agreed that this revised version of that rooster was far more amusing than the original. But even so, Heihei's head was still on the chopping block. Largely because his character still wasn't playing a crucial role in Moana's overall plot.
As far as Ron and the two Johns were concerned, it honestly wasn't enough to just make Heihei dumber so that this rooster could then comically complicate Moana's quest. There also had to be a good, solid, story-driven reason to keep this character in the movie.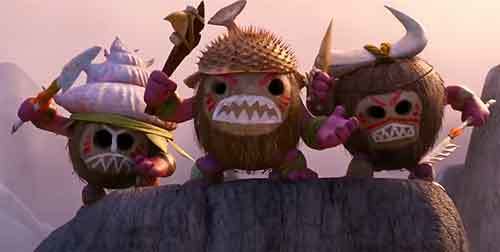 Which is when the Moana story team turned their attention to a midway-through-the-motion-picture action scene that Musker has described as " … Disney meets Fury Road on the high seas." By this point in the movie, Moana is in possession of the Heart of Te Fiti. Which is this mystical stone that could possibly hold the key to saving Motunui Island (not to mention the rest of the Pacific Ocean) from the approaching darkness.
Unfortunately, there are other characters in Moana who also want to get their hands on the Heart of the Sea. These include the Kakamora, pint-sized pirates who wear coconuts for armor.
Anyway, at this point in the movie, three huge outriggers loaded with Kakamora are bearing down on Moana's diminutive raft. And just as these rascally rogues are about to make off with this mystical object, Heihei swallows the Heart of Te Fiti.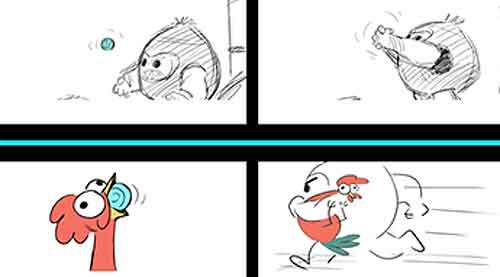 The moment that John Lasseter saw this revised version of the Moana storyreel, it's said that he immediately stood up and said "That's it! Heihei is saved! He's back in the movie!"
So how did Sunmee and the rest of the Moana story team celebrate the resurrection of this rooster ? In a way that Heihei probably wouldn't have approved of (i.e., Walt Disney Animation Studios treated them all to a chicken dinner).
As for Pua … Well, this cute little pig is still in the picture. But in spite of some of the official Moana images that you may have previously seen floating around the Web …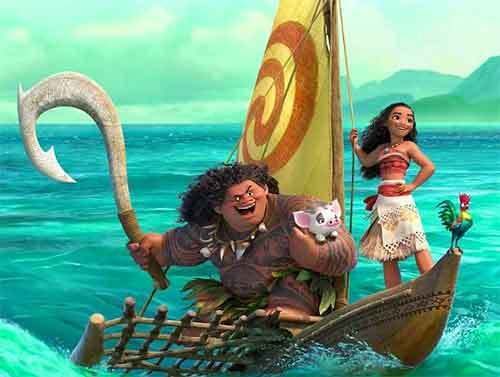 … Pua didn't actually join his mistress on her voyage. What happened there? That's a behind-the-scenes story that I'll save for another time. For now (and for Heihei's sake), let's just be happy that the makers of Disney's Moana didn't wind up chickening out.
Before You Go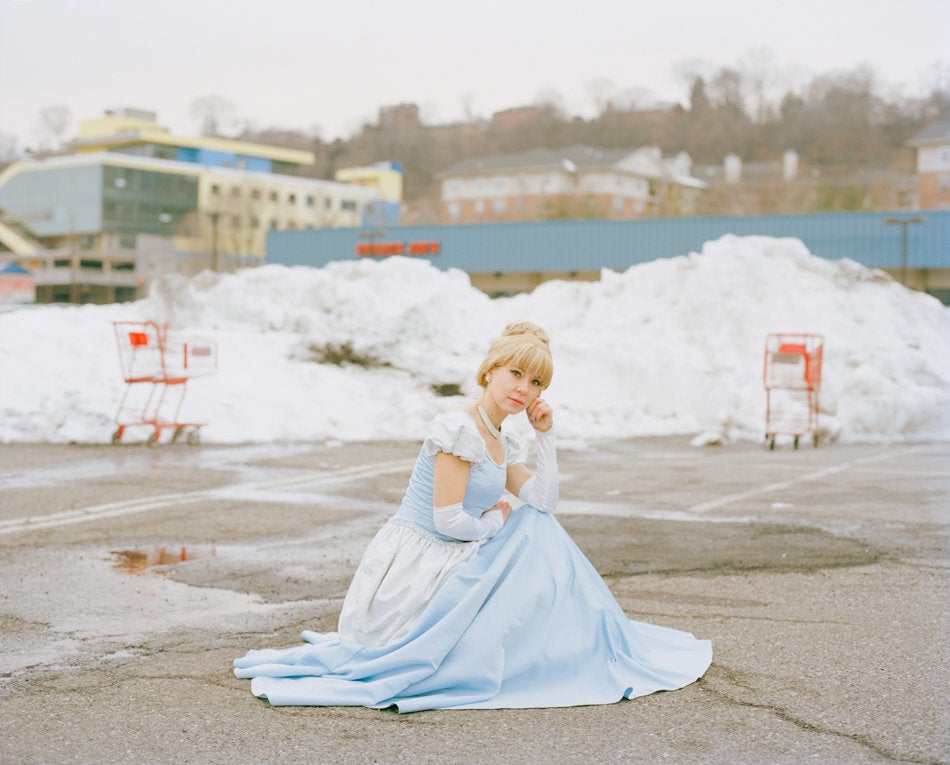 Disney Princesses IRL
Popular in the Community