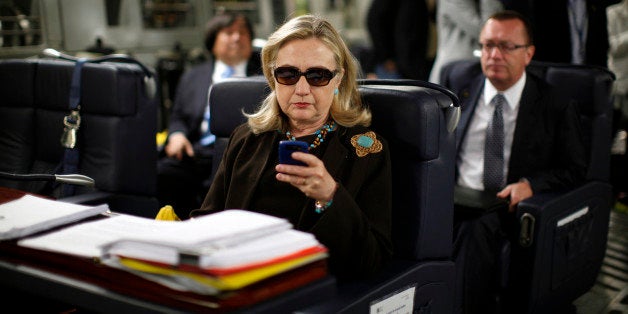 In the 2000 presidential election campaign, my newspaper paid more than $1,000 for a telephone-line connection to my seat at the filing center in Los Angeles where George W. Bush was announcing his educational platform.
I plugged in my laptop computer and spent little more than an hour filing my story about the candidate's plans for combatting "the soft bigotry of low expectations." Good line, good story.
In the 2004 campaign, an entrepreneurial fellow started erecting portable wi-fi "hot spots" at campaign events and distributed computer wi-fi cards for reporters who didn't have them, enabling us to file our stories without the extortionist fees of the phone companies. From the farm fields of Iowa, we told the world of John Edwards' vision of "Two Americas."
Another good line, though that story went south in the next cycle.
By 2008, wi-fi was ubiquitous, and coverage of Barack Obama's campaign of "hope and change'' was broadcast far and wide on a web of ether.
It was a winning line, for sure.
By 2012, social media were overtaking the newspapers, television and cable operations as the first word on any campaign utterance  --  in 140 characters or less, the day's news was broken before any traditional news organizations could break it. The tale of Mitt Romney's "47 percent" was implanted in the public's mind before he could do anything about it.
This was a truly bad line for the candidate, nailed on YouTube.
This year, entire campaigns have been waged on Twitter, without the investment of any significant money in paid media, bypassing any of the news organizations that have dispatched armies of "embeds," transcribers vying for the first word from the field with their own tweets.
Opponents have been labeled, and buried, with the swipe of a screen  --  with lines like "low energy" and "lyin''' attached before anyone could refute them.
Indeed, this year, entire news cycles on cable television and in the newspapers are driven by the single social-media utterance of a candidate for president who allows that he likes to tweet in his pajamas in the morning before he gets out of bed. The value of the free media coverage that this candidate has generated is estimated at $2 billion. It's "huuuuuge."
In this one generation of politics and news, at a time when 60 percent of millennials find their information on social media, most of that on handheld devices, all the traditional tools of news coverage have been left by the wayside. In the past, when candidates aired misleading TV ads, media "Ad-watches" held them accountable. In the past, there was often a day or two to reconcile what was said on the campaign trail with the actual truth.
Yes, we communicate more efficiently than ever before. Yes, we connect at less expense than ever imagined before. And yes, we are deluged on a daily basis with more information than ever deemed possible before.
But there is seldom time to reality-check the passing tweet. There seems little patience for comparing the boldest of statements  --  "All the polls show I beat her," when none of the polls show he does  --  against facts that are just as easily retrievable on the Internet as quickly as any claims are asserted.
We have the facts at our fingertips, with the ability to ferret the truth in an instant. Yet on most days we've lost our collective grip on the truthful narrative of campaign coverage. We've arrived at a time when a front-running candidate for president can operate free and clear of any factual grounding, and before anyone catches up with the last mis-statement another one will be forthcoming.
The technology of the campaigns we're covering equals and sometimes surpasses the resources we have developed to monitor and check them, which of course places the burden on all of us to ratchet up our own game.
It was so much easier when all we had to do was phone it in.
Calling all HuffPost superfans!
Sign up for membership to become a founding member and help shape HuffPost's next chapter