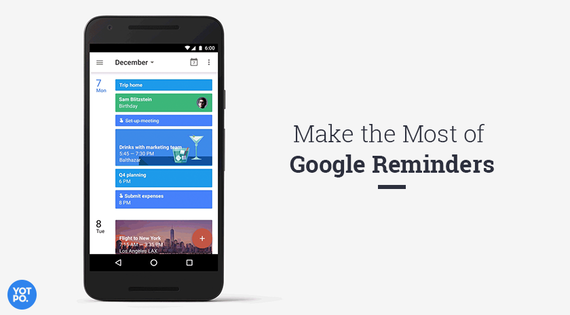 Google just unveiled its latest solution to make your life easier: Reminders, which seamlessly merges to-do lists with Google Calendar. It's rolling out to mobile right now, with a web version to follow.
What does it mean for you? You can create integrated to-do lists for events so your tasks and deadlines are all in one place.
Or, as the Next Web put it, "Google Calendar adds reminders so you can nag yourself into getting things done."
Google Reminders offers a solution for the overtasked marketer - and marketers will be the first to tell you, with all the apps we're using, just trying to figure out what to do is a task in itself.
You have to toggle between Asana, Gmail, Evernote, Coschedule, and Jira just to try to figure out what you were supposed to get done before the eBook launch today.
Here are 6 ways to make the most of it:
1) Pre-schedule to Be the Most Prepared in Meetings

Set reminders to create a list of discussion points, review any relevant materials, and check progress on action items from the previous meeting. You can even add reminders to recurring meetings if you have tasks that are regularly repeated.
2) Be Ahead of the Holidays
Start planning for seasonal and holiday marketing tasks before it's too late. Add tasks months before upcoming holidays so you can create a marketing plan in advance.
3) Go Beyond Content Scheduling
There's tons of awesome tools on the market for bloggers and social marketers to stay on top of their schedules (Coschedule and Buffer are some of our favorites).
But what about all those other tasks for people who aren't necessarily included in your calendar?
Add reminders to contact collaborators for follow up
After new posts are published, add to-do's to check analytics on posts
Remind yourself to check trending keywords before big social posts go out in case there are last-minute tweaks
4) Add Reminders So You Never Forget to Follow Up
Boomerang is great for email reminders, but a great networker stays on top of nurturing relationships.
Google Calendar Reminders takes this one step further, adding phone numbers and emails automatically and integrating with Inbox, so you can follow up in just a few seconds.
After you submit your next guest post, add a task to respond to comments and follow up with the editor
Schedule reminders for upcoming meet-ups
Remind yourself to re-introduce yourself via email after meeting people at networking events
5) Manage Your Expenses Smarter with Reminders
There's tons of smart ways to use Google Reminders to improve your expense handling - because let's face it, with all the day-to-day work, it's easy to forget the little expenses that add up in the long run.
Set up a reminder to yourself to create expense report the day after you get back from a business trip
Signing up for a free trial that requires credit card information? Remind yourself to turn it off when your trial ends
Reminders works across Google Calendar, Keep, Inbox, and Google Now. The time has finally come when you can say, "Okay Google, remind me to actually read the sales brief before our 10am meeting."
Google Reminders are persistent. You're going to keep getting notifications for tasks until you actually do them. So now that one task you put off every week doesn't have any excuses for not getting done.
The new feature will be rolling out starting this week -- so look for it in app updates.
What other suggestions would you add to the list for ways Reminders can help marketers stay on top of things? Leave suggestions in the comments below.
REAL LIFE. REAL NEWS. REAL VOICES.
Help us tell more of the stories that matter from voices that too often remain unheard.