What quickly became evident as I walked through the doors of the Science Centre World Summit near Brussels last week was the diversity of cultures and perspectives that had converged on this one spot for just a few days. We were all here to talk about trends and innovations in informal learning of STEM (science, technology, engineering and math). But I sensed a deeper, more implicit message woven among all the talks about state-of-the-art exhibits, improving communication about new science research trends, big data and the 21st century challenges for communicating science. This long and colorful thread, quietly woven through the entire conference, was about connecting people and the role of science centers in uniting global cultures through understanding science and technology. So how do we weave this thread of diversity into how we communicate vital STEM ideas at the New York Hall of Science (NYSCI)?
NYSCI is situated in what is arguably the most ethnically diverse community in the world. We take the challenge of addressing diverse audiences very seriously. And, like nearly all cultural institutions, we have struggled with our 21st century identity. But we have realized that the highly connected and mobile world we live in presents an opportunity to rethink what it means to be a brick-and-mortar institution in the era of diverse global perspectives, data-driven science, and the "Internet of Everything." As NYSCI approaches the 50th anniversary of its founding at the New York World's Fair (interestingly, its motto was "Peace Through Understanding"), we have an opportunity to reflect on our trajectory as an institution in the digital age.
In the 1990s, NYSCI invented the "virtual visit." Early digital video compression technologies and ISDN allowed us to bring the rich, hands-on, science center experience into diverse classrooms around the world through two-way videoconference sessions. But in order for us to do this, we had to set up broadband and send out a shipping container of equipment to the school site that weighed in at 128Kb/s -- no easy task.
Lurking beneath this relatively crude technology, stretched to its statistical limits, was the vision of the globalization of learning.

As the pace of technological progress accelerated through the first decade of the 21st century, so too did the appetite for richer, more diverse, personal, portable, yet global in reach communications capability.
Millennials live and breathe technology and increasingly their social framing of learning, work and play demands delivering what we do directly to their fingertips, wherever they are. The challenges for 21st century institutions for science learning are no longer confined to the exhibitions within the physical building. Rather, we must also explore how these innovative ideas are translated into global learning labs and social online learning webs that are platform agnostic, highly available, have low barriers to entry for learners of all ages and are culturally relevant to diverse audiences.
As we reach out to a Native American community in Alaska, a rural Scottish middle school, or any rural or urban school in the United States, we are mindful of the different cultural lenses and technological expectations these communities bring to science learning.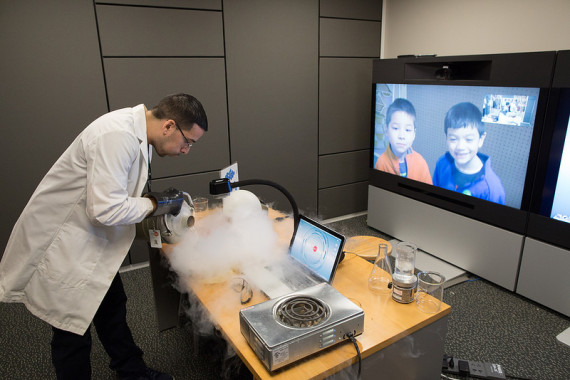 Digital Learning Specialist, Anthony Negron performing a demonstration during Engineering Day at NYSCI in New York February 17, 2014. Insider Images/Andrew Kelly (UNITED STATES)
NYSCI's challenge has been delivering the promise of these services while also scaling our IT infrastructure and communication systems. Like any nonprofit institution, NYSCI is always reliant on the generosity of partnerships. That is the case with our partnership with Cisco.
Cisco's commitment to the systemic renewal of NYSCI's infrastructure -- provisioning us with a tenfold increase in performance and a rich suite of communication tools -- enables NYSCI's scientists and educators to push the boundaries of STEM learning and bring these innovations to a much broader global audience. We can now provide mobile videoconferencing carts to bring hands-on learning from over 450 museum exhibits to groups of distant learners and teachers. We also have new communication capabilities thanks to our state-of-the-art, HD-capable collaboration studio.
This infrastructure also includes video recording and analysis platforms to help us better research visitor interaction and free-choice learning to provide more effective experiences with our nearly half-million visitors each year.
With this greatly enhanced architecture for the study and delivery of learning and teacher development, we can bring a variety of learning modalities into the lives of more diverse audiences and determine the effectiveness of learning through our entire suite of telecommunication tools and channels of delivery.
We now have the flexibility to blend the power of synchronous and asynchronous communication with social media. We are seeking to more effectively transcend cultural boundaries. We are building networks of teachers and learners, developing digital tools for noticing and reflection in STEM, and empowering experiences both within and beyond the museum walls that stretch people's creativity and inquiry skills in advanced data literacy and systems thinking.
What has also become evident is the tremendous value Cisco brings to the use of these new tools. Cisco and NYSCI's commitment to serving the disadvantaged and groups underrepresented in STEM are closely aligned. We both aim to bring together communities of researchers and university partners with teachers and learners in ways that directly address 21st century issues in preparing global citizens in complex, data-driven science and technology.
In the end, it's all about relationships: the people that this partnership with Cisco brings together, who greatly benefit from the diverse lenses we all bring to learning and teaching in the 21st century. It's about understanding how global diversity is among humanity's greatest assets.
Perhaps, the "Internet of Everything" is also the "Internet of Everyone."
Cisco CSR education programs and partnerships improve access to quality education for students worldwide using the combined power of network technology and human collaboration. From the Cisco Networking Academy to mentoring at-risk inner-city students, we help prepare people of all ages to succeed in a global, technology-driven society. For more information, please visit: http://csr.cisco.com/pages/education
REAL LIFE. REAL NEWS. REAL VOICES.
Help us tell more of the stories that matter from voices that too often remain unheard.