When I was a child I used to spend lazy Sunday mornings with my parents, relaxing in our large den on adjoining plush, comfy couches. My dad would turn the stereo on to listen to whatever opera or classical music was playing on WQXR. When he sat down next to me he'd unfold the neatly folded copy of The New York Times that was delivered by our paperboy in the wee hours of the morning. Dad had first choice of which section he wanted to read. I can't remember if he chose the first section of current events or the sports but after he made his choice it was my mom's turn. After that the paper belonged to me.
I was happy with leftovers.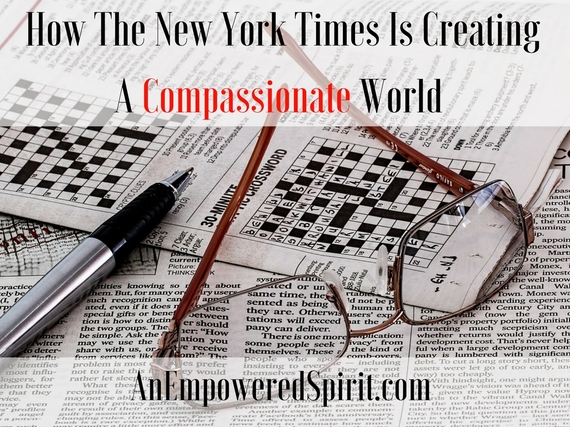 I didn't think about it then but those were golden hours. I loved reading the paper while lounging with my parents. The Times reliably offered something for all of us. I'd savor the Arts and Leisure section but also revelled in reading their magazine. I'd cut out the restaurant reviews to paste into my own restaurant notebook. And then I'd try my hand at their challenging crossword puzzle.
But as Bob Dylan wrote, the times they are a changin'.
The Times recently introduced a weekly feature series called Disability where readers will gain first hand perspectives from people living with disabilities. The feature will give an inside peek at what it's like to live with daily challenges.
The inaugural piece was titled "Becoming Disabled" by Rosemarie Garland-Thomson and it was absolutely brilliant. I urge you to read it. Garland-Thomson, a teacher of English and bioethics at Emory University and founding director of the Disability Studies Initiative, explained in precise detail the importance of preparing now for your future that will, most likely, include becoming part of the disability community.
If you're shaking your head no because you disagree, think again. Depression, anxiety, anorexia, bipolar disorder, ADHD, alcohol and drug addiction, panic attacks, dementia, dwarfism, autism and traumatic brain injury are included in what the author terms "disability growth areas."
As time passes the definition will continue to shift to become more and more inclusive. Prepare yourself now for what your future may hold.
Garland-Thomson was born with six fingers and "one quite short arm" yet never thought of herself as disabled. Instead she learned at an early age how to adapt and thrive in a world that isn't kind or accessible to those who are physically or emotionally challenged.
Like the author I never thought of myself as disabled. When I was diagnosed with Multiple Sclerosis I was young and didn't dwell on what my diagnosis meant in the world view. Subconsciously I must have thought I was merely someone who got a bad break and, like the author, began to learn at an early age (28) how to move about in a world that at times was unfriendly to me.
Becoming disabled while we're young means we're better prepared for what life has in store for us. We've faced and learned to live with obstacles, and that has been a great life lesson. Now we're better prepared for life than most. At least we have that in our favor.
Years ago the word disabled had an unkind connotation. Handicapped. Different. Not able-bodied. Weakened. Incapable. Lame. Broken down. A lesser person.
No one discussed it. You could subscribe to medical or patient magazines but there were no newspaper headlines, no pride movements or slogans and barely any books to read on the topic.
For us it was a lonely world of hushed tones and long, sad faces that made us hang our heads in shame.
That was then. Thank G-d this is now.
The newest addition to The New York Times has me feeling hopeful. Hopeful, elated and filled with pride that our community, the one that was whispered about, will now take center stage as it's prominently featured in a prestigious newspaper that's provided all the news that's fit to print since 1851.
In today's healthcare landscape where patients' voices are finally being listened to for their value I heartily applaud The New York Times for providing another place to hear our stories. We are, after all, in this world together and have something of value to say. And something of value to learn from each other.
When my parents sat next to me on that comfy couch in those golden hours so long ago we never dreamed I'd someday be writing about living with a disability. The last thirty years taught us how to live with it as a family. Today the new norm means it won't take newly diagnosed patients as long to find their new norm. Now they'll have the ability to learn out loud from each other. And for that I am truly grateful.
Communication is what creates awareness that will lead to a better understanding of the human condition. Education. Compassion. Tolerance. Community.
In the emotional climate we're currently living in, where people are pitted one against the other, we need to walk around in each other's shoes to create the kind of Nirvana I dream of. That's a much better place for all of us to live.
Cathy Chester is an award-winning writer and health advocate who has lived with Multiple Sclerosis for 30 years. She writes about finding the joy in life despite disability on her blog, AnEmpoweredSpirit.com and as a regular contributor for MultipleSclerosis.net and The Huffington Post. She is also the official blogger for the prestigious international organization the Consortium of Multiple Sclerosis Centers. Her work has been published on countless health-related websites as she is passionate about helping others manage the difficulty of living with a chronic illness.
Calling all HuffPost superfans!
Sign up for membership to become a founding member and help shape HuffPost's next chapter