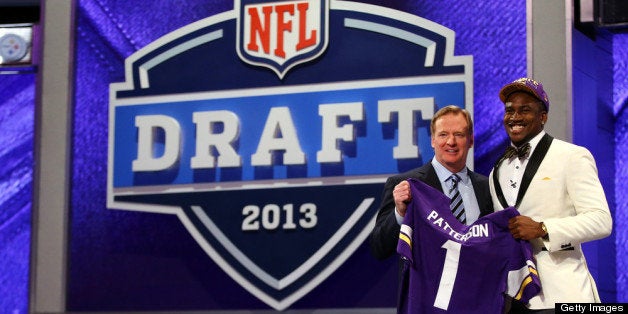 If Corporate America was covered like sports, then annual budget sessions would get the same kind of around the clock coverage this weekend's NFL Draft did. Congratulations to Roger Goodell and the NFL for turning its annual player draft into a mini-version of the Super Bowl as a significant revenue generator and attracting enormous fan interest in the offseason.

Here's some interesting statistics: Of the 254 players drafted this weekend, not even 10 percent will have 10 year NFL careers. Considering the NFL's 16 game regular season schedule, this equates to slightly less than one Major League Baseball rookie season or two NBA seasons. More people viewed the NFL Draft coverage than watched MLB games or NBA playoff games broadcast at the same time. I don't believe this means fans would much prefer to watch a non-event like drafting players than seeing actual pro athletes compete in real games. Rather, the NFL once again shows itself to be a superbly run business.

While both MLB and NBA are franchise-driven leagues with teams exercising more power and control than the central league office does, there can be no denying the highly profitable, greater than $9 billion, NFL's enviable business model. Not only has the NFL confronted the same labor and performance enhancing drug challenges other pro sports leagues have, it has also dealt with controversial team relocations (including moving the Cleveland Browns to Baltimore, renamed as the Ravens) and mounting concerns about player health and safety. Yet, unlike baseball and basketball, the NFL has stayed true to its core operating philosophies, allowing the league to deal more favorably with the tough issues and always come out more popular and stronger.

Corporate America has a tendency to vacillate between centralized and decentralized structures, usually flipping from one to the other in reaction to threats and/or disappointing results. Corporate America similarly selects, promotes, compensates and ultimately terminates managers as a reaction to most recent events. By contrast, the NFL historically doubles down on its business model and as a result is routinely able to lead its market in a direction the league wants to go. The NFL vividly illustrates that core operating philosophies blended with deep strategic conviction will translate to superior execution and sustained results than businesses always searching for the next way to reinvent themselves do.

From a marketing perspective, the NFL masterfully leverages scarcity economics to its benefit. Between late summer and early winter teams play once per week in a 16 game schedule, yet the league has become a 12 month per year fan phenomenon. Rather than extending their season to include more games, the NFL has created extremely popular product line extensions. Super Bowl is not only an unofficial national holiday, it's now Super Bowl Week. The annual player draft extends 3 days, and dominates Primetime tv programming on 2 cable networks Thursday and Friday evenings. These extensions actually create more public interest for the short (especially by comparison to other pro sports leagues) seasons because as fans become deeply invested in the NFL's business-operations mechanics, they are also deeply captive to the actual on-the-field product.

Most businesses emphasize selling more of their goods and services through as many outlets as possible, getting considerably weaker ROI for marketing investments than the NFL does. Though tempting in today's global and Internet-enabled environment, the lack of thoughtful creativity is a major reason why so many industries have become commoditized. Companies of all stripes would be well served to take a step back from volume strategies and adopt NFL-like product line extensions that enhance the value of core product/service offerings.

Of course, the idea of broadcasting annual budget meetings is absurd and we shouldn't expect to soon see Larry Kudlow in ESPN's Mel Kiper's role exclaiming "Whoa, the IT budget is dropping like a rock!" anytime soon. But for those who reject the idea that Corporate America can apply NFL concepts in any business, look at how Apple did these very same things over the last decade or so and the reasons for their troubles this past year.
Calling all HuffPost superfans!
Sign up for membership to become a founding member and help shape HuffPost's next chapter