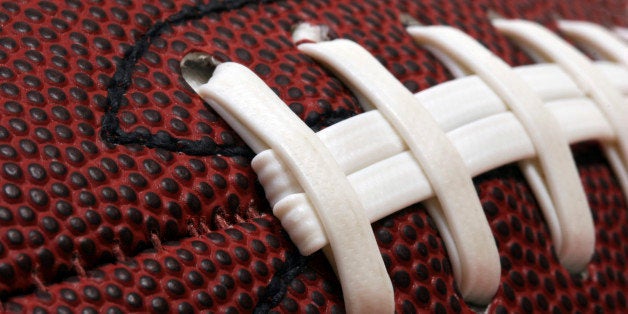 It's time for football playoffs, people!
When it comes to playoff football, nothing compares to the NFL. College football is finally taking on that challenge this year in its first-ever playoff.
For football fans, the playoffs essentially start this week in the NFL. Yes, it's week 17, but several games will decide who makes the playoffs or who gets a bye or who gets to play host to an important home game in the first round.
You can bet a lot of people are going to spend time glued to their television sets, even if they're out visiting family or friends or attending a party. Many will also be placing a wager.
Playoff football is the ultimate sporting event for American sports fan.
I think playoffs is an American word because it seems the rest of the world rejects the concept and even mocks the American playoff mentality in league sports
That's why I could never watch the Barclay's Premier League play an entire season of soccer and not have a year-end playoff. European soccer fans are even urging the American soccer league, the MLS, to drop its playoff format if they want to be taken seriously.
College football fans know plenty about not having a playoff format and how frustrating it can be to watch the sport over the years.
It's understandable why college football never had a playoff when it was more popular than the NFL in the 1920s, '30s and '40s. Before air travel became prevalent, it would be hard to bring teams from all over the country together to play each other in an abbreviated period.
Professional football jumped college football when its games were nationally televised in the 1950s and the playoff format skyrocketed that interest. College football was televised regionally instead of nationally, and the closest thing to a playoff was a year-end bowl game that often kept the top teams from even playing each other.
That all changed in the 1990s, when conferences got together to link the No. 1 and No. 2 teams in what became the closest thing we had to a playoff. But it wasn't a playoff and it wasn't fair, because schedules are unequal and a system that relies on perception to gain the top two seeds left other deserving teams out of the mix that could easily beat No. 1 and No. 2.
That all changes this year with the implementation of the new playoff that brings back Jan. 1 to its symbolism of what it meant to many of us as children -- sort of a special holiday for football.
This new college football playoff will be played on December 31 in two of every three years, but now college football is back in the New Year's limelight where it belongs.
Many of us can't wait to see the Big 10 Champion Ohio State battle perennial power Alabama in the Sugar Bowl in New Orleans. These North vs. South match ups are what make college football special. We even have another one in last year's Bowl Championship Series Champion Florida State heading West to California to take on Pac 12 Champion Oregon in the Rose Bowl in those special views of the mountains surrounding Pasadena.
The winners play each other January 12 in Dallas in a bowl game that if college football would have created its year-end system could before the NFL could have been called the Super Bowl. It should have been.
The system's not perfect. Many college football fans prefer eight teams in the playoff to avoid the controversy of leaving out Big 12 co-champs Baylor and TCU. At least those teams get to play either on New Year's Day or New Year's Eve in a revamped schedule that has the best teams not in the playoffs play their bowl games.
The day will come where eight college teams will make the playoffs. I'm patient. I've waited my whole life for a college football playoff since I started watching the sport 45 years ago. I always joked there would be peace in the Middle East before a college playoff. I was wrong.
What a January 1 it will be this year and two days later the NFL starts its Wild Card weekend of playoffs. Typically, the NFL playoffs don't start this close to Jan. 1.
This means that weekend will be the most meaningful amount of football games played over an extended holiday weekend in American history. I can't wait. Just pass the potato chips and the dip. Are you ready for some football?
Read more about managing your retirement and personalized lifestyle stories at; http://nowitcounts.com The Destination For Americans 50+.
Popular in the Community