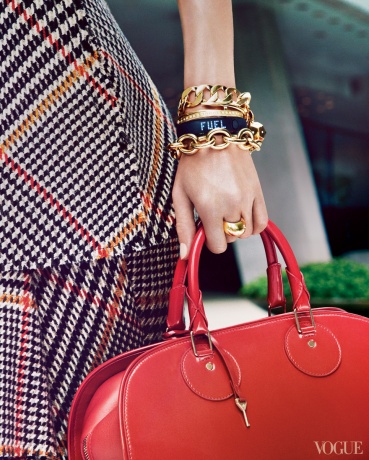 It's 11:49 p.m., and I need to leave the Plaza Hotel's gilt-laden Grand Ballroom. I'm wearing glass slippers, of the Valentino crystal-set variety, but, unlike Cinderella, I can't afford to lose one; especially not before midnight. I have eleven minutes to reach my daily Fuel goal, and I've carefully calculated that my short but significant walk home will bring me that last lot of points that will set my Nike+ FuelBand--a fitness-tracking device nestled snugly on my wrist next to my grandmother's triple-strand pearl bracelet--aglow with LED lights blinking goal.
What exactly does that mean? It means I've achieved my preprogrammed number of daily Fuel points--Nike's metric used to measure your movement and energy expenditure. Two thousand points are average; 3,000 is a more active day, and 5,000 indicates a high-energy 24 hours (Amar'e Stoudemire has his set at 5,000).
The FuelBand--which notes your daily amount of steps taken and calories burned--is part of the Quantified Self movement, which argues that by amassing digital data about our lifestyle we will be motivated to live more healthfully. Nike isn't the only game in town: The Fitbit began as a money clip-like device that snapped onto your clothing, but recently evolved into a bracelet version; Jawbone's UP bands come in mint green and orange and have a sleeker, thinner design. BodyMedia's Link armband resembles a heart-rate monitor.
In fashion circles, the FuelBand reigns supreme. It all began when Serena Williams strode onto Centre Court last year at Wimbledon sporting one next to her magenta sweatband. Was this the new tennis bracelet? Since then, they've started popping up on chic wrists all over town: Shala Monroque's got quite the tour of Paris at the recent couture collections; Elisabeth von Thurn und Taxis has mixed hers into a medley of thin gold bangles, a Victorian locket chain, and an Aurélie Bidermann gold torque bracelet. Even Kanye West's wearing one! Right next to his Cartier Love cuff.

SEE MORE: Can a Workout Class Kill You?
The first weekend my mother saw my icy-white FuelBand, she told me it was ugly and that it looked like a medical bracelet on someone too young to be wearing one. "It's chic," I insisted. She gave me the same look of pity that is offered to my zigzag-print Nicholas Kirkwood sandals. The following weekend she was wearing the matte-black version and had gift-wrapped another for my stepfather. The three of us now fight to walk the dog on the weekend, a situation so novel it seems to deeply confuse Jerry, our Goldendoodle.
Competitive FuelBanders can share their daily activity online--or, of course, in person. During a lull in a recent midmorning meeting, I leaned over and pressed the button on my neighboring colleague's band--a measly 790 points revealed that he had neither biked to work nor exercised that morning. When he returned the gesture and discovered my 1,910 points, he raised an eyebrow. Boxing, I scrawled onto a page of his notebook, with a victorious shrug. But the FuelBand isn't perfect: Running and walking are gold mines, while SoulCycle enthusiasts who pedal their hearts out receive paltry points due to the fact that their arms remain stationary. (Creative director Jen Brill subverts this by clipping hers onto her cycling shoes.) They aren't waterproof, either (note to self: Aqua-spinning is a bad way to earn Fuel points). The real allure, though, is discovering how much you move going about your regular business. It turns out I walk an average of five miles a day. Who knew?
Photographed by Sebastian Mader, Vogue, September 2013